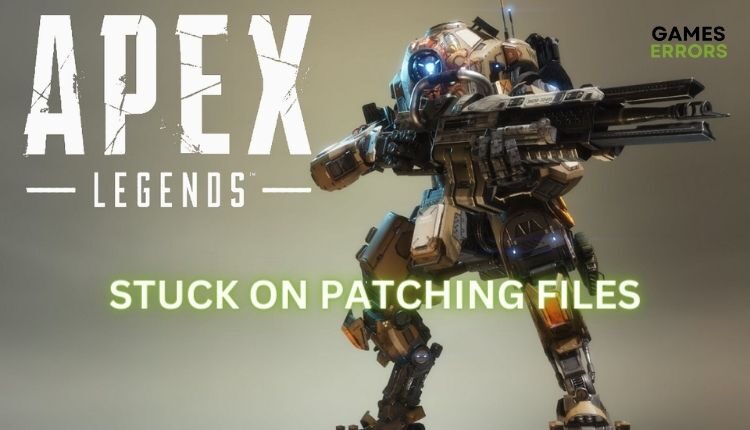 Apex Legends Stuck on Patching Files: Quick Fix
Getting stuck in patching game files in Apex Legends? We will solve it quickly. 👍
X
INSTALL BY CLICKING THE DOWNLOAD FILE
If you are a die-hard Apex Legends fan, you know how painful it is when your favorite game has bugs and crashes. Unfortunately, every new and popular game is not immune to the appearance of various errors, crashes, and other issues when starting or during the game. One of the more common issues with Apex Legends is the launcher getting stuck when patching files. This means that you will no longer be able to launch the game, and the update process will not move even if you have a whole day ahead of you. Fortunately, we have created this guide to successfully and quickly solve the problem mentioned.
Why is my Apex Legends stuck on patching files?
The most common reasons why Apex Legends are stuck on patching files can be:
Apex Legends server issue
connection problem
corrupted game files
too many running background apps
improper game installation
How do I fix Apex Legends stuck on patching files?
Before doing anything more complicated, do this basic troubleshooting:
Check Apex Legends server status.
Stop overclocking your GPU and CPU.
Check and verify the stability and speed of your Internet connection.
Power cycle your modem or router (unplug the power cord and wait 1 minute).
Close any unnecessary and heavy background applications.
Toggle the Pause/Start button to restart the update.
If the previous steps have been taken, but you still have a problem, go to our recommendations for solving it:
1. Restart the launcher
Time needed: 1 minute
If Apex Legends is stuck on patching files, try restarting the launcher and reloading its resources. Please note that this step will reset your previous patching progress.
Press Ctrl+Shift+Esc on your keyboard

This action will open the Task Manager window. Select the Processes tab.

Locate Origin Launcher

If you have Origin Launcher, click on it, and press the End task button.

Locate Steam Launcher

If you use Steam, find the Steam launcher like Origin, click on it, and press the End task button

Launch Apex Legends

Try updating Apex Legends' patching process again and see if the issue is gone.
2. Verify and repair game files
1. Open the Steam client and go to Library.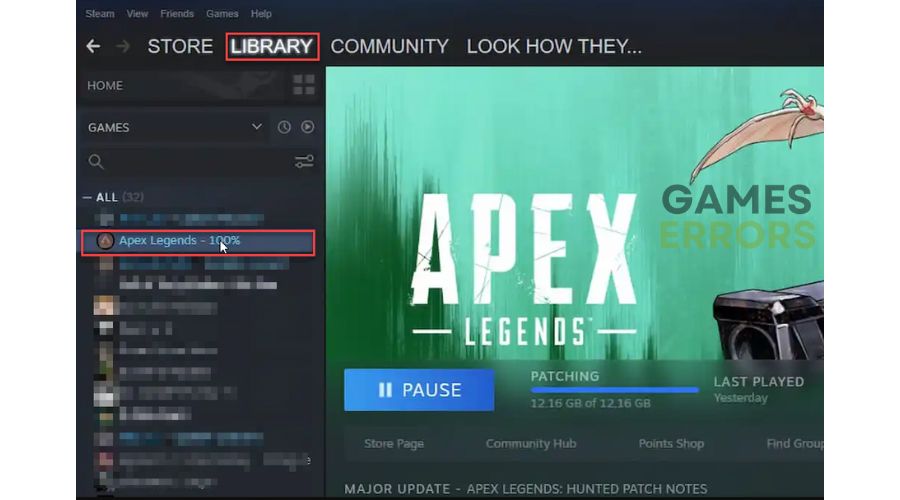 2. Right-click on Apex Legends, and select Properties.
3. In the Properties tab, select Local Files and then Verify integrity of game files.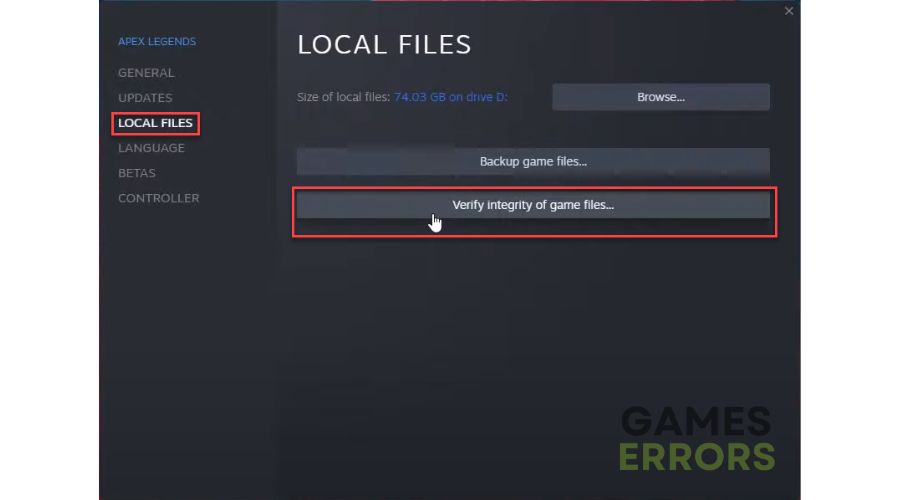 4. Please wait until the process is completed.
5. Now, reboot your PC, and try downloading patches for Apex Legends again.
3. Check for storage issues
One of the possible reasons why Apex Legends is stuck on patching files is if your SSD or HDD has some file issues. Run a simple SFC tool (System File Checker) to check the integrity of system files. It is a Windows utility that scans and possibly repairs corrupted system files. Do the following:
Click on the search box and enter cmd.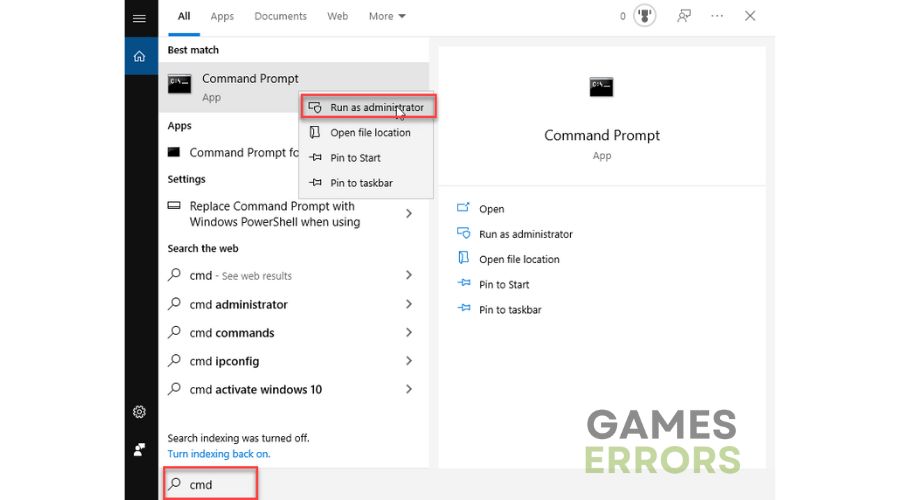 2. Right-click on the Command prompt and select Run as administrator.
3. Type sfc /scannow and press Enter.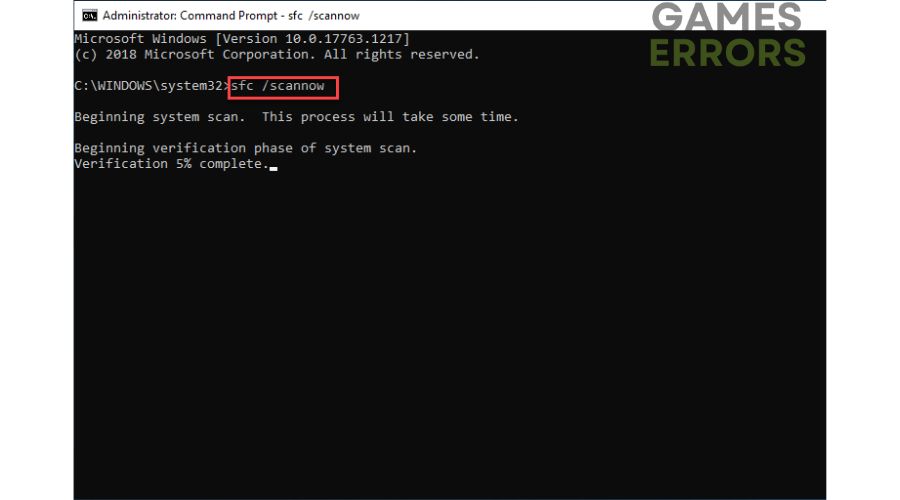 4. Check if the problem is solved after SFC scans your storage.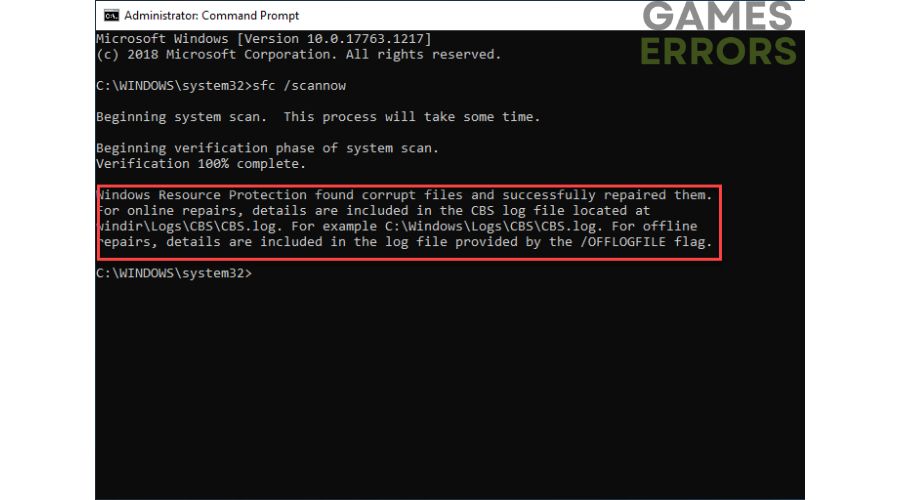 4. Use VPN
A VPN (Virtual Private Network) can allow you to connect to a server closer to the Apex Legends server you want to play on. Maybe your ISP (Internet Service Provider) limits your bandwidth, reflected in lag and slower speeds if you are further away from the game server. If you have the opportunity, try a VPN service that may also affect the elimination of Apex Legends stuck on patching files. In addition, a good VPN server, such as ExpressVPN, can protect you from malicious attacks and provide numerous benefits for gaming (great connection speed, lower ping, etc.).
5. Reinstall game
If you haven't solved the problem of Apex Legends being stuck on patching files, we recommend reinstalling the game as a last resort. Maybe the repair process failed to fix the problem completely, and there are still corrupted or deleted game files. When you reinstall the game, it will contain all the necessary patches. We recommend that you always install on a faster SSD and avoid HDD due to the big difference in performance.
1. Click on the search box and type: control panel.
2. Click on the Control panel from the search result and choose Programs and Features.
3. Navigate to Apex Legends in the Programs and Feature window, right-click on the game, and select Uninstall.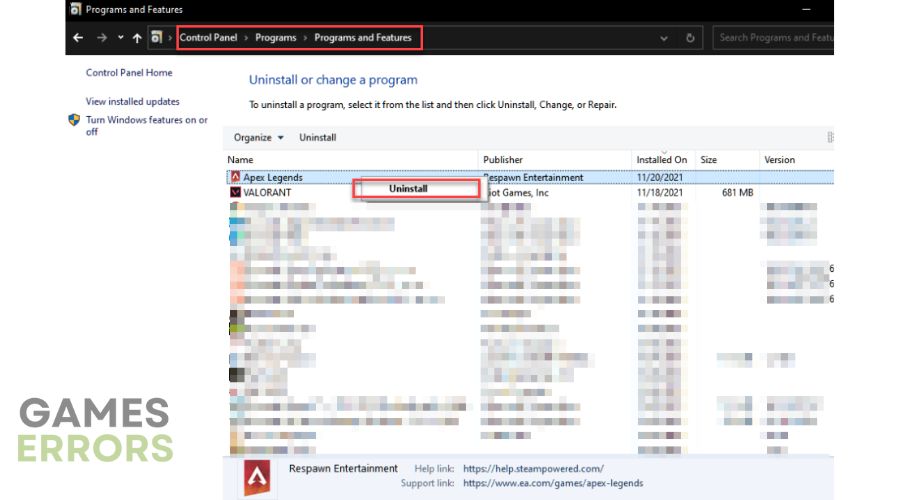 Related articles:
Conclusion
We have listed the most common reasons why Apex Legends is stuck on patching files and how to solve it successfully. If you have another solution not listed here, don't hesitate to comment below.