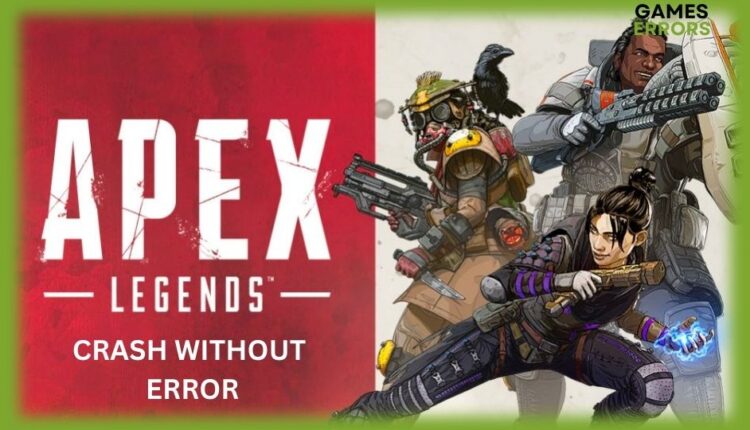 Apex Legends Crashing Without Error: How To Fix – Guided
If your Apex Legends has a random crash and no error, apply our life-saving solutions below ⤵️
Thanks to EA forums, we came across a thread dealing with this particular issue. Apparently, this problem is more common with players who have pretty good gaming hardware installed on their PC.
There are various issues that may determine Apex Legends crashing without error on your device, and we're here to handle that. Firstly, make sure that your PC meets the minimum system requirements. 
Why is Apex legends Crashing on me without error?
Accurate causes for such crashes on Apex Legends are usually related to missing or out-of-date graphics drivers, conflicting background apps, or even corrupted game files.
In addition, if your PC is capable of achieving upwards of 100 FPS, then the game will, for some reason, stutter, freeze randomly, and then eventually crash without displaying any error.
Why does Apex crash? Not enough memory?
Texture Streaming Budget in your video settings can be a cause. Lowering this setting may provide a solution. Secondly, excessive memory usage from other programs and Apex running simultaneously can also contribute to the problem.
How to fix Apex Legends Crash without Error on your PC?
1. Update your GPU device driver
Open Device Manager on the desktop.
Navigate and find Display adapters and double-click on it.
Wait for the updating to finish and restart the PC.
In case you require other methods that will guarantee peak game performance, you can visit this guide that shows how to update your graphics drivers properly.
Updating your drivers can be performed either manually or with an efficient driver management tool like Outbyte Driver Updater. It will scan your PC completely and update any drivers in less than 5 minutes with their official manufacturer version.
⇒ Get Outbyte Driver Updater
2. Repair the game files
2.1 Steam
Launch

Steam

client

.

Right-click on Apex Legends and select

Properties

.

Repair the game files automatically and relaunch the game.
2.2 EA
Open your EA client.
Go to Library, and right-click on Apex Legends.
Click on the icon marked as three dots, next to the Apex Legends. Then, choose to Repair the game files (As shown in The Sims 4 example below).
After waiting a bit, relaunch Apex Legends and check if it is still crashing on your PC. If so, move on to the next solution.
3. Check your network connection
Hit the Windows key, type Control Panel, then open the first result.
Navigate to Network and Internet.
Go to Network and Sharing Center.
Under the Change your networking settings section, click on the Troubleshoot problems blue button.
You'll be redirected to the System Troubleshoot page from Windows Settings. There, choose Other troubleshooters.
Look for the Internet Connections section, and choose to Run the Windows Troubleshooter.
Wait until your system scans and recommends potential troubles, then follow the on-screen instructions to complete the process.
After that, repeat the same steps for the Incoming Connections option.
Now, check if you're still experiencing Apex Legends crashes without getting any errors.
❗You should keep in mind that there are some other useful options you can try to check and troubleshoot your network connection. Command Prompt and Windows Network Diagnostics will support you as well. However, as we showed you above, using the Windows Network Troubleshooter is the simplest and safest option you can try.
4. Lower your graphical settings
Open Apex Legends.
Go to the game's video settings.
In order to get the best lower graphics customization, make sure you set them as follows:
Anti-Aliasing: Off
Texture Streaming Budget: Lowest setting available
Texture Filtering: Anisotropic 2X
Ambient Occlusion Quality: Disabled
Sun Shadow Coverage: Low
Sun Shadow Detail: Low
Spot Shadow Detail: Off
Volumetric Lighting: Disabled
Dynamic Spot Shadows: Disabled
Model Detail: Low
Effects Detail: Low
Impact Marks: Low
Ragdoll: Low
Keep in mind that the above steps are the easiest you can try to lower your graphical settings in Apex Legends in case of crashes on your PC. However, if you want to avoid switching the in-game settings, you can also try the NVIDIA Control Panel, AMD Radeon Software, Intel Graphics Command Center
5. Perform a clean boot of your PC
Press on the Windows key, then type msconfig, and open the result that shows System Configuration.
Navigate to the Services tab, then make sure you checkmark the Hide all Microsoft services option. After that, choose to Disable all and click on Apply to save the changes.
Now, go to the Startup tab, and choose to Open Task Manager.
In the Startup tab, look for all the Enabled startup items. Select each of them, then choose to Disable it. (Make sure you keep in mind which apps/programs you've disabled).
Close Task Manager.
Go back to the System Configuration Startup and select OK.
Now, restart your PC and you'll gain a clean boot environment.
Check if Apex Legends is still crashing on startup.
6. Check your hardware
Press simultaneously on the Windows and I keys to open Windows Settings.
On the left window pane, click on System.
Now, on the right side of the window, scroll down, and navigate to the About section.
Here, you'll be able to view the specs for your processor, Memory (RAM), and other system info, including the Windows version (make sure you have the latest one).
If your Apex Legends is crashing on startup on your PC, it is important to check your hardware and verify if your device and system meet the minimum requirements to run the game. Below you can discover them:
Minimum specs:
OS: 64-bit Windows 7
CPU: Intel Core i3-6300 3.8GHz / AMD FX-4350 4.2 GHz Quad-Core Processor
RAM: 6GB
GPU: NVIDIA GeForce GT 640 / Radeon HD 7730
GPU RAM: 1 GB
HARD DRIVE: Minimum 22 GB of free space
Recommended specs:
OS: 64-bit Windows 7 or better
CPU: Intel i5 3570K or equivalent/ or better
RAM: 8GB or more
GPU: Nvidia GeForce GTX 970 / AMD Radeon R9 290 or better
GPU RAM: 8GB or more
HARD DRIVE: Minimum 22 GB of free space
To discover more about the needed hardware/software specs, check the EA page.
7. Reset your settings
Open Apex Legends.
Go to Video, then choose to Restore Defaults.
Wait until your settings are restored to default.
Check if the issue is gone.
Keep in mind that you can also try to reset your gaming platform settings (Steam or EA). It might also help.
8. Close background programs
Open Task Manager from the search box.
Select the Processes tab.
Scroll down the list and find interfering apps.
Repeat the action for all programs.
Regarding the FPS issues that lead to crashing on this hero shooter game, we have a workaround that might work and solve the problem. Follow the steps below for this:
Step 1- Go to "Games Library" in Origin and then right-click on Apex Legends.
Step 2- Now go into "Advanced Launch Options" and type the following command in the field.
fps_max 80
Note: You may want to experiment with the fps value a little. If 80 doesn't work, try 60,70, or 90. 80 should work for most.
This will lock your FPS to a constant 80 but for some reason, the crashes stop after doing this.
On a different note, it seems like the game had other errors or bugs that prevented the players from fully enjoying it lately. If you just can't bypass issues on this game, follow up on this efficient guide to avoid game crashes.
To give more support, we also covered different situations such as Apex Legends Matchmaking not working and how you can bypass it quickly. Plus, you can as well fix the Apex Legends' unable-to-connect issues and bring the game.
That being said, reach us in the comments if our methods worked or if you need more advice for fixing the Apex Legends crash without error.