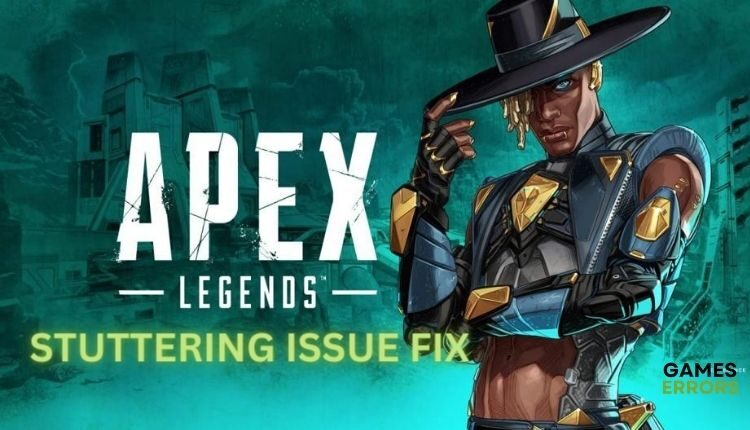 Apex Legends Stuttering: Quick Ways to Improve Performance
Is Apex Legends stuttering with high FPS, lagging, or freezing? Don't worry! This guide shows you how to fix these problems efficiently. 😎
X
INSTALL BY CLICKING THE DOWNLOAD FILE
Apex Legends is a free multiplayer battle royal game, very fun and addictive. Although the game came out as well-optimized from the beginning, it still needs powerful hardware so you can play it with enjoyment. Despite this, the game can suffer from micro-stuttering, lags, and freezing which is pretty irritating, especially if you are in grilled action on the screen.
After our detailed analysis of this problem, we have made a detailed guide to eliminate the stuttering issue in Apex Legends.
Why is Apex Legends lagging and stuttering?
Your weak PC hardware mainly causes stuttering and lagging problems in Apex Legends than recommended configuration. Still, other causes include outdated graphics drivers, network problems, wrong in-game graphics settings, corrupted game files, etc.
How do I fix stuttering and lags in Apex Legends?
We advise you first to check Apex Legends' recommended hardware requirements to ensure your PC can push the game without any problems. Unfortunately, your lower spec than recommended means investing in a stronger graphics card or processor or upgrading more RAM. However, if you have a powerful enough PC and still have a problem with Apex Legends stuttering and lagging, try our following troubleshooting recommendations:
1. Update graphics drivers
Keep in mind that outdated graphics drivers are, in most cases, the leading cause of poor performance or the appearance of various problems in games. Why do you always have the latest graphics drivers? Because the latest drivers usually come with all the patches for the issues observed in popular games. Here's how to update your graphics card driver manually:
1. Right-click on the Start Menu and choose Device Manager from the quick access menu.
2. Double-click on Display adapters to expand it.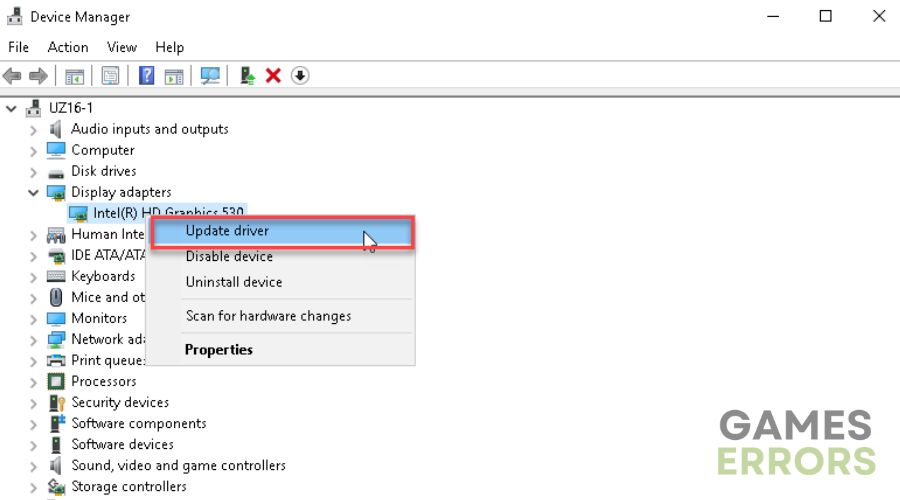 3. Right-click on your graphics card and click Update driver to choose Search automatically for updated driver software.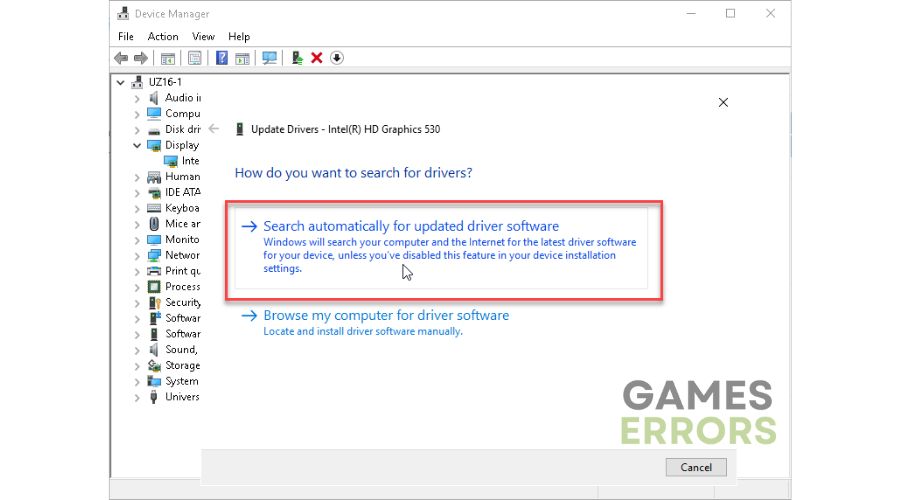 4. Now, Windows will check for an available update; if there is a new version, it will download and install it.
5. Restart your PC and run Apex Legends to see if the stuttering or lagging problem is gone.
If new updates are not available through Windows update, visit the official website of your graphics card manufacturer and download the latest version.
In addition to manually updating graphics drivers and searching the manufacturer's website, we will suggest a simple and effective way to update all drivers using the DriverFix tool. The tool will save you time and ensure all your drivers are up-to-date.
2. Run the game as an administrator
It's always a good idea to run your game as an administrator to allow Windows to launch it correctly and reduce the risk of unstable performance and crashes. If Apex Legends is stuttering especially on startup, do the following:
1. Locate the game folder: ..\Steam\sitemapps\common\Apex Legends.
2. Right-click on r5apex.exe and select Properties.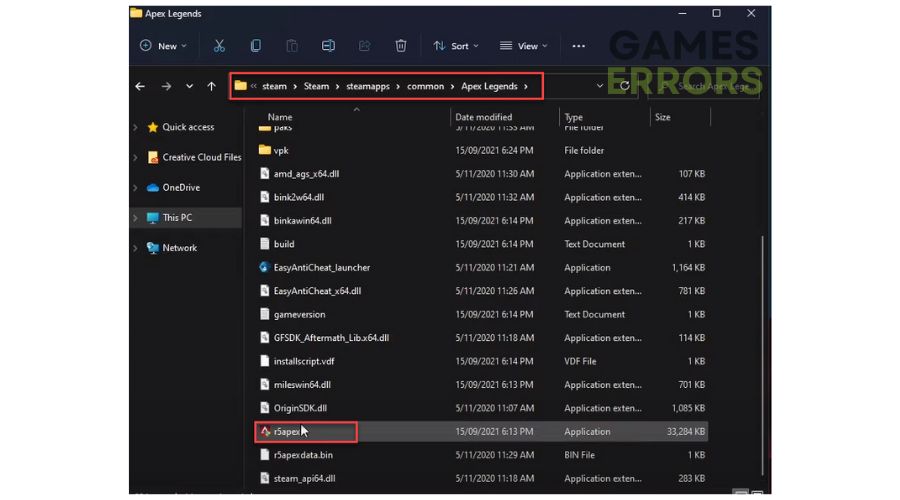 3. Go to the Compatibility tab.
4. Click on the Run this program as an administrator checkbox.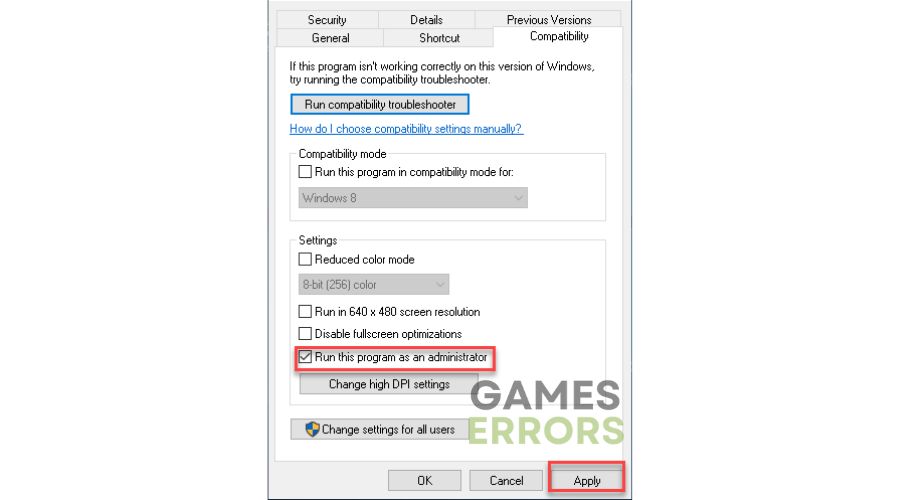 5. Click Apply, and select OK to save changes.
3. Repair game files
Your Apex Legends files may be corrupted, affecting the game's stable operation or normal launch. So we advise you to check that all game files are correct as follows:
1. Launch Steam and go to Library.
2. Right-click on the Apex Legends game and select Properties.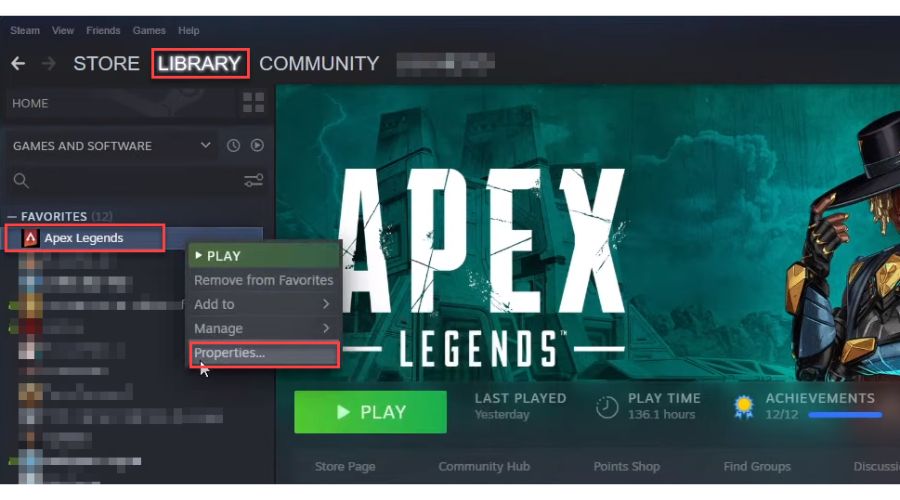 3. Go to the LOCAL FILES tab and click on Verify the Integrity of Game Files.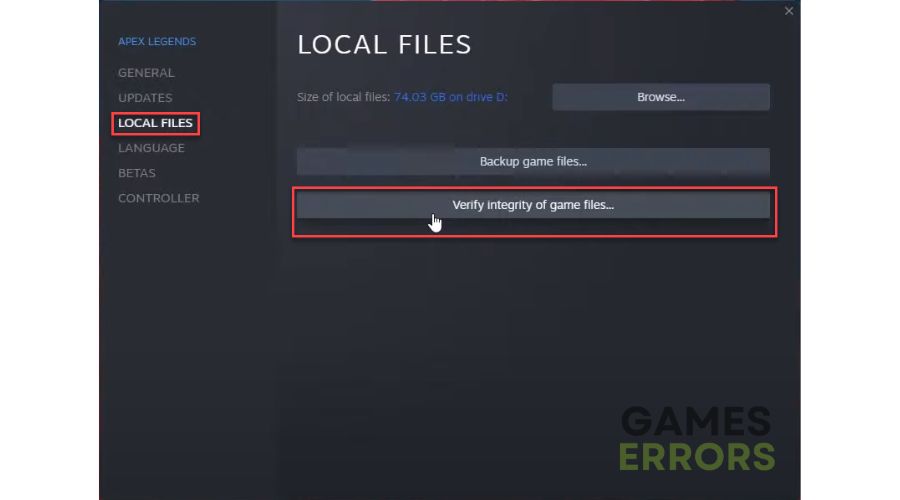 The file integrity check procedure may take some time, so please be patient until it completes. After that, restart your computer and launch Apex Legends to see if the stuttering problem persists.
4. Change in-game graphics settings
You must balance your wishes and your hardware's capabilities because wrong settings can easily lead to unstable game operation. Symptoms can be stuttering, lagging, freezing, and a game crash. We advise you to lower in-game graphics settings as follows:
1. While in-game, press Esc on a keyboard and select Settings.
2. Click on the Video tab and lower the graphics settings.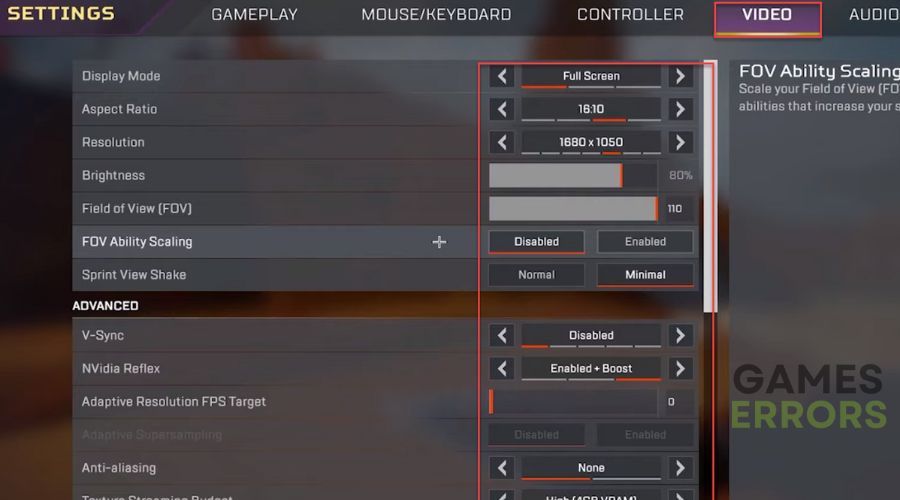 3. After finishing with in-game settings, continue the game to see if the stutter still occurs.
We suggest setting Apex Legends graphics to low or medium, giving you the best balance between performance and quality. Lower the game's resolution and turn off hardware-demanding but visually appealing options like anti-aliasing, depth of field, etc.
5. Disable fullscreen optimizations
Full-screen optimization and DPI settings can sometimes cause stability and game performance issues. Disable fullscreen optimization as follows:
1. Locate the game folder: ..\Steam\sitemapps\common\Apex Legends.
2. Right-click on r5apex.exe and select Properties.
3. Go to the Compatibility tab.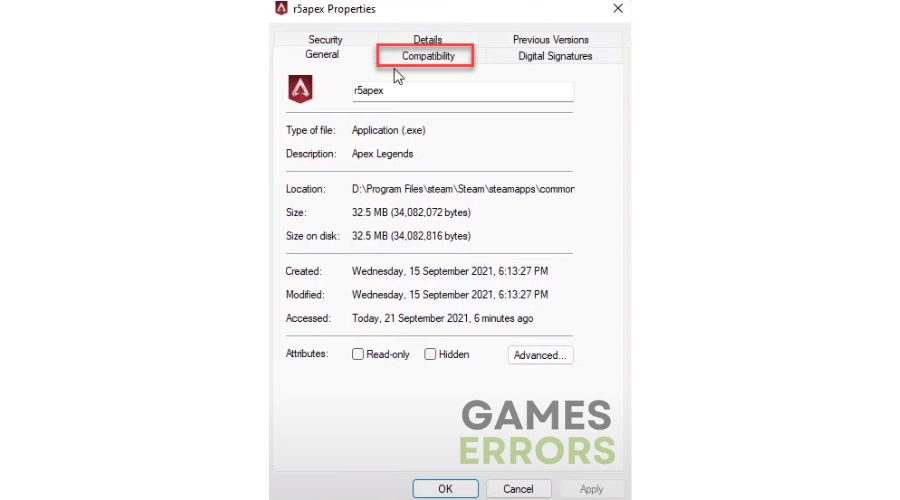 4. Click the Disable fullscreen optimization checkbox and then click on Change high DPI settings.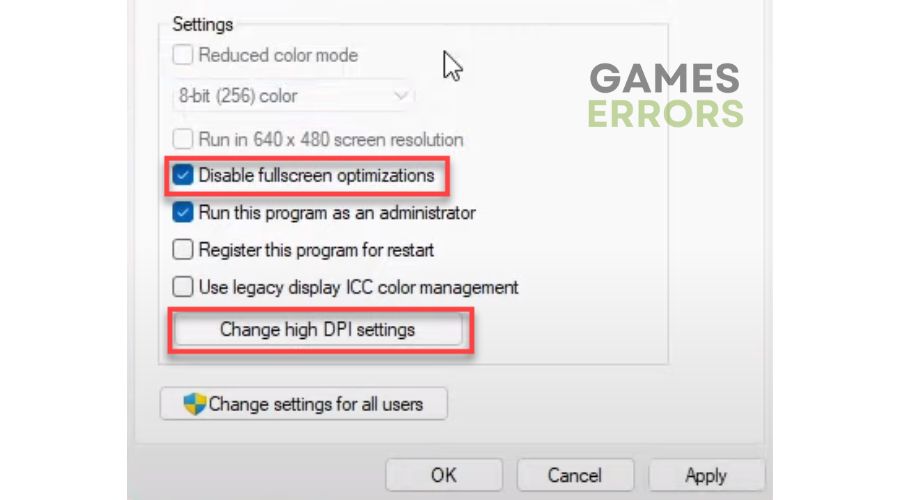 5. Select the Override high DPI scaling behavior checkbox and Application option from the drop-down menu.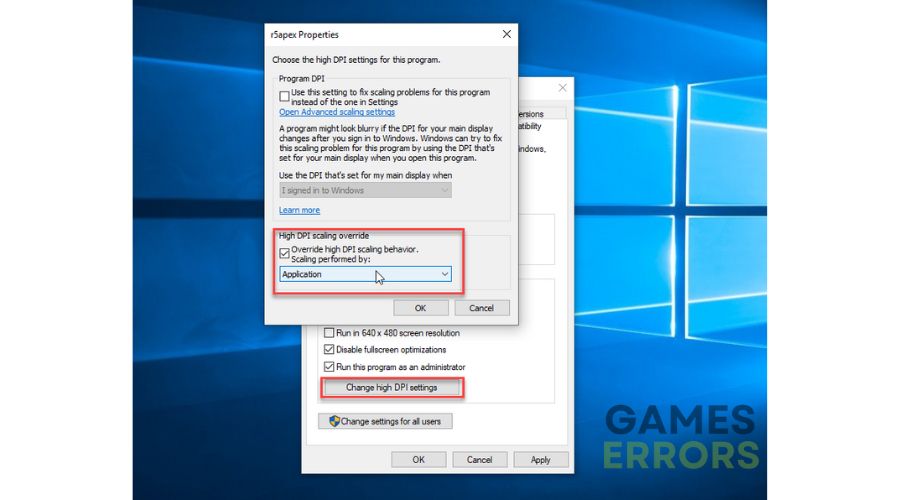 6. Click on Apply and then OK to confirm and save changes.
6. Restart Network settings
Sometimes your network may be unstable or too slow, so the game may have various problems. We suggest performing a network reset to resolve any network issues and return all settings to their default values. Do the following:
1. Right-Click on the Start menu and choose the Network connections option.
2. Click the Status option from the left side and choose Network reset.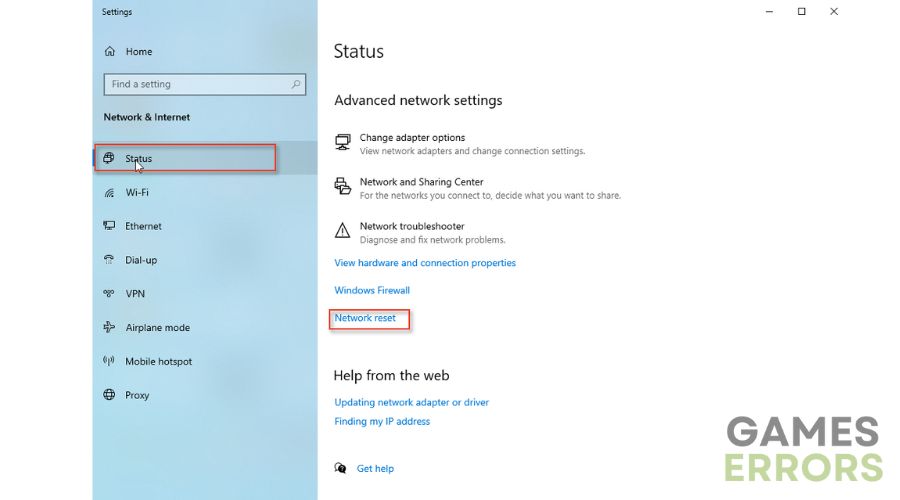 3. Click on Reset now button and choose Yes, then OK.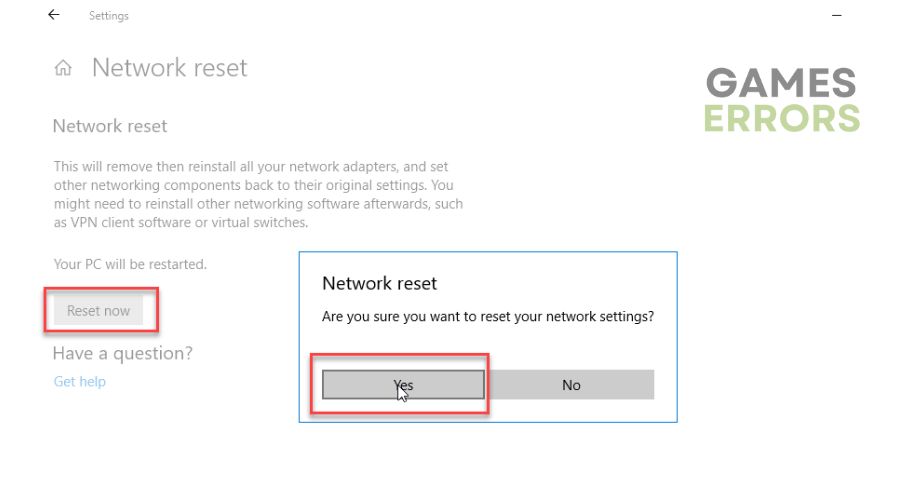 4. After restarting your PC, launch Apex Legends, and check if the stuttering problem is solved.
If you use WiFi, we still advise you to consider a wired connection, which will be more stable and reliable for gaming.
7. Reinstall Apex Legends
If the previous steps were not enough to fix your Apex legends stuttering problem, try reinstalling the game. We recommend doing this on SSD and avoiding HDD due to the vast difference in performance. In addition, by reinstalling, you will have downloaded the latest version of the game, which has patches for all the problems observed so far.
1. Type: control panel in the search box.
2. Open the control panel from the search result and choose Programs and features.
3. Right-click on the Apex Legends game and select Uninstall.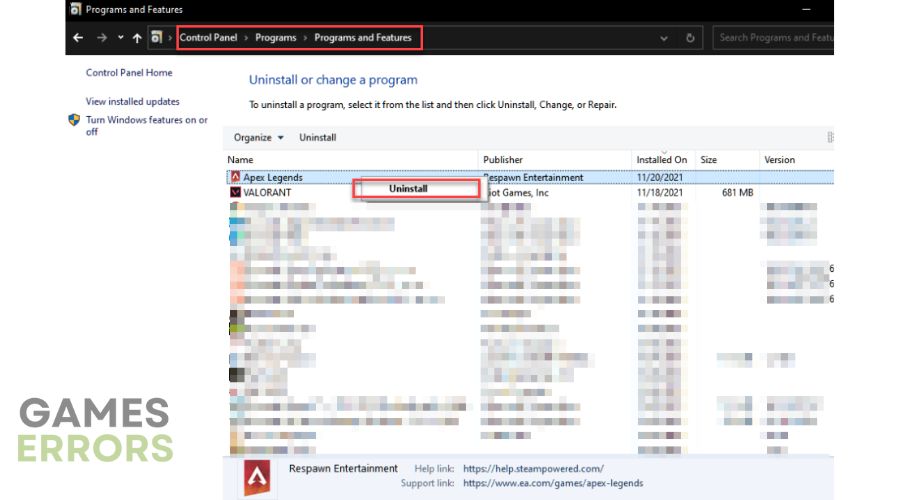 Related articles:
Conclusion
Thanks to our guide, we sincerely hope you can successfully fix Apex Legends stuttering, lagging, and freezing issues. We have listed the most common reasons why this happens and how to solve it, and if you have your solution to the problem, do not hesitate to share it with us.
If you encounter any issues or errors while playing your favorite games and require support, feel free to contact us here. Our team is always ready to assist you and ensure your gaming experience is seamless and enjoyable.