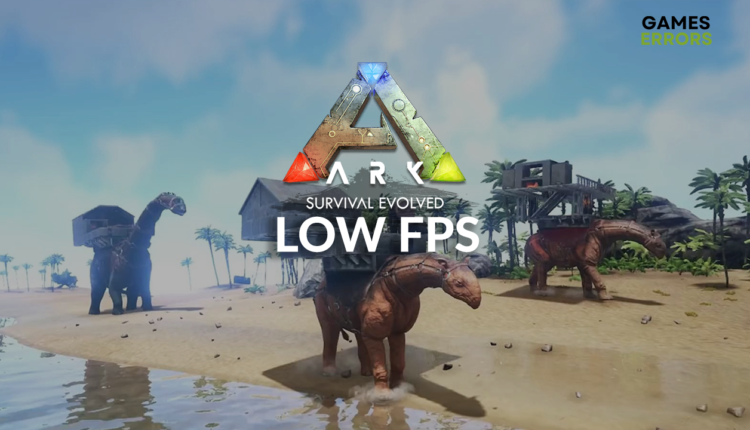 ARK Survival Evolved Low FPS: Fix It Quickly
You only want to play the game, but the FPS is so low it looks like fighting scenes from anime? No worries, we got you covered! 🚀
X
INSTALL BY CLICKING THE DOWNLOAD FILE
Many gamers are unsatisfied with this game's optimization and wonder why they have to struggle with ARK Survival Evolved low FPS. The answers are here, together with actionable solutions you can apply quickly and effortlessly!
If you have issues joining multiplayer, learn what to do if you get the Join Failed error in ARK.
Why do I have ARK Survival Evolved low FPS?
You have low FPS in ARK because your PC doesn't meet the system requirements, the Game Mode is disabled, the game cannot access all of the resources due to permission issues, apps are running in the background and consuming the resources, the graphics driver is outdated, or game files are corrupted.
How do I fix low FPS in ARK Survival Evolved?
Begin with these quick checks and easy fixes:
Check your hardware: Compare your PC's hardware to the minimum system requirements for ARK Survival Evolved. If your PC doesn't meet them, upgrade components that don't have enough computing power.
Enable Game Mode: This neat feature comes with Windows and should be enabled for the best gaming performance. Click on the Windows icon, type Game Mode, open this System Setting, and ensure the switch is on.
Run ARK as an administrator: This can be achieved by right-clicking on the game executable (.exe) file, selecting Properties, and navigating to the Compatibility tab. Simply check the box next to Run this program as an administrator, save changes and use the executable file to launch the game
If this doesn't significantly improve the game performance, proceed with the below solutions.
1. Close background apps
If your PC barely meets system requirements for ARK Survival Evolved, you will want to preserve every last bit of computing power before running the game. To do so, close all unnecessary background apps using the Task Manager.
Use CTRL + Shift + ESC shortcut to open Task Manager.
In the default processes tab, you will see the list of apps currently running.
To close the app, right-click on it and select the End Task option.

💡 You might need apps like Steam, Epic Games Launcher, or Discord while playing the ARK Survival Evolved. In this case, ensure the overlays in these apps are disabled in the app settings.
⚠ Warning: Never disable Windows or security software apps and processes. Before disabling any app ensure you don't have any unsaved progress.
2. Update the graphics driver
Time needed: 5 minutes.
Performance in ARK Survival Evolved depends massively on your graphics card. For any graphics card to run properly, you need a driver, and keeping the driver updated is the best way to fight low FPS.
Click the Windows icon, type Device Manager, and open this tool.

Double-click on the Display Adapters.

Right-click on the graphics card and select Update driver.

Select Search automatically for drivers.
Install GPU driver update.
Restart your PC.
An easier alternative to this method is using DriverFix. This tool will scan, monitor and update the graphics driver whenever necessary. This will save you some time and take driver management out of your mind.
3. Verify game files
Corrupted game files create all kinds of issues: bugs, errors, low FPS, and so on… The list is practically endless. To prevent this from happening with ARK Survival Evolved, use the game distribution platform's built-in game file verification feature.
For Steam users:
Launch Steam and head to the Library.
Right-click on ARK Survival Evolved and hit Properties.
Select the Local Files, and click on Verify integrity of the game files.

For Epic Games users:
Open Epic Games Launcher and navigate to the Library.
Find ARK Survival Evolved, click the three vertical dots, and select Manage.
Click the Verify button.

4. Clear cache
Cache files are useful since they help apps start and run faster. However, these files can get pilled up, making it difficult for the apps and games to generate new files, so we advise you to clear them up occasionally.
Use the Windows Key + R shortcut to open the Run dialog, type %localappdata%, and hit OK.

Use the CTRL + A shortcut to select all files in the folder.
Press the Delete key on your keyboard to delete all the files in the folder.
ℹ You will have to Skip some files because the currently running apps use them.

Extra steps
As a last resort for fixing ARK Survival Evolved low FPS, you can try to:
⚡ For gaming laptops: If you like to play games on the go, you might use a gaming laptop. Click on the battery icon in the taskbar, and set the Power Mode to Best Performance.
🚀 Use the dedicated GPU: If you have integrated and dedicated GPU, ensure the game uses the dedicated one. Besides enabling and disabling respected GPU in Device Manager, double-check if your monitor is plugged into the correct graphics card.
⬇ Lower the graphical details: Head to the ARK Survival Evolved settings, select Video and lower the graphical details. You can also use the Auto preset, so the level of detail gets adjusted according to your PC's specifications. Although this sacrifices some visual details, it can drastically boost your FPS, and you can experiment further to find the perfect balance.
Related articles:
Conclusion
ARK Survival Evolved low FPS has many causes, but if you apply all of the proposed solutions and fixes, you should notice a decent performance boost. However, if you are still struggling, give us more details in the comment area, and we will assist you!
If you encounter any issues or errors while playing your favorite games and require support, feel free to contact us here. Our team is always ready to assist you and ensure your gaming experience is seamless and enjoyable.