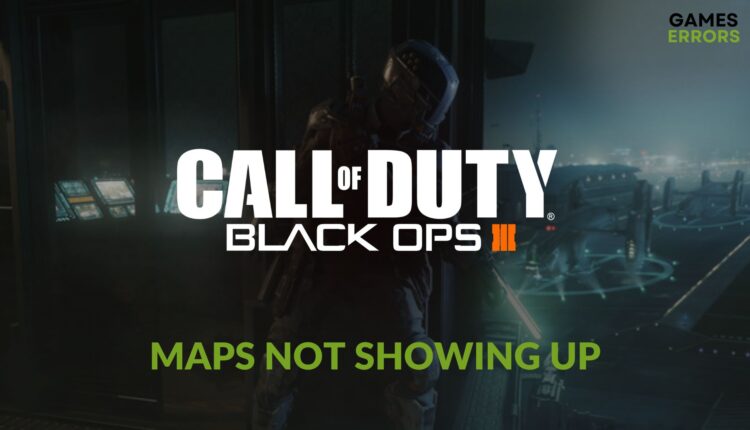 Black Ops 3 Maps Not Showing Up: How to Make It Right
If you cannot access specific maps on COD: BO3, you won't be able to enjoy the game. So, fix this issue by applying the following solutions from this article 👇
If you see that maps are not showing up on Black Ops 3, you are not alone. In this article, we will explain this problem and also feature the best solutions to solve it.
Undoubtedly, Call of Duty: BO3 is an excellent multiplayer First-Person Shooter game that has been entertaining gamers for years. This title has many features and gameplay elements. But, sometimes, you may encounter unexpected issues with this item. Maps not showing up is one of them. Luckily, there are very effective solutions.
Learn how to solve FPS dropping issues on COD: BO3 if necessary.
How many maps are in Black Ops 3?
In Call of Duty: Black Ops III, you will get 12 multiplayer maps in the base game. However, the gamers who purchased this title on the 1st day or pre-ordered have a bonus map. In addition, you will get even more maps after installing various DLCs.
According to Famdom, there are a total of 36 multiplayer maps in BO3, including the base game and the DLCs. The total number may vary as this title has been getting continuous updates.
How do I fix the Call of Duty: Black Ops 3 maps not showing up problem?
First of all, you should complete these preliminary steps before trying the main solutions:
Restart your PC/console.
Ensure that your internet connection is stable.
Disable or uninstall your antivirus temporarily to see if it helps.
Wait a few minutes after launching the game and see if the maps are still missing.
After that, try the following solutions one by one to fix BO3 maps not showing up:
1. Run the game as an administrator
Go to the COD: BO3 installation directory.
Right-click on the exe file of this game, and go to Properties.
Navigate to the Compatibility tab.
Click on Apply and OK.
This method will also help if you cannot launch Black Ops 3 on a PC.
2. Update the game files
You may encounter this problem because of outdated game files. So, updating it by following these steps may fix the maps not showing up issue on COD: BO3:
Launch the Steam's desktop app and go to the game library.
Go to Call of Duty®: Black Ops III's properties.
Navigate to the Updates tab.
Click on the dropdown icon of Automatic Updates, and then select High Priority – Always auto-update this game before others.
Relaunch Steam.
Now, Steam will check for the game updates with the highest priority and install any available one.
3. Re-install the DLCs
Time needed: 5 minutes
Re-installing/Re-downloading the DLCs is one of the most successful methods to fix BO3's maps not showing up or missing problems.
Then, close the Window and update the game.
After that, go to DLCs again and tick that DLC again.
Close the Window and update the game.
The instructions may be slightly different if you use any other game launcher. However, after trying this method, launch Black Ops 3 and see if it has fixed the maps not showing up problem or not.
4. Contacts support
The problem may still keep appearing. If none of the methods help, you can take steps to repair the game files. In case it doesn't work, contact the Activision support team to get a more precise solution.
You also can consider running this game in clean boot mode before contacting the support. In some cases, it may help you to get rid of this map-related problem on COD: BO3.
🎮 How to fix COD: Black Ops 3 Maps Not Showing Up on Xbox?
Clear persistent cache.
If it doesn't work, go to your game library.
Highlight the COD: BO3.
Press the Options button on the controller.
Go to Manage game & add-ons.
Uninstall the suspicious DLC.
Then, go to the Microsoft Store page for this game and install the add-on again.
🕹️ How to fix BO3 Maps Not Showing Up on PS5/4?
Clear the cache and rebuild the database.
If it doesn't work, select the COD: BO3, press Options, and then go to Manage Game Content.
Scroll down to the Add-ons section.
Uninstall the DLC you want.
After that, re-install it from there.
If you are interested, learn the methods to fix crashing issues on BO3.
The above suggestions will help if Black Ops 3 maps are missing or not showing up on PC, Xbox, and PlayStation. However, if the problem persists, consider re-installing the game completely. If you have any questions or a better suggestion that may help others, feel free to share in the comment box.