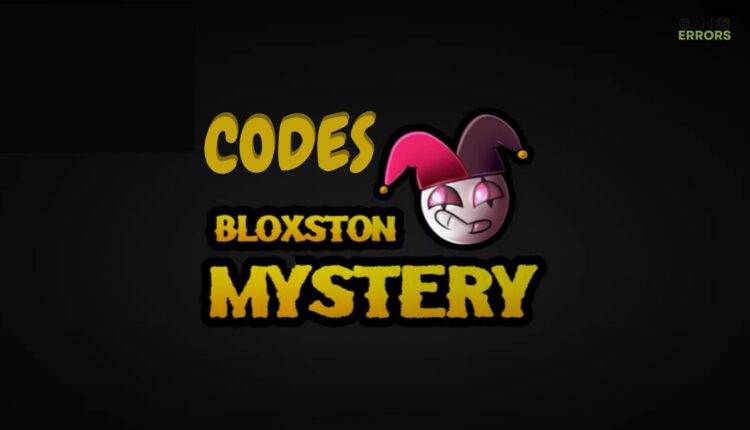 Bloxston Mystery Codes For 2023: Improve Your Gameplay
Take your Bloxston Mystery adventure to the next level with the most recent 2023 codes listed in this guide!🚨
Whether you're a newcomer or a seasoned player, our guide will ensure that you're always aware of the most up-to-date codes, supporting you to thrive in the world of Bloxston Mystery.
With the help of these codes, you can take your gaming experience to the next level, so make sure you won't miss out on any opportunity to become a true master!
What is Bloxston Mystery based on?🕵️‍♂️
Bloxston Mystery is a social deduction game inspired by the web-based title known as Town of Salem. Within this game, participants are assigned roles and affiliations at random:
🏘️Townies category includes these roles: doctor, sheriff, spy, medium, and 14 more others
👥Mafia involves these roles: assassin, godfather, ambusher, and 8 more others
🤷‍♂️Neutral implies these roles: survivor, fugitive, hitman, guardian angel, and 13 more others
🔮Coven includes these roles: potion master, witch, magician, poisoner, and 5 more others
What are the codes for Bloxston Mystery?🚀
1. Active codes
| | |
| --- | --- |
| Codes | Rewards |
| 🎁/code 15KMILESTONE! | Redeem the code for 500 Coins |
| 🕹️🧙‍♂️/code Bloxston | Redeem the code for 200 Coins |
| /code JUGGERNAUT | Redeem the code for 300 Coins |
| 🏆/code RANKED! | Redeem the code for 500 Coins |
| 🌟/code SEASON2 | Redeem the code for 2000 Coins |
2. Expired codes
| | |
| --- | --- |
| Code | Reward |
| /code 1000LIKES! | 500 Coins |
| /code 10KMILESTONE! | 500 Coins |
How do you use Bloxston Mystery codes?🏆
Launch the game on your device.
From the top left corner of the window, click on Speech Bubble (Or simply hit the / key to launch the chat feature).
Copy and paste one of the above codes, just as it appears in the provided list (Including the /code part).
Lastly, hit the Enter key and savor your reward!"
What can you do to get more free codes in Bloxston Mystery?💡
📅🔍Regularly Check Our Dedicated Guide: This is your secret weapon. Our dedicated guide is constantly updated with the latest Bloxston Mystery codes. So, make it a habit to visit it frequently. By doing so, you'll be among the first to access exclusive codes to improve your gaming experience.
🤝🕵️‍♂️Engage with the Bloxston Mystery Community: Connect with players in the game's community. They often share insights and codes. Participating in discussions, forums, or social media groups can lead you to hidden gems in the form of codes you might not find elsewhere.
📢👀Keep an Eye on Official Announcements: The game developers occasionally release official announcements and promotions that include codes. Follow the game's official social media channels, including Twitter, Instagram, and Discord.
🎮🎉Participate in In-Game Events: Sometimes, codes are hidden within in-game events and challenges. Be an active participant, complete quests, and explore the game thoroughly to uncover these hidden treasures.
👍🔑Join Roblox Groups: Many Roblox groups dedicated to Bloxston Mystery exist. Group owners may occasionally release codes for their members. By joining these groups, you'll have access to exclusive content and be among the first to know about code drops.
How do you get gems in Bloxston Mystery?⚡
These are the ways to get gems in Bloxston Mystery:
Buying with Robux 💰
Daily rewards🗓️
Gamepass🎮
🎯Related articles:
In summary, Bloxston Mystery codes for 2023 serve as your gateway to enhancing your gaming experience and fully savoring the captivating content within this Roblox game.
Equipped with the appropriate codes, you can gain access to amazing rewards, granting you a competitive advantage in conquering enigmas and surmounting challenges.