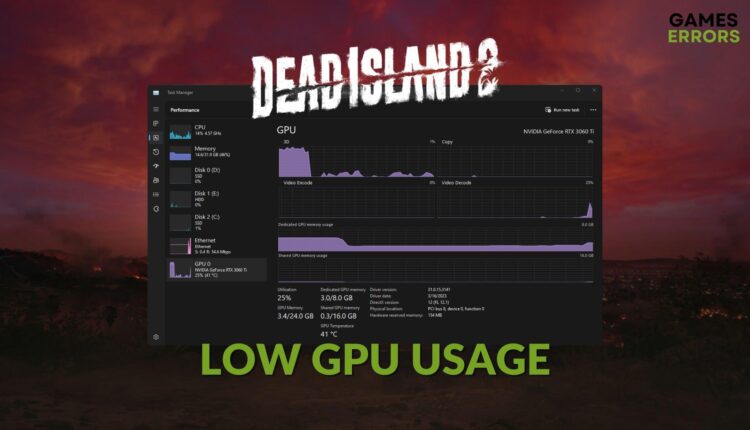 Dead Island 2 Low GPU Usage: How to Fix
To increase GPU usage while playing Dead Island 2, update the driver and tweak these settings ✅
X
INSTALL BY CLICKING THE DOWNLOAD FILE
Low GPU usage in Dead Island 2 can decrease performance significantly. If you are searching for a solution, stop here. This article will describe the most prominent methods to fix this problem.
A high-end AAA game like Dead Island 2 needs a decent graphics card for better performance. But, if it fails to utilize the GPU power, you will not get the expected experience from this action horror title. Luckily, by tweaking a few things, you can solve this problem.
If you are interested, learn what to do if Dead Island 2 remains stuck on the loading screen.
Why is GPU usage very low in Dead Island 2 on my PC?
For any low graphics power utilization problem while playing a game like Dead Island 2 on Windows 11 or 10, these are the most common reasons:
Problematic GPU driver: Even if you have a high-end graphics card, without a proper driver, it will not show its full potential. As a result, GPU usage will always remain low.
CPU Bottleneck: If your CPU is not well-capable and not in balance with your high-end graphics card, the bottleneck issue will occur, and you will experience low GPU usage.
Improper settings: Any unsuitable settings in the game or in Windows also can be the reason behind the low GPU utilization problem in Dead Island 2.
Problematic game components: Outdated or problematic components related to the game also can be why you see poor graphics card utilization issues.
Other factors may work behind this problem. But the above ones are the most common.
How do I fix Dead Island 2 low GPU usage?
First, you should do these quick things before getting started:
Install/'Update DirectX Runtime and Visual C++ packages and restart your PC.
Enable high-performance mode from the power settings.
Make sure that you have a capable cooling system.
Now, go through these methods to get rid of the low GPU usage problem on Dead Island 2:
1. Update GPU driver
Time needed: 2 minutes.
To fix Dead Island 2 low GPU usage problem, you should update your display driver to the latest version.
Select Search automatically for driver.
Finish the update.
To get maximum performance from your graphics card, you should use DriverFix to update the drivers. Unlike other tools, including the device manager, this dedicated app can scan and find the most compatible drivers and install them with just a single click.
2. Change graphics preference
Press Win + I on the keyboard to open Windows Settings.
Navigate to the Graphics.
Select Dead Island 2 from the list and then click on Options.
Relaunch the game.
3. Maximize graphics quality in the game
To improve GPU utilization while playing Dead Islands 2, you can increase the quality of the in-game graphics and tweak a few things, as shown below:
Launch Dead Islands 2.
Navigate to Options.
Go to the Display settings.
Disable Vsync.
Set the Maximum Framerate to Unlimited.
Go to Advanced.
Save it.
Relaunch the game.
4. Repair Dead Island 2
You can repair the game files to solve the low graphics card usage problem in Dead Island 2. Here are the steps to follow:
Open the Epic Games Launcher.
Go to Library.
Click on Verify.
Keep patience until it finishes the repair process.
This method will also help if Dead Island 2 keeps crashing.
5. Re-install the GPU driver
Open Device Manager like before.
Right-click on your graphics driver and then click on Uninstall.
Restart your computer.
Visit the official GPU driver website, for example, AMD, Intel, or NVIDIA driver download page.
Select your graphics card model and click on Search.
Download the driver and install it on your Windows 11 or 10 PC.
Restart your computer.
This method will not only solve the low GPU utilization issue but also will help to fix the low FPS problem on Dead Island 2.
Extra methods:
In case the situation is still the same, we suggest you do these things as well:
Update Windows to the latest version.
Roll back the GPU driver to a previous version if the problem begins after updating the driver.
Re-install the game.
If there is a CPU bottleneck issue, consider upgrading to a better processor.
If you are interested, learn what to do when Dead Island 2 won't launch.
This article has featured the best methods to solve Dead Island 2 low GPU usage problem. Feel free to let us know your opinion in the comment box.
If you encounter any issues or errors while playing your favorite games and require support, feel free to contact us here. Our team is always ready to assist you and ensure your gaming experience is seamless and enjoyable.