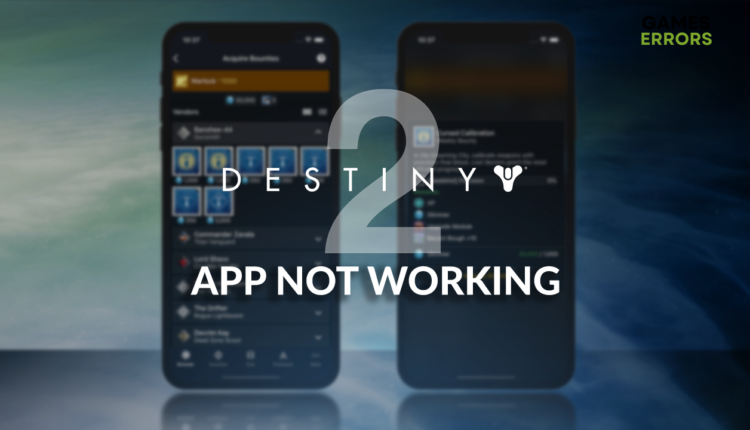 Destiny 2 App Not Working: 3 Quick Fixes in Just 3 Minutes
You are used to being able to manage gear, fireteams and tracking progress from your smartphone? Suddenly the app doesn't work? Don't worry we know what to do! 🤙
X
INSTALL BY CLICKING THE DOWNLOAD FILE
You wished that the new game update would bring new features and optimizations, but you discovered that Destiny 2 app not working means that the experience will not be the same. Don't worry! We have a few aces in our sleeve that you can use to fix the problem with your Destiny 2 Companion app.
Another thing that can ruin your experience is problems when communicating with other players. Learn how to resolve issues with voice chat in Destiny 2.
Why is the Destiny 2 app not working?
The Destiny 2 app is not working because of:
✔ Outdated software
✔ Internal file damage
✔ Temporary issues on your mobile device or network
✔ Issues on Bungie's end
✔ Destiny 2 server is down/Destiny 2 server not available
✔ Problems with app cache file size and data download settings
How to fix Destiny 2 app not working?
Fix the Destiny 2 app with these easy fixes and checks:
☑️ Check for maintenance notes: Bungie team publishes these notes on the official Twitter profile. These notes are usually issued in advance if it is scheduled maintenance. In any case, you must wait for the problem to be fixed on their side since you cannot influence the game server.
☑️ Restart your mobile device: If the issue is not the game servers, you can start troubleshooting on your devices. The first thing to do is to restart the device on which you have Destiny 2 Companion installed.
☑️ Use another network: There is a chance that your network is not working correctly. Close the app, connect to an alternative WiFi network, and open the Destiny 2 Companion app. You can also try this using mobile data or a hotspot from another mobile device.
If this doesn't make a difference and the app is still not working, proceed with these solutions:
1. Increase cache size
Time needed: 3 minutes.
By default, the cache file size is limited to 100MB. This can be problematic for the app, mainly if you use it extensively. We recommend you increase this limit, ideally to 500MB. After doing this, you can update databases to ensure everything runs correctly.
Launch Destiny 2 Companion app and tap App Settings.

Select Data Settings.

Tap on Max allowed cache size.

Select 500MB or another option other than 100MB.

Tap Update Databases and wait for the process to complete.
2. Enable data downloads
If you are using mobile data, there is a chance that the app will not be able to connect due to the limitation of using only Wi-Fi. Disable this limitation to use Destiny 2 Companion even when using mobile data.
Launch Destiny 2 Companion app and tap App Settings.

Select User Settings.

Scroll to Restrict 3D data downloads and ensure it is disabled.
The box should be unchecked.

3. Clear the app cache files
The limit for cache files should already be greater than the default 100MB, but this doesn't solve the problem of corrupted cache files. To fix this, navigate to your mobile device settings and select the option to clear cache files in Destiny 2 Companion.
For Android users:
Navigate to Settings on your Android device (gear icon).
Scroll down until you find Apps, and open it.

Tap on Manage Apps.

Find the Destiny 2 app and tap on it.

Hit the Clear all data button.
Wait until the clearing is finished…
For iOS users:
Navigate to Settings on your iOS device (gear icon).
Scroll down until you find General, and open it.

Tap on iPhone Storage.

Find the Destiny 2 Companion app and tap on it.

Hit the Offload App button and confirm the action.
Wait until the offloading is completed…

Tap on the Reinstall App button.

💡 Offloading and reinstalling the app on iOS is not a complete reinstall. For this, you need to remove the app and install it again manually from App Store.
Extra steps
Some players will have more difficulties when making the Destiny 2 app work. If you are one of them, you can try some of the last resort options:
🌐 Use a VPN: If your problem is related to a faulty internet network, we recommend you connect through a safe and reliable mobile VPN. One such provider is ExpressVPN which offers mobile apps for iOS and Android users.
📲 Reinstall Destiny 2 Companion: Completely remove the app from your device, restart it, and head to the Play Store if you are on Android or App Store if you are on iOS. Install the Destiny 2 Companion app, log in again, and see if the app works.
🔁 Factory reset: The last resort is to restart your mobile device to factory settings. This is a very unpopular option since you have to back up your data and install all the apps and games again. Double-check if you tried previously mentioned solutions and if Bungie services are running before doing this.
Related articles:
Conclusion
Comment and inform us if these solutions helped you fix your Destiny 2 app not working problem. If you experience additional issues, let us know, and we will happily assist you in resolving them.
If you encounter any issues or errors while playing your favorite games and require support, feel free to contact us here. Our team is always ready to assist you and ensure your gaming experience is seamless and enjoyable.