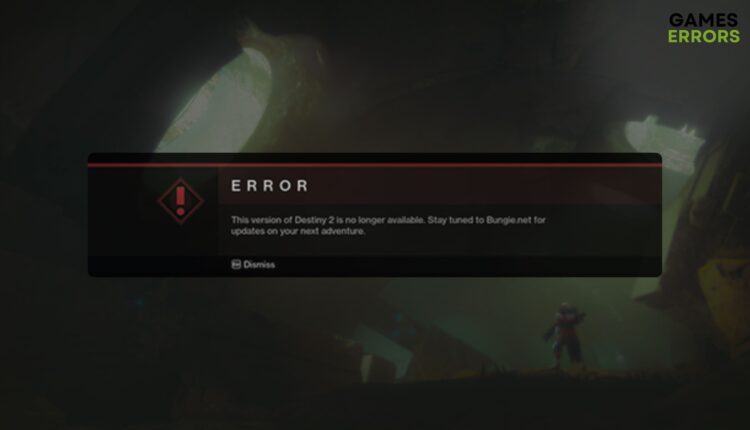 Destiny 2 This Version Is No Longer Available Error [Fixed]
Update Destiny 2 manually if it says this version is no longer available ✅
Suddenly, you may start seeing this version of Destiny 2 is no longer available error message. It may appear all of a sudden. But there are reasons behind it. This article will explain why it happens and how to troubleshoot this problem.
Bungie's Destiny 2 is undoubtedly one of the most popular multiplayer games right now. This item has received many positive reviews from critics. But, some errors like version not available issues may give you bad feelings. The good thing is you can fix it.
This error may be somehow similar to Destiny 2's CAT error. But it's different. So, don't get confused.
Why does Destiny 2 say that this version is no longer available?
In rare cases, when the version of Destiny 2 on your device doesn't match the official version on the server, you will face this problem. Usually, it occurs due to the following reasons:
Outdated game files: If the copy of Destiny 2 installed on your device is extremely outdated and has not got any auto-update, you will see that this version is no longer available or supported.
Problematic game files: Corrupted game files also can create this problem.
Unofficial copy: In case you have downloaded the game files from an unofficial source, you may end up getting this type of version is no longer available errors.
How can I fix Destiny 2: This version is no longer available error?
We have prepared the right troubleshooting methods. However, before trying these solutions, we suggest you check the following things:
Check the Bungie server status and make sure that it is up and running.
Ensure that you have a stable internet connection.
Disable your antivirus and firewall.
If needed, learn how to solve Destiny error code Chicken.
After that, go through these three methods to get rid of the problem:
1. Update the game files
Time needed: 3 minutes
Updating the game files is the most practical way to fix this version of Destiny 2 is no longer available error.
Go to the Updates tab and set the Automatic Updates to High Priority – Always auto-update this game before others.
Relaunch Steam.
In Epic Games Launcher, Destiny 2 auto-updates itself. However, to ensure it, you must verify that Auto-update is enabled in the Settings.
2. Repair Destiny 2
Go to the Steam game library.
Navigate to the Local Files tab.
Click on Verify integrity of game files.
Give it some time to complete the process.
If you play Destiny 2 on the Epic Games Launcher, go to the Library. Click on three horizontal dots under this game and then click on Manage. At last, click on Verify and wait for a while to finish the process.
After that, you should no longer encounter this version is no longer available error message on Destiny 2.
This method will also work if Destiny 2 Lightfall keeps crashing.
3. Keep patience
If the servers are under maintenance or you have not received the latest game update, you should wait. Once you get the latest patch for Destiny 2, the version no longer available error will not bug you again.
You also can update the Steam or Epic Game Launcher client up to date. Then, try the above methods again and see if it works. You also can update your network driver using Outbyte Driver Updater.
Learn the methods to fix the error code Bird on Destiny 2 if necessary.
This article has explained the most working solutions you can apply to fix this version of Destiny 2 is no longer available error. In case the problem still persists, contact the Bungie support team.