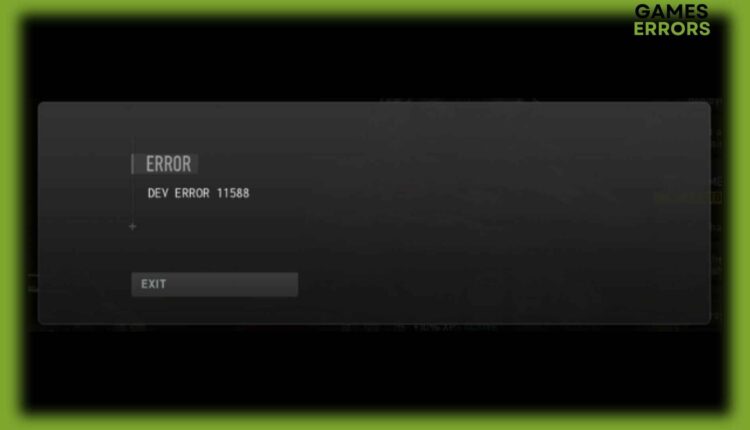 MW2 & Warzone 2 Dev Error 11588: Why & How To Fix
Follow our troubleshooting guide and fix the developer error 11588 right now 🙌
X
INSTALL BY CLICKING THE DOWNLOAD FILE
Modern Warfare 2 and Warzone 2 are arguably among the most popular online multiplayer shooting titles. However, after several years of their release, these popular video games are not immune to bugs and errors. One of the errors that players are more likely to encounter while playing Modern Warfare 2 and Warzone 2 is Dev error 11588.
In fact, many users have recently reported this error on various social media handles and are now flocking to the internet to find a potential fix. If you are also the one suffering due to the Dev error 11588 in Modern Warfare 2 and Warzone 2, there are several methods you can use to resolve the issue.
With that said, we have got you covered with the best solutions to get rid of the MW2 & Warzone 2 Dev error 11588 and continue your shooting adventure.
What is Dev Error 11588 in MW2 & Warzone 2?
Dev error 11588 is associated with corrupted or missing Modern Warfare 2 and Warzone 2 game files which can also result in crashing issues. A Reddit user who goes by scopedoutgaming on the platform discovered that this exception log shows that an access violation occurred when the program attempted to write to memory address 00000027e44bfe68.
The exception code c0000005 indicates an access violation, which can occur when a program attempts to access memory that it is not allowed to access. Now that you know the possible reasons for this error in Call of Duty games, here is how to fix these issues to continue your grind in the game.
Fixing MW2 & Warzone 2 Dev error 11588
Table of contents:
1. Verify game files
Time needed: 5 minutes.
The primary reason behind the Dev error 11588 is corrupted or missing game files. Fortunately, instead of downloading all the files, Steam launcher includes a very useful feature called verify game files which scans the game directory and only downloads the missing ones. Follow these instructions to verify MW2 & Warzone files on Steam:
Open Steam and go to your Library.

Right-click on MW2 & Warzone and select Properties.

Click on the Local Files tab.

Click on Verify Integrity of Game Files.


Wait for the verification process to complete.
Considering how big the games are, the verification process may take some time to complete. Therefore players are advised to be patient during this process.
If you've installed the game via the Battle.net launcher, then click the cogwheel next to the Play button and select Scan and Repair. Then, click begin scan and wait for the repair to finish.
2. Close background applications
Closing background applications can also troubleshoot Dev error 11588 by freeing up system resources such as CPU, RAM, and GPU. When you run a game, it requires a significant amount of these resources to run smoothly. However, if other programs are running in the background, they can use up some of these resources, causing the game to run slower or even crash.
For example, a web browser running in the background while playing a game can use up a lot of RAM and CPU power. This can cause the game to stutter, freeze or even crash. Closing the web browser will free up those resources, allowing the game to run more smoothly.
3. Run MW2 & Warzone 2 as an administrator
Running MW2 & Warzone 2 as an administrator ensures that the game has all the rights to run properly. Here are the instructions to run the application as an administrator:
Find the MW2 & Warzone 2 on your desktop or in the Start menu.
Right-click on the icon.
From the dropdown menu, select "Run as Administrator."
A pop-up window will appear, requesting your confirmation to run the program with admin privileges. Click "Yes" to proceed.
The game will now launch with administrator privileges.
4. Restart the game via Task Manager
Restoring a game via Task Manager is an effective method if the game freezes or becomes unresponsive. Here are the steps for the same:
Press Ctrl+Shift+Esc to open the Task Manager.
Look for the game in the "Processes" tab.
Once you find the game, click on it and then click on the "End task" button at the bottom of the Task Manager window.
After the game has closed, you can try reopening it by launching it from its shortcut or through Steam.
If the game still isn't working properly, you can try restarting your computer and then relaunching the game.
5. Reinstall game
If none of the above fixes resolve the issue, then we highly recommend re-installing the game. It's worth noting that the game's download size is more than 100GB, so you will have to go through the painful process once again to fix the Dev error 11588. A fresh installation is more likely to fix such error codes by downloading the game's latest files. Therefore, it's an easy way to troubleshoot game issues and get back to playing as soon as possible.
6. Contact Activision support
If none of those fixes I mentioned above seem to be doing the trick, don't lose hope just yet! Your last resort is reaching out to Activision support. You can visit their website and click the "Support options" tab to contact a representative.
You can either chat with them or request a callback. Remember, though, you might need to log in to the website with your Activision account. That way, the support squad can show its magic and fix your authentication pending error for good.
Related articles:
That is everything you need to know about fixing the MW2 & Warzone 2 Dev error 11588.
If you encounter any issues or errors while playing your favorite games and require support, feel free to contact us here. Our team is always ready to assist you and ensure your gaming experience is seamless and enjoyable.