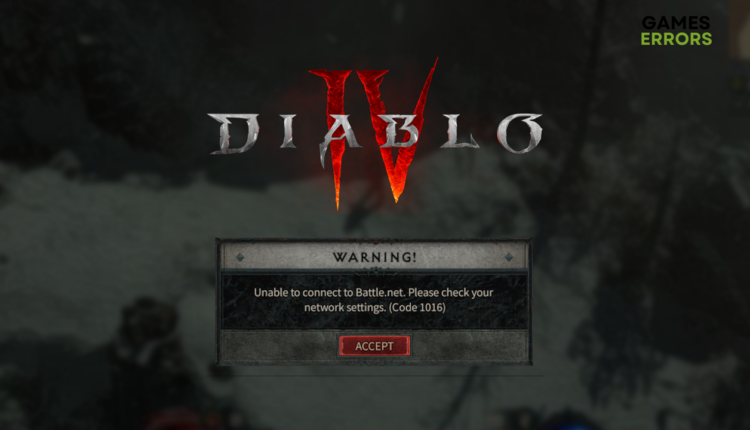 Diablo 4 Error Code 1016: Step-by-Step Fix
Network-related errors are annoying, since the cause can be hidden on multiple places. We are good at identifying them, so use our list to eliminate it in Diablo 4. 🚀
Diablo 4 error code 1016 is a network-related error that will most likely stay around until you take some action. To help you, we made a list of potential causes and paired it with another list of solutions that will remove all problems on your side and allow you to play Diablo 4 without error code 1016.
If you experience any other error codes, check our complete list of Diablo 4 error codes.
Unable to connect to Battle.net. Please check your network settings. (Code 1016)
What does error code 1016 mean in Diablo 4?
Error code 1016 in Diablo 4 means you don't have an internet connection, there are problems with your network devices, your date/time settings are misconfigured, your PC is using unreliable DNS, the network driver is outdated, Windows Firewall is not allowing Diablo 4 to use the network, or there are other network-related issues on your PC.
How do I fix error code 1016 in Diablo 4?
Start with these checks and easy fixes:
Check your internet connection: Open the Speed Test page and hit the Go button. After the test, check your upload/download speeds and latency.
Restart your network devices: Find your modem or router and hit the restart button on the device's backside. Try playing Diablo 4 after the restart completes.
Check the date/time settings: The Battle.net server might refuse your connection if your device's date/time settings don't match your IP address's time zone.
Proceed with the fully described solutions for troubleshooting the Diablo 4 error code 1016.
1. Use Google DNS
Time needed: 4 minutes
Manually set the DNS server address to the one maintained by Google to avoid network-related problems.
Use the Windows Key + R shortcut to open the Run dialog, type control, and hit OK.

Click on View network status and tasks.

Click on Change adapter settings.

Right-click the internet network you use and select Properties.

Double-click Internet Protocol Version 4 (TCP/IPv4).

Enable Use the following DNS server addresses and add:
➡ 8.8.8.8 for the Preferred DNS server
➡ 8.8.4.4 for the Alternate DNS server

Click OK and restart your PC.
2. Update the network driver
Update the network driver to allow your PC to communicate with Battle.net and Diablo 4 servers.
Click the Windows icon, type Device Manager, and open it.

Double-click on the Network Adapters section.

Right-click on your internet adapter and select Update driver.

Select the Search automatically for drivers option.
Install the network driver update
Restart your PC.
Outbyte Driver Updater is a fantastic tool that automatically scans, monitors, and updates network drivers whenever necessary! This can save you a lot of time to dedicate to playing Diablo 4!
⇒ Get Outbyte Driver Updater
3. Allow Diablo 4 through the firewall
Windows Firewall is a core security feature of Windows, but it can falsely recognize Diablo 4 as a threat.
Click on the Windows icon, type Windows Defender Firewall, and open it.

Click on Allow an app or feature through Windows Defender Firewall.

Click on Change Settings and Allow Another App.

Select Browse, and navigate to the Diablo 4 installation folder.
Click on the Diablo 4 executable file (.exe) and select Open.
Check the checkbox in columns Private and Public in the Diablo 4 row and hit OK.
Restart your PC.
4. Restart network settings
Some network settings are stored on your PC and can be manually restarted using Command Prompt.
Click on the Windows icon, type Command Prompt, and open it.
Right-click Command Prompt from the search results and choose the Run as administrator option.
Type in the following commands and hit Enter after each one:
ipconfig /flushdns
ipconfig /registerdns
ipconfig /release
ipconfig /renew
netsh winsock reset

Extra steps
Some players will have a much more challenging time getting rid of error code 1016 in Diablo 4, and they will have to try to:
🌐 Disable or change VPN: Although it can be a great way to preserve privacy and access geo-restricted content, Battle.net might dislike the idea of you using a VPN.
🛡 Temporary disable the antivirus: If the error code 1016 disappears, whitelist Diablo 4 in the antivirus settings and re-enable the antivirus protection.
📞 Contact your ISP: If you experience general connection issues, you can contact your internet service provider support center and ask them to check for any issues with your network.
Related articles:
Conclusion
These were the possible fixes for Diablo 4 error code 1016 caused by issues on your end. Let us know if you managed to get rid of the error successfully and what solved it for you.