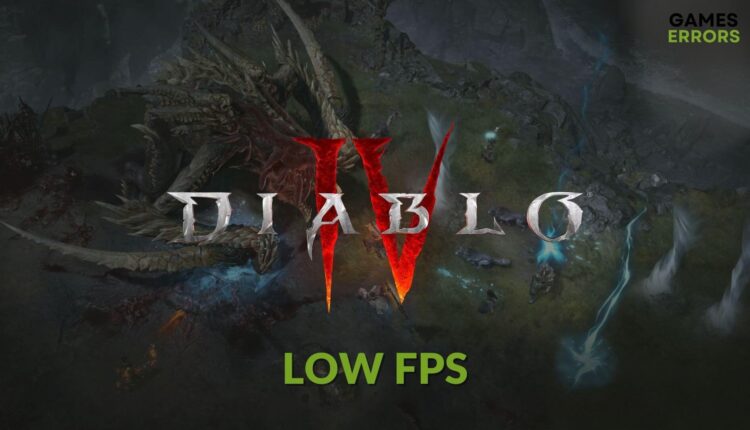 Diablo 4 Low FPS: Quick Ways to Boost Performance
To improve frame rate on Diablo 4, update the GPU driver and follow these steps 🎮
If you get low FPS on Diablo 4, you can take some key steps to solve this problem. This article will describe these steps and give you some helpful information.
Unlike other modern games, Diablo IV is not a graphics-intensive title. But, for a lot of gamers, it may perform poorly. If you are unlucky, you may also get a laggy experience from this action RPG. The good thing is there are some easy methods to boost its performance.
Why is my FPS so low in Diablo 4?
If the system requirement is not an issue, but Diablo IV is laggy, it may indicate that the following problems exist on your PC:
Graphics driver problem: Low FPS or any other performance issues with the Diablo 4 game can be caused by the outdated or buggy graphics driver.
Background services: If too many background services are active, you will not get the expected performance from this game.
Improper settings: Improper settings can cause problems like Diablo 4 won't launch, crashing, or poor performance issues.
A known problem: The low FPS problem may be related to the current version of Diablo 4.
How do I fix the Diablo 4 performance issues?
First, you need to ensure that your PC meets the system requirements for Diablo IV. Then, take these quick steps:
Ensure that you are not overclocking.
Disable your antivirus and firewall to see if it helps.
Complete any pending restart.
Now, you can proceed to the following methods to improve FPS on Diablo 4:
1. Update the graphics driver
Time needed: 4 minutes
Outdated or corrupted graphics drivers can affect your game's FPS. So, updating it to the latest version should be the first step to improving FPS on Diablo 4.
Select Search automatically for drivers and complete the update.
If you use Outbyte Driver Updater, you can update the GPU driver much better and more accurately. With an extensive database, this tool can find the most compatible driver for your video card. In addition, it can update dozens of drivers with just a single click.
⇒ Get Outbyte Driver Updater
2. Disable fullscreen optimization
Launch the Battle.net app.
Go to Diablo IV.
Navigate to the Diablo 4 directory.
Right-click on the Diablo.exe file and click on Properties.
Navigate to the Compatibility tab.
Click on Apply and OK.
Even though fullscreen optimization is an excellent feature that can enhance the gaming experience, it also can do the opposite for certain titles. Disabling this feature can help you to get rid of the low frame rate or frame-dropping issues on Diablo IV.
3. Enable game mode
Press Win + I to open Windows Settings.
Toggle the switch on next to the Game Mode.
Restart your PC.
4. Tweak graphics preference settings
Go to the Windows Settings.
Go to Graphics.
Select Diablo 4 and click on Options. You can add the game manually if it's not available in the list by default.
Restart Windows.
If it's a laptop, enable the high-performance mode from the power settings too. Then, launch and play Diablo 4 and see if it is giving a laggy performance or not.
5. Reduce background activities
Press Win + X on the keyboard and go to Task Manager.
Navigate to the Processes tab.
Select the process you want to disable and click on End Task.
Disable all other non-essential tasks.
Too many background tasks can slow down Diablo 4's performance. So, disable the ones which are not essential. However, if you don't know about a service, don't disable it. It may cause different problems.
6. Roll back the GPU driver
If the current version of the graphics card driver is the reason why you are having poor FPS or stuttering issues on Diablo 4, roll back the driver to the previous version. For this, follow these steps:
Open Device Manager like before.
Double-click on the GPU driver to go to its Properties.
Go to the Driver tab.
Follow any on-screen steps to finish it.
7. Re-install the graphics driver
7.1 Uninstall GPU the driver
Go to the Device Manager.
Right-click on the GPU driver and click on Uninstall.
Restart your PC.
7.2 Install again
Visit AMD, Intel, or NVIDIA driver download page, depending on your graphics card model.
Choose your graphics card model and click on Search.
Download the driver.
Install it on your PC.
8. Disable Vsync
Open your graphics card control panel, for example, the NVIDIA Control Panel.
Navigate to the Manage 3D settings.
Locate the Vertical sync and turn it off.
Save the settings.
Restart your PC.
Now, play Diablo IV and see whether it is still performing poorly or not.
Additional steps:
If you are still having performance issues with this game, consider doing these things as well:
Re-install the game.
Update Windows to the latest version.
If it's a known issue with the current version of Diablo 4, wait for the next game update.
If you are interested, learn how to solve Diablo 4 is stuck on the loading screen.
This article has explained what you should do to solve the Diablo 4 low FPS problem. Let us know in the comment box if you have any better suggestions.