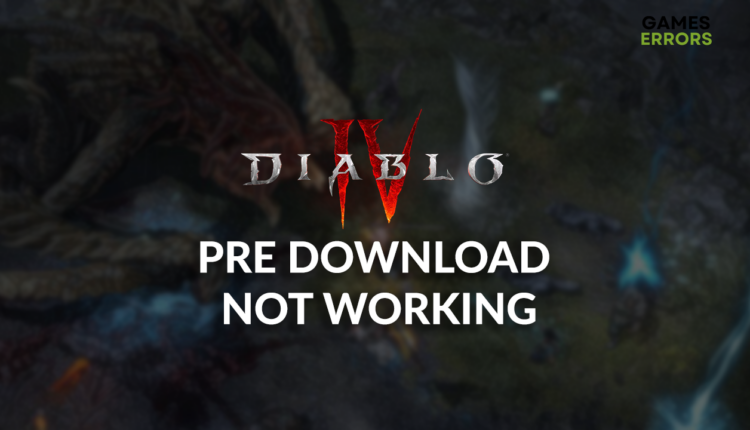 Diablo 4 Pre Download Not Working: Easiest Ways to Solve It
Diablo 4 not working? Pre-download is a great way to be one of the first players of a new game title. If it doesn't work for Diablo 4, our solutions will assist you in getting it back on track. 👾
Are you getting ready for the latest release of your favorite MMO? It is a smart move, considering the game size is around 90GB. However, your plans can be quickly interrupted if you discover the Diablo 4 pre-download is not working.
If you managed to download the game, but can't start it, read what to do when Diablo 4 won't launch.
Why is Diablo 4 pre-download not working?
Diablo 4 pre-download is not working due to temporary problems on your PC, incompatible system requirements, issues with your network devices, Windows Firewall settings, an outdated network driver, or apps running in the background and causing compatibility issues.
How to fix the Diablo 4 pre-download not working problem?
Troubleshoot Diablo 4 pre-download problems with these quick checks and easy fixes:
Check the Diablo 4 system requirements: Your PC must meet them. This is a common cause for the unable to predownload Diablo 4 problem.
Restart your PC: The problem might be temporary and possibly fixed with a quick restart of your PC.
Restart your network devices: If your home network is not working correctly, this can cause pre-download issues. Restart your modem or router and try again.
Proceed with the step-by-step solutions listed below.
1. Allow Battle.net through the Firewall
Time needed: 4 minutes
Windows Firewall is a great security feature that will protect your PC from various threats. However, it is a prevalent cause of blocking game downloads. In this particular case, you can notice that Diablo 4 stuck on calculating size.
Click on the Windows icon, type Windows Defender Firewall, and open it.

Click on Allow an app or feature through Windows Defender Firewall.

Click on Change Settings and Allow Another App.

Select Browse, and navigate to the Battle.net installation folder.
Click on the Battle.net executable file (.exe) and select Open.
Check the checkbox in columns Private and Public in the Battle.net row and hit OK.
Restart your PC.
2. Update the network driver
Another possible issue for pre-download problems of Diablo 4 can be the connection. The network driver is responsible for managing the network adapter. Keeping it always up-to-date is crucial.
Click the Windows icon, type Device Manager, and open it.

Double-click on the Network adapters.

Right-click on the network adapter and select the Update driver option.

Choose the Search automatically for drivers option.
Install the driver update.
Restart your PC.
There is an easier way to manage the driver updates! Outbyte Driver Updater offers exclusive features for scanning, monitoring, and updating network drivers. It works flawlessly with other devices as well!
⇒ Get Outbyte Driver Updater
3. Close background apps
Close all running apps and games before launching the Battle.net launcher and pre-downloading Diablo 4. This will prevent possible compatibility issues. After completing this, follow the steps below to close apps not visible in the taskbar using the Task Manager.
Use the CTRL + Shift + ESC shortcut to open Task Manager.
Find an app that you want to close.
Right-click on it and select End task.

⚠ Warning: Disabling Windows-related background processes or your antivirus software can lead to system malfunction and security issues.
Extra steps
If you did everything we recommended and Diablo 4 still won't install, try to:
🛡 Temporary disable the antivirus: Your antivirus might block Battle.net from downloading Diablo 4. If it works when the antivirus is disabled, whitelist Battle.net and re-enable it.
⬆ Update your Windows: Click the Windows icon, type Check for updates, and open these System Settings. If any updates are available, download and install them.
🔁 Reinstall Diablo 4: If nothing else resolves your Diablo 4 predownload issue, we recommend uninstalling the game, restarting your PC, and doing another clean installation.
Related articles:
Conclusion
You cannot do many other things about the Diablo 4 pre-download not working problem. Comment and let us know which solution did the trick for you, but also inform us if you find an alternative fix that helped you.