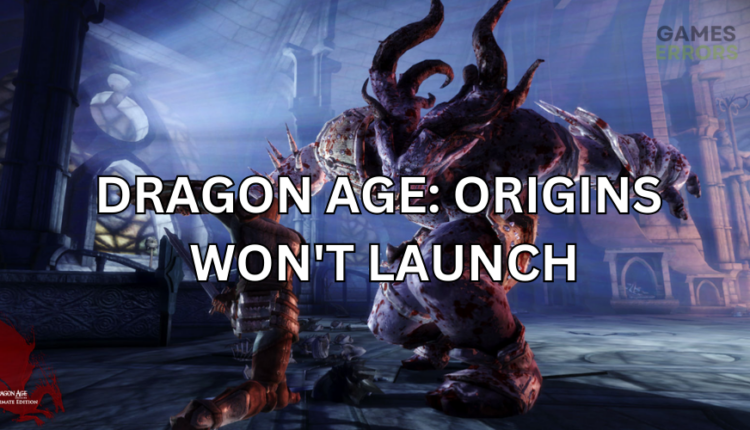 Dragon Age: Origins Won't Launch: How To Make It Launch
If you press play and Dragon Age: Origins doesn't launch, it can be frustrating. Here's how to fix it ⤵
Dragon Age: Origins is an exciting game where players learn new skills and spells, fight new enemies, and explore an all-new world area. Although the game features high-quality graphics and unique designs, it experiences numerous problems that can be annoying. One such issue is the Dragon Age: Origins won't launch.
According to reports, when players press Play, nothing happens. The game doesn't load or launch and may even crash or freeze. In this guide, we outline possible solutions for the not launching issue in Dragon Age: Origins to ensure the game opens successfully on your PC.
Why Dragon Age: Origins won't launch?
Dragon Age: Origins may not launch due to several reasons, including:
Corrupt game file: Your Dragon Age: Origins game files may be corrupt or missing, which affects how the game launches on your PC.
Lack of administrative privileges: If you don't run the game as an administrator, it may fail to launch correctly.
Security program interference: Your Windows security program may block or interfere with the game, causing launching problems.
Background applications: If multiple applications run in the background, they may hog up PC resources, triggering launching issues.
Improper installation: Some files may be missing during the installation of the game, which causes launching problems.
Hardware configuration problems: Your PC's hardware configurations may not meet the system specifications to run Dragon Age: Origins, which may prevent the game from launching.
Outdated graphics drivers: Using outdated graphics drivers on your PC may trigger launch issues with specific applications, including Dragon Age: Origins.
How do I fix the Dragon Age: Origins won't launch issue?
✅Pre-requisites: Some general checks to perform before diving into our troubleshooting solutions include:
Check Dragon Age: Origins system specifications to confirm your PC meets the minimum and recommended requirements to run the game.
Update your Dragon Age: Origins game.
Disable your Windows firewall or antivirus.
If you still encounter Dragon Age: Origins won't launch problem, here are some possible workarounds:
1. Update graphics drivers
Time needed: 2 minutes
Updating your graphics drivers allows your PC to run optimally and support intensive apps like Dragon Age: Origins. To do this:
Open Device Manager

Press the Win+R keys to open the run box and type devmgmt. msc.

Expand Display Adapters

Double-click the Display Adapters tab to expand the category.

Update driver

Identify the dedicated graphics driver you want to update, right-click it, and select Update driver.

Choose the appropriate update method

In the new window that pops up, select Search automatically for drivers.

Complete process

Let Windows search for and install the latest drivers.

Restart your PC

Restart your PC to save changes and launch the game to see if it opens.
If you don't want to update your graphics drivers manually, we recommend getting Outbyte Driver Updater. This third-party app will update your graphics drivers automatically, so you don't have to.
⇒Get Outbyte Driver Updater
2. Launch the game outside Steam
Some users report fixing the not launching issue by running the game outside Steam. Here's how to do this:
Close Steam to exit the application.
Navigate the following path on your File Explorer search bar: Steam>steamapps>common>DragonAge.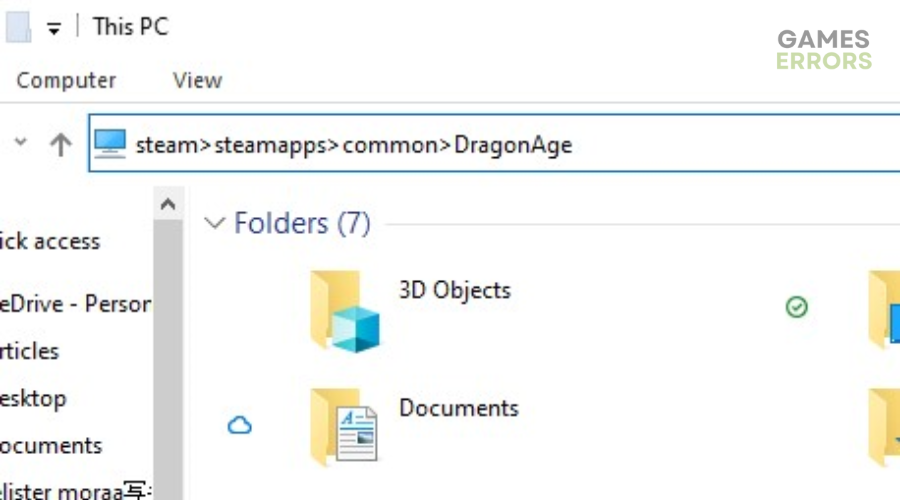 Find the DragonAge launcher folder and click it.
This will log you into Steam, then click Play, and the game should open successfully.
3. Use a different launcher
Many users report fixing the Dragon Age: Origins won't launch issue using another launcher to open the game. Most people recommend using the EA app as it has an exclusive update that ensures the game works on modern hardware/computers. Once you launch the game through the EA app, check for any available updates to ensure you're playing the latest version of the game.
Alternatively, you can launch Dragon Age: Origins via GOG, another launcher. According to fans, they encounter no issues launching the game via GOG.
➕Additional fixes for Dragon Age: Origins won't launch
Other fixes worth trying to ensure Dragon Age: Origins opens successfully on your PC include:
Final thoughts
The Dragon Age: Origins won't launch issue can be frustrating as it prevents players from opening and playing the game. We recommend updating graphics drivers, launching the game outside Steam, and using a different launcher.