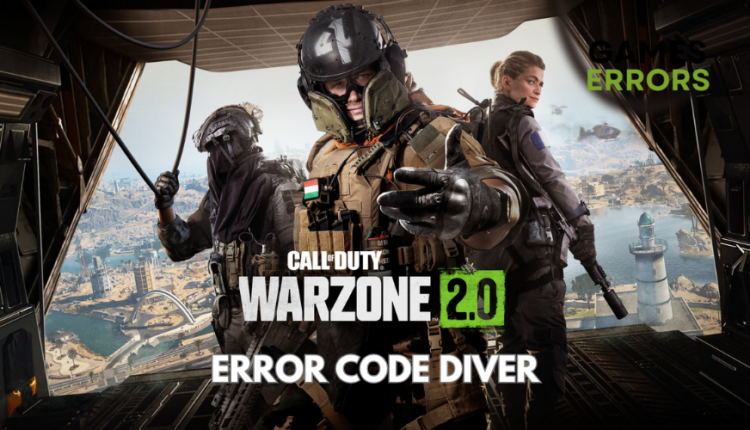 Warzone 2 Error Code Diver: What is It and How to Fix it
Are you missing important updates because of error code Diver while playing Warzone 2? Try Updating your network driver, run a SFC scan & more🎮
Experiencing Error Code Diver in Warzone 2? You're not alone.
Lots of players have faced this issue, leading to disruptions during gameplay. Our team has put this problem to the test and found effective solutions.
We'll start by uncovering the causes and then guide you through the steps to fix Error Code Diver Warzone 2 ASAP.
What Is Error Code Diver In Warzone 2?
Error Code Diver in Warzone 2 occurs when the game fails to download important updates that are necessary for your gaming experience.
Some of the common reasons why you may be experiencing this issue include:
🚀 How To Fix Error Code Diver Warzone 2?
Before jumping into the solutions listed below, complete the following pre-checks.
If you are still experiencing Error Code Diver in Warzone 2, try the solutions below.👇
Table of contents:
1. Disable static IP
Open Settings and go to Network & Internet.
Double-click the connected WiFi router to access IP settings.
Scroll down and find the IP assignment option.
Make sure it's set to "Automatic DHCP" settings.
2. Update your network drivers
Time needed: 4 minutes
Outdated drivers usually cause issues with your PC such as error code Diver. That is why we recommend constantly updating your PC drivers so that you can avoid crashes, lags, stutters etc.. during gameplay. To update your network driver:
Press Win + X and choose "Device Manager".
Expand the "Network adapters" category.

Right-click on the network adapter that you want to update.
Select "Update driver" from the context menu.

Choose "Search automatically for updated driver software."

Windows will search online for the latest driver software. If a newer driver is found, Windows will download and install it.
After installation, restart your computer to apply the changes.
Use Outbyte Driver Updater to quickly update your PC's drivers. This tool finds and installs the right drivers for your PC, making it work better without any trouble.
⇒ Get Outbyte Driver Updater
3. Run SFC scan
Press the Windows logo key on your keyboard and type "cmd." Then right-click on Command Prompt and select Run as administrator.
Confirm by clicking Yes.
In the command prompt window, type "sfc /scannow" and press Enter.
The System File Checker (SFC) will take some time to replace any corrupted system files it detects, so please wait patiently.
Restart your computer to apply the changes.
Verify if the game works correctly on your computer.
4. Flush DNS
Press the Windows Key.
Type "Command Prompt" and hover over the first app result.
Click on Run As Administrator.
If prompted to allow Command Prompt to make changes, select Yes.
A new window with a black screen will appear.
Type "ipconfig /flushdns" and press Enter.
Type "ipconfig /registerdns" and press Enter.
Type "ipconfig /release" and press Enter.
Type "ipconfig /renew" and press Enter.
Type "netsh winsock reset" and press Enter.
Restart your computer.
5. Disable Firewall
Open the Control Panel and go to Windows Defender options.
Make sure to disable the Windows Defender firewall.
After completing this step, restart your game and check if the issue is resolved.
✅ Other FIXES worth trying to fix Error Code Diver in Warzone 2:
Related Articles:
Conclusion
In conclusion, Error Code Diver emerges when critical updates fail to download, ruining your gaming experience. Common causes for this error include weak internet connections, network restrictions, game file issues, permissions problems, and server issues.
Before diving into the solutions, ensure you've completed pre-checks such as restarting the game, resetting your network devices and ensuring a high-speed internet connection,
Try one or a combination of the solutions listed above and let us know what worked for you in the comment section below. Happy gaming!