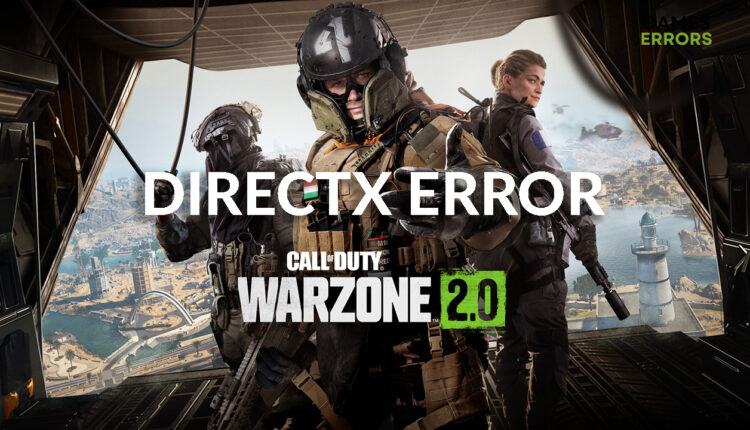 Warzone 2 DirectX Error: How To Fix it Quickly
Want to play Warzone 2, but DirectX error makes troubles for you? No worries, we will help you clean it up! 🧹
X
INSTALL BY CLICKING THE DOWNLOAD FILE
Warzone 2 DirectX error is a known error in the Call Of Duty series. It is related to malfunctioning components software known as DirectX, primarily used for gaming.
This is not the first issue players have with Warzone 2. Recently, many players got the 'Your profile was signed out' message, and we have a guide on troubleshooting it.
Why do I keep getting Warzone 2 DirectX error?
Since this error is related to DirectX, it is most likely caused by outdated graphics drivers, faulty game files, overlay apps, and piled-up DirectX cache files. This article will show you how to fix these issues and make Warzone 2 run smoothly.
How to fix Warzone 2 DirectX error?
Many players report restarting the game, and the launcher fixed the issue. Try it yourself, and if it doesn't help, proceed with the more complex solutions listed below.
Ensure that your PC meets the minimum system requirements for Call of Duty Warzone 2.
1. Update the graphics driver
Click on the Windows icon and type Device Manager.
Open the Device Manager from the search results.
Double-click on the Display Adapters section and find the name of your graphics card.
In the Update Driver Wizard window, select the Search automatically for drivers option. After the process, Windows will install the newest graphics driver if it finds any.
Restart your PC.
If you want a bigger and more reliable database of drivers for all devices on your PC, use DriverFix. This driver update tool will scan, monitor and update the drivers for you. The installation is simple and swift.
2. Verify game files
Faulty game files cause many issues, including the Warzone 2 DirectX error. Steam and Warzone have an integrated system for fixing these files in a few easy steps.
For Steam users:
Launch Steam and navigate to the Library.
Find Call of Duty Warzone 2 in the Library, right-click it, and select Properties.
After the process is completed, Steam will fix any faulty game files, so follow any additional steps that appear.
For Battle.net users:
Launch Battle.net and click the Call of Duty Warzone 2 icon.
Click on the Begin Scan option.
Once the scan is completed, Battle.net will repair any faulty game files. Follow additional steps prompted by this launcher.
3. Close background apps
If you are experiencing Warzone 2 DirectX error, don't have any other software running in the background besides the game and the game launcher.
Many users report that apps like Discord, GeForce Experience Overlay, and others that create overlays on your screen can cause this error. Close them manually or follow the steps below while troubleshooting.
Use Ctrl+Shift+Esc to open Task Manager.
In the Processes tab, make an overview of the currently running apps.
It is very important to close all apps creating overlays on your screen since this is known to cause DirectX issues with Warzone 2. However, don't close Windows or security processes since this can cause system malfunction.
4. Clear the DirectX cache
The last ace in our sleeve is clearing the DirectX shader cache files. These files can be very big and outdated, thus causing the Warzone 2 DirectX error. We will use Disk Cleanup to delete them.
Click on the Windows icon and type Disk Cleanup.
Click on the Disk Cleanup tool from the search results.
Click on the Delete files in the pop-up window to confirm the disk cleanup process.
Related articles:
Conclusion
We hope you have no more issues with the Warzone 2 DirectX error. Make sure you share with us which solution fixed the problem for you.
If you encounter any issues or errors while playing your favorite games and require support, feel free to contact us here. Our team is always ready to assist you and ensure your gaming experience is seamless and enjoyable.