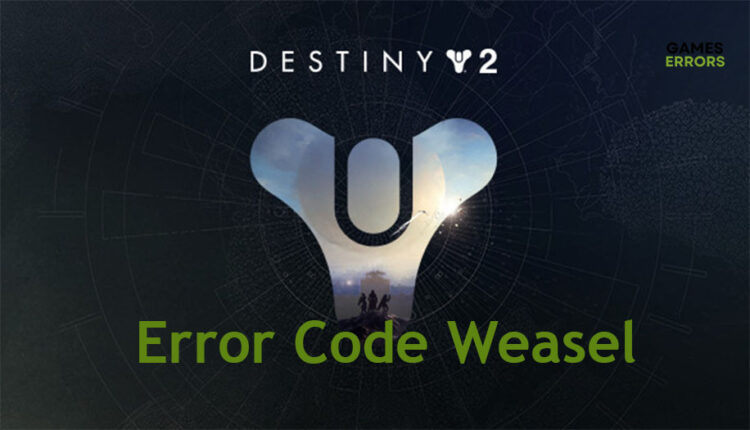 Destiny 2 Error Code Weasel: How to Fix It Easily – Explained
Follow this guide to solve error code Weasel in Destiny 2 on any device 💻 🎮
X
INSTALL BY CLICKING THE DOWNLOAD FILE
Destiny 2 is famous for many things. And one of those is the unique names it gives to its error codes. Error code Weasel in Destiny 2 is a common error that many gamers face at one time or another. So what triggers this error code and what can you do to fix it?
What is Error Code Weasel in Destiny 2 and why do I keep getting it?
Error code Weasel pops up quite often while playing Destiny 2. That's because it's a general code that covers a lot of issues with the game. From connectivity problems and in-game features to overloaded servers and corrupt installation files. You'll need to dig deep and explore different options in order to solve this persistent issue. Here are the main reasons you'd face this error:
| Causes | Solutions | Difficulty (from 1-5) |
| --- | --- | --- |
| Issues with the game's clan feature | Ask your clan admin to remove you from the clan or delete a pending invite. | 2️⃣ |
| Network problems | Check your internet connection. Switch to a wired connection. Power cycle your console. Restart network devices like routers and modems. | 3️⃣ |
| Server blockage | Wait for the server to come back online. | 1️⃣ |
| Corrupted game files | Reinstall the game. | 4️⃣ |
| Using the "Strict" NAT type | Change your NAT type to "Open". | 5️⃣ |
How do I fix error code weasel Destiny 2?
1. Use Open Nat Connection Type
Your router often has three types of connections. These are Open, Moderate, and Strict. Open Nat type allows for the fastest internet traffic as it puts little or zero restrictions on the connection. A Strict Nat type chokes the connection with too many filters and security measures. Switching your Nat type to Open will stop the Weasel error code. The following steps will guide you regardless of the type of router or internet service provider you have.
Find your router IP address and login details on the back of the router or the manual that came with it.

Open your browser and type in the address of the router, then key in your login name and password.

On the admin panel page, search for DMZ or IP4 and go to Port Forward.

Enter the configuration values for both TCP and UDP that are specific to your system or device (see the table below).

Click Save and restart your router. Check that the error code is resolved.
| | | |
| --- | --- | --- |
| System | TCP | UDP |
| Playstation 4 | 1935, 3478-3480 | 3074, 3478-3479 |
| Playstation 5 | 1935, 3478-3480 | 3074, 3478-3479 |
| Xbox One | 3074 | 88, 500, 1200, 3074, 3544, 4500 |
| PC | – | 3074, 3097 |
| Steam | 27015-27030, 27036-27037 | 3074, 3097, 4380, 27000-27031, 27036 |
| Xbox Series X | 3074 | 88, 500, 1200, 3074, 3544, 4500 |
2. Restart your Device
A simple solution to error code Weasel in Destiny 2 is to just restart your device. This allows the system to clear the clutter of junk and temporary files that pile up while it's in operation. Simply close down all games and apps then press the Restart button. In many cases, gamers reported that they could connect to the Destiny 2 servers smoothly after a reboot.
3. Unlink Destiny Companion App
The Destiny Companion app is designed to give you more info about the game in addition to easy access to many features and stats that you can get on your phone. However, this app can conflict with the game on your other device which would trigger the dreaded Weasel code. You'll need to unlink it on your account settings.
Go to the game's official website

bungie.net

and sign in.

Click your profile icon and select Settings.

In the Settings screen, scroll down to Account Linking and click it.

Choose the platform you're using to play the game and click the button next to it.

The new screen shows the apps linked to this account. Click your app to unlink it.

If that doesn't solve the error, open your phone and sign out of the Destiny Companion app then uninstall it.
4. Unjoin Clans
If you're a member of any clan and you're getting the Weasel error, then removing yourself from the clan could solve the problem. Also if you have any clan invites pending, delete them to improve the connectivity issues in the game. You can see all pending invites when you sign into the official Bungie.net site.
5. Verify Installation Files
Gaming platforms such as Steam do a good job of updating and maintaining the installed games on your machine. If you have a system crash, chances are some of the game installation files will be corrupted. Here's how to verify them on Steam.
Open the Steam app and go to the Library.

Highlight Destiny 2 on the left panel and right-click it to expand the context menu.

Select Properties to bring up the Properties screen.

Click Verify Integrity of Game Files and wait for the process to finish.

Restart the game and see if that solves the error.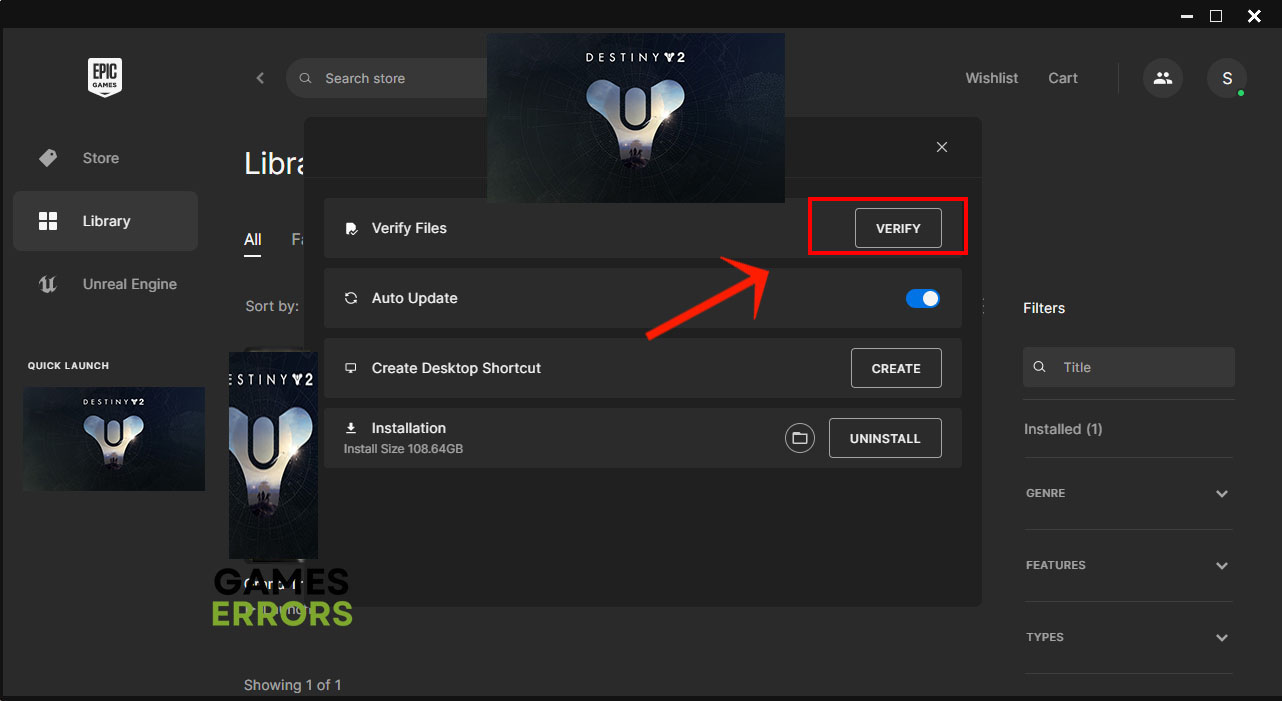 If you're using Epic Games Launcher, go to Library, right-click Destiny 2, and select Manage. In the new screen, click the Verify button.
How to Fix Error Code Weasel in Destiny 2 on PS4 and PS5?
Both PS4 and PS5 have an extra feature that helps you reset the system and clear out any clutter in the device. This feature is called Rebuild Database and you can access it through the Safe Mode as follows.
Turn off your device then press and hold the power button for 8 seconds.

In the Safe Mode screen navigate to and select the Rebuild Database option on the left panel.

Start your device in normal mode and launch Destiny 2.
Related Articles:
These solutions should get rid of the error code Weasel in Destiny 2 and avoid other potential connectivity problems. Let us know if they worked for you in the comments below.
If you encounter any issues or errors while playing your favorite games and require support, feel free to contact us here. Our team is always ready to assist you and ensure your gaming experience is seamless and enjoyable.