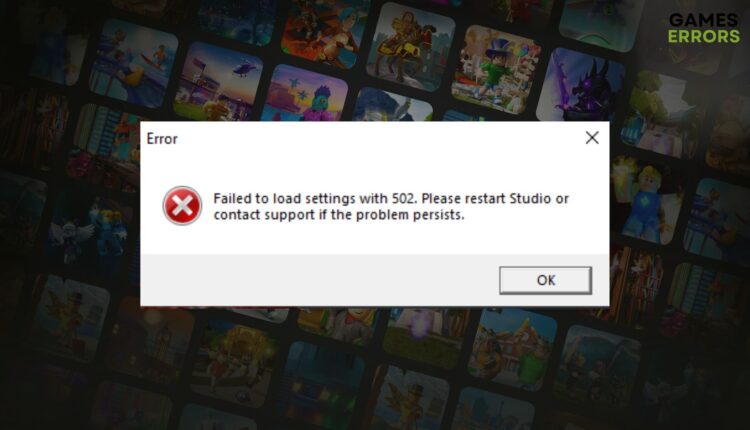 Failed to Load Settings With 502 Roblox Studio [Fixed]
To solve error code 502 with the message failed to load settings in Roblox Studio, re-install the app or follow these tips 🎯
X
INSTALL BY CLICKING THE DOWNLOAD FILE
The error failed to load settings with 502 Roblox Studio can prevent you completely from creating anything on this platform. But, there are certain tricks that can help you to solve this problem.
The Roblox Studio is a building tool that you can use to create things according to your own preferences. However, if it fails to load settings due to an error, it must be an annoying matter.
What is error 502 on Roblox Studio?
Usually, when error 502 occurs, you may notice that the Roblox Studio is taking a lot of time to load, and suddenly it stops working by showing the following message:
Failed to load settings with 502. Please restart Studio or contact support if the problem persists.
It occurs due to networking-related problems or any internal bugs. For some users, it may appear temporarily. But, some users may experience it repeatedly, which prevents them from using the Studio.
In the past, we have shown how to solve Roblox error code 529, 279, 429, etc. Like these problems, you also can solve this very easily as there are very effective solutions that can help to get rid of this type of issue.
How can I fix failed to load settings with 502 Roblox Studio?
First, you should do these quick things before getting started:
Make sure that you are not using any Proxy or VPN.
Disable your antivirus and firewall to see if it helps.
Check the Roblox service status and be sure everything is up and running.
Now, to solve the error 502: failed to load settings in Roblox Studio, go through the methods mentioned below:
1. Change DNS
Press Win + I to open Windows Settings.
Select Manual.
Enable IPv4.
Restart your PC.
2. Reset the Network
The failed to load settings with 502 error may appear on Roblox Studio for network-related problems. So, resetting the network connections on you PC by following these steps can be a good solution:
Open the Windows Settings like before.
Click on Network reset.
Click on Reset now next to the Network reset.
Restart your PC.
3. Update network driver
Press Win + X and go to the Device Manager.
Click on Search automatically for drivers and finish the update process.
To update any type of driver on Windows 11 or 10 PC, we strongly recommend you use DriverFix. This tool is more powerful, and it lets you update all of the drivers in the easiest possible way.
4. Delete AutoSaves
Open This PC.
Go to Documents.
Go to the Roblox folder and then to Autosave.
Delete the contents.
We suggest you back up the files before deleting them. Otherwise, you may lose your autosaved work in Roblox Studio.
5. Re-install Roblox Studio
Time needed: 4 minutes.
Re-installing the Roblox Studio app often comes in handy to solve failed-to-load settings with error 502.
After uninstalling, restart your PC.
Go and download Roblox Studio.
Install it again.
6. Try a different network
If the Roblox Studio still shows the message Failed to load settings with the error code 502, it may be because of your internet connection. So, we suggest you use a different network and see if it helps. You also can consider using a VPN like Private Internet Access or anything you prefer.
7. Contact support
Your problem can be a problem that is not fixable manually. So, you should contact the Roblox support team and let them know about this issue. In some cases, it can be a known problem with a specific version. You may have to wait for the next software update.
If you are still having the problem, update Windows to the latest version. If necessary, try to run Roblox Studio in a clean boot and see what happens.
You can learn how to solve error code 268 in Roblox if you want.
This article has explained how you can solve failed to load settings with 502 in Roblox Studio. If you have any questions, let us know in the comment box.
If you encounter any issues or errors while playing your favorite games and require support, feel free to contact us here. Our team is always ready to assist you and ensure your gaming experience is seamless and enjoyable.