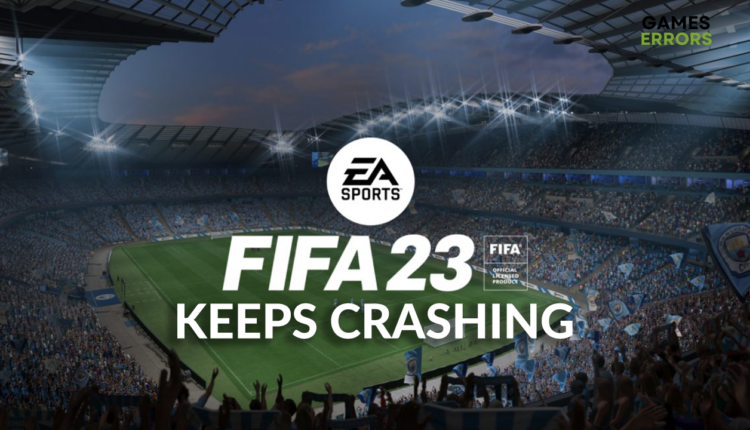 Why Does FIFA 23 Keep Crashing on PC? Here's the Fix That Work
FIFA 23 keeps crashing the middle of the match?! Don't worry! We'll get you back in the game as you say: "GOAAL" ⚽️
Although one of the most iconic and known games ever, FIFA 23 keeps crashing and ruining the experience for many players. Some players even report that these crashes shut down their devices entirely! To avoid all this and to optimize the stability of this great game, follow our tips and solutions.
If you are struggling with even launching the game check out our guide on troubleshooting FIFA 23 isn't launching.
Why does FIFA 23 keep crashing? 💥
Faulty game files, outdated GPU drivers, background apps with overlays, and corrupted FIFA 23 settings are the most common causes of FIFA 23 crashes. Part of the reason can also be that this game is more optimized for consoles than PCs. Although EA sports developers work on removing these issues, you can do your part and apply solutions to fix them on your device.
What to do if FIFA 23 keeps crashing?
Before starting with technically more advanced solutions, apply these quick fixes:
Run FIFA 23 or the game launcher as administrator.
Disable overlays in apps like Discord and GeForce Experience.
Ensure your PC meets at least the minimum system requirements for FIFA 23.
Restart your PC if running for more than a couple of hours.
If the FIFA 23 keeps crashing problem is still troubling you, proceed with the following solutions:
1. Verify game files
Game files can be damaged for multiple reasons, including game updates, internet connection loss, and drive and permissions problems. Luckily, game files can be repaired without reinstalling this 100GB+ game, but rather using the system integrated into the distributing platforms of FIFA 23.
Steam users:
Launch Steam and navigate to the Library.
Right-click on FIFA 23 and select Properties.
Select Local Files in the menu on the left.
Click on the Verify integrity of game files button.

Epic Games users:
Open the Epic Games Launcher and head to Library.
Find FIFA 23, click the three vertical dots next to it, and select Manage.
Click on the Verify button.

Origin users:
Launch Origin and open My Game Library.
Find FIFA 23 and click on the three horizontal dots.
Select the Repair option.

Be patient, FIFA 23 is a game with many game fils. The scan can take some time. Regardless of which platform you use, after the verification or repair, you will be informed if any files are corrupted and if you must take action, or it will be fixed automatically.
2. Update the GPU driver
Time needed: 5 minutes
Outdated GPU drivers can cause crashes in games that are processing a lot of visual effects, as FIFA 23 does. To avoid this, ensure you always have the most recent GPU driver.
Click on the Windows icon, type Device Manager, and open it from the search results.

Double-click on the Display adapters section.

The section will expand.

Right-click on your GPU and select the Update driver option.

Click on the Search automatically for drivers option.

The Update Driver Wizard will look for a new driver for your GPU.

If a driver update is found for you, they will be installed. Follow any prompts on the screen.

If no updates are found, but you want to ensure you have the latest drivers, you can use a driver updater tool or update drivers manually.

Restart your PC.
A driver updater tool we recommend is Outbyte Driver Updater. With it, you can scan, monitor and update all of the drivers on your PC. You will never experience game crashes due to outdated drivers because this tool will take care of it!
⇒ Get Outbyte Driver Updater
3. Close background apps
Some apps can drain hardware resources that would otherwise be used by FIFA 23. We advise closing all apps you don't use while playing FIFA 23.
Use CTRL + Shift + ESC shortcut to open the Task Manager.
Find an app you don't need while playing FIFA 23.
Right-click on this app and select End task.

Repeat this process for all of the apps you wish to close.
Important: Never close apps and end background processes you are unfamiliar with. These can be essential for FIFA 23, your operating system, and antivirus software.
4. Delete FIFA 23 settings
FIFA 23 saves some of the settings locally on your PC. However, these settings can sometimes cause crashes, so we advise you to delete them. No game progress or save files will be damaged, the only difference is that your game settings will be returned to default.
Use Windows Key + E shortcut to open File Explorer.
Click on the path and enter this location:
C:\Users\<USERNAME>\Documents\FIFA 23\Settings
Change the <USERNAME> to your Windows username and hit Enter.

Right-click on the Settings2023 file and select Delete.\
Launch FIFA 23, configure new game settings, and enjoy!
Extra steps
After you apply all of the solutions from our list and you again notice that FIFA 23 is crashing, try to do the following:
If any PC components are overclocked, revert the settings to the original ones.
Ensure cool and stable temperatures for your PC.
Update your Windows.
Related articles:
Conclusion
We hope FIFA 23 isn't crashing anymore, and you can already enjoy relaxing matches of kicking the ball. If you have any additional issues, share them with us in the comment section, and we will do our best to assist you.