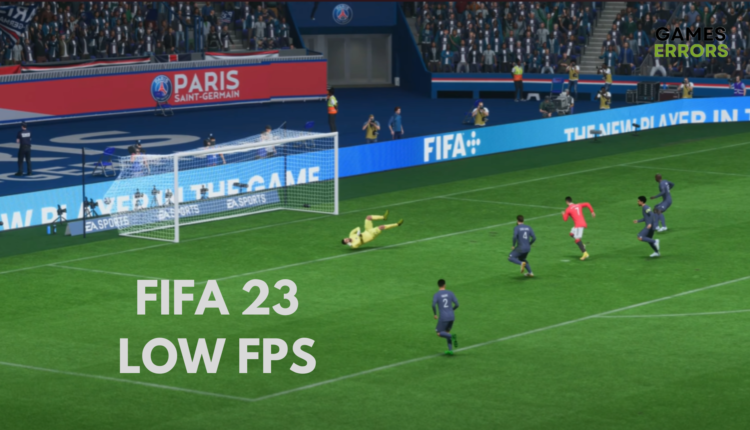 FIFA 23 Low FPS: Rapidly Fix Performance Issues
Boost your game performance by keeping your GPU drivers up to date! 🚀
X
INSTALL BY CLICKING THE DOWNLOAD FILE
FIFA 23 is a one-of-a-kind football video game developed by EA Sports, but it can generate several annoying issues, such as low FPS while playing.
Moreover, online multiplayer co-op simulator games can also experience problems related to network or server connectivity, leading to various troubles.
These issues can be caused by several factors, including complications with the PC, game files, or in-game graphics settings, which can result in a drop in FPS.
Experiencing low FPS in FIFA 23 is a common problem, and today we're here to help you with some of the best solutions to fix it.
Why is FPS so low in FIFA 23, even on my high-end PC?
Low FPS is definitely one of the most annoying problems for a real gamer. Players also reported experiencing low FPS in FIFA 23 even on their high-end PCs and these are the most common causes:
Outdated drivers: When hardware drivers are outdated, they may not be able to fully utilize the hardware's capabilities, resulting in a decrease in FPS.
Background processes: When other programs or applications are running in the background, they can use up system resources, causing a decrease in FPS.
High/low graphics/performance settings: When graphics settings are set too high/too low, the hardware work unproperly, resulting in lower FPS. Adjusting the graphics will help increase FPS in FIFA 23.
Defective hardware: When the hardware, including the CPU, GPU, and RAM, is not powerful enough to handle the demands of the game or application, the FPS will decrease.
Overheating: When the CPU or GPU overheats, it may reduce its processing power to prevent further damage, decreasing FPS.
Software issues: When the game is not optimized, or updated, or has bugs, it may reduce the FPS.
How do I fix my FPS on FIFA 23?
Table of contents:
1. Update your GPU drivers
Time needed: 4 minutes
Updating drivers can help to address potential performance issues and ensure that your system is running as smoothly as possible, which is important when you're experiencing low FPS.
Use the following keyboard shortcut to open the Quick Link menu: Windows + X
Choose Device Manager.

Look for the Display adapters section, then double-click on it.

Now, right-click on your graphics driver and choose to Update driver.

Click on Search automatically for drivers.

Wait until the process is completed.
Because your time is important, we strongly recommend considering updating your drivers using an automatic solution, such as Outbyte Driver Updater.
This tool is designed to help users easily update and fix outdated, missing, or corrupted device drivers on their Windows-based computers.
Outbyte Driver Updater scans the system and identifies any problematic drivers that may be causing issues. Then, it provides users with a list of recommended updates.
Keep in mind that you can choose to update all drivers at once or select individual drivers to update. Plus, the program offers a simple and user-friendly interface, making it accessible even for those who are not tech-savvy.
Of course, updating your GPU drivers is one of the best solutions to solve your game issues. Do not forget that it can also work if FIFA 23 Keeps Crashing on your PC.
2. Close Background Tasks
Open Task Manager by pressing simultaneously on the following keys: Ctrl + Shift + Esc
Click on the Processes tab.
Right-click on each unnecessary program, then choose to End task.
Keep in mind that this solution might also work if you notice that FIFA 23 is Stuck On the Loading Screen On your PC.
3. Set High Performance
Hit the Windows key, then type Control Panel, and click on the first result.
Now, go to Hardware and Sound.
Choose Power Options.
Then select the Balanced, High performance, Power saver, or Ultimate Performance radio button to change your plan.
Make sure to close the window and fully shut down your computer.
After your PC is completely turned off, you can power it on again.
4. Verify the Integrity of Game Files
4.1 On Steam
Open your Steam client.
Navigate to Library.
In the shown list, search for FIFA 23.
Right-click on it, then select Properties.
From the left window menu, click on Local Files.
Now, choose to Verify the Integrity of Game Files.
4.2 On Epic Games
Open the Epic Games Launcher and go to Library.
Look for FIFA 23, click the three vertical dots next to it, and select Manage.
Click on the Verify button.
4.3 On Origin
Launch Origin and open My Game Library.
Look for FIFA 23.
Now, click on the three horizontal dots, then choose to Repair.
5. Enable Game Mode
Open Windows Settings by pressing simultaneously the following keys: Windows + I
From the left window pane, select Gaming.
Now, look at the right side of the window and select Game Mode.
Make sure the Game Mode toggle is enabled.
6. Uninstall and Reinstall your GPU drivers
Use the following keyboard shortcut to open the Quick Link menu: Windows + X
Choose Device Manager.
Look for the Display adapters section and double-click on it.
Now, right-click on your driver, and choose to Uninstall device.
Confirm the process by pressing the Uninstall button.
Restart your PC.
Windows will attempt to reinstall the driver.
Why is my FIFA 23 FPS so low in the cutscenes?
Some players also reported that even if FPS has good parameters when playing the match, in the cutscenes (like prematch events, goal celebrations, and goal replays) FPS drops significantly.
It is not necessary to mention how badly this issue can influence the overall gameplay experience.
If you're also facing this problem, keep in mind that updating your GPU drivers remains the best solution you can try.
Related articles:
These are the best solutions to use in case you're experiencing low FPS in FIFA 23. For successful results, make sure you try them in our recommended order.
In case you encounter any additional related questions, make sure you leave a detailed comment in the section below.