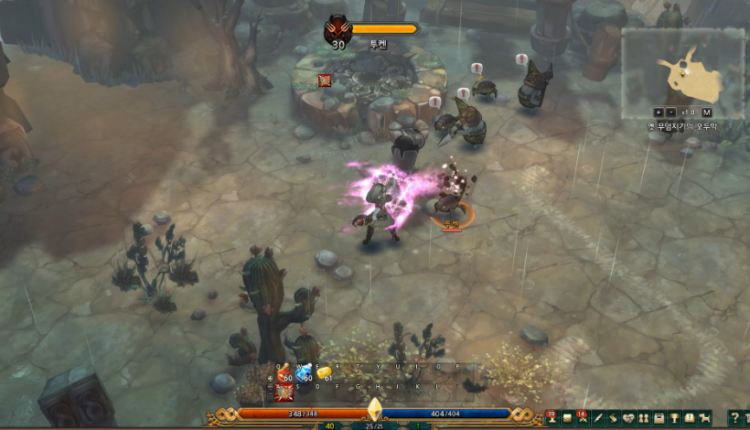 Tree of Savior Server Issues, Crashes: Fix Them With Ease
Similar to other masterpieces, Tree of Savior can generate crashes, server or FPS issues. If you're struggling with this kind of problems, we're here for you! 🎯
Tree of Savior is a massively multiplayer online role-playing game (MMORPG) that was released in 2016. Like many online games, it has had its fair share of errors, server issues, and crashes. Here are some common issues players have faced:
Server instability: This issue can cause players to experience lag, disconnects, and other issues. Plus, many players reported they couldn't connect to the Tree of Savior server.
Client crashes: Another common issue is client crashes, which can occur when the game encounters an error or bug. This can be frustrating, especially if players lose progress as a result.
Error messages: Players may also encounter various error messages while playing Tree of Savior. Some common error messages include "Connection Failed in Tree of Savior"; "Server Maintenance"; and "Client Error."
Login issues: Occasionally, players may have trouble logging into the game due to server issues or other problems.
Bugs and glitches: Like any complex game, Tree of Savior has had its fair share of bugs
Why did Tree of Savior fail?
Some players consider that Tree of Savior failed because there were not enough quests, and the experience wasn't gained fast enough to keep players interested.
However, Tree of Savior continues to be one of the most popular games on the market, despite the crashes it can generate.
Now, let's see what you can do to get rid of the most common gaming troubles.
How can I fix errors, server issues, and crashes on Tree of Savior?
Table of contents:
First, make sure that you meet the minimum requirements and after that, you will find the errors of the game described and a solution for each issue. Below you can find the list of the minimum specs you need:
MINIMUM:
OS: Windows XP
Processor: Intel Pentium Core 2
Memory: 4 GB RAM
Graphics: NVIDIA Geforce 8600
DirectX: Version 9.0c
Network: Broadband Internet connection
Storage: 4 GB available space
Additional Notes: Keyboard, Mouse
RECOMMENDED:
OS: Windows 7 or later
Processor: Intel i3 or later
Memory: 8 GB RAM
Graphics: NVIDIA Geforce GTS 450 or later
DirectX: Version 9.0c
Network: Broadband Internet connection
Storage: 8 GB available space
Additional Notes: Joypad available
1. Check the game's server status
A server-side problem can occasionally lead to a Tree of Savior server connection error. To ensure that the server is operational, you may want to check the game's server status page.
2. Update your GPU drivers
Time needed: 4 minutes
Updating the GPU drivers is one of the most efficient solutions if you experience crashes or FPS issues while running Tree of Savior.
Use the following keyboard shortcut: Windows + X
Open Device Manager.

Locate the Display adapters section, then double-click on it.

Right-click on the needed driver, then choose to Update driver.

Click on Search automatically for drivers.

Now, we recommend having a bit of patience until the process is completed.
The above steps will definitely help you update the GPU drivers, but it is a bit time-consuming. Fortunately, we have another option that will save much more of your time.
Outbyte Driver Updater is a one-of-a-kind software that can help optimize your gaming experience. By keeping your device drivers up-to-date, Outbyte Driver Updater can improve your PC's performance and ensure that you have access to the latest features and improvements for your gaming hardware.
Outdated or missing drivers can lead to various issues in gaming, such as game crashes, lag, and poor graphics quality.
Outbyte Driver Updater scans your system for outdated drivers and installs the latest ones to ensure your gaming hardware is running smoothly.
⇒ Get Outbyte Driver Updater
3.

Temporarily disable your antivirus software

Antivirus software is designed to protect your system by scanning files and processes for potential threats.

However, this scanning can take up system resources and cause delays in processing, which can affect gaming performance.

Temporarily disabling antivirus software before starting a game can help improve performance by freeing up system resources and preventing antivirus scans from interrupting gameplay.
4. Close unnecessary programs
Hit the Windows key, type Task Manager, then open the first result.
Make sure you're in the Processes tab.
Now, click on the app/program you don't use, then click on the End task button.
Repeat the steps for all the programs you don't need.
Related articles:
We hope that our guide helped you fix your Tree of Savior errors, crashes, server, and FPS issues. Feel free to describe your related opinion by leaving a comment in the section below.