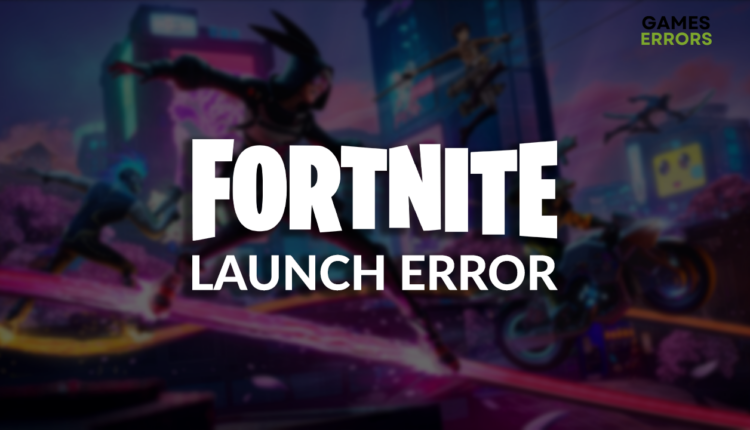 Fortnite Launch Error: Fix It Quickly
We know how it feels when waiting for Fortnite to load and then only seeing a launch error. That is why we have a list of the best solutions for this issue! 🚀
X
INSTALL BY CLICKING THE DOWNLOAD FILE
Many players complain they can't play the game due to the Fortnite launch error. This issue can be related to many different causes, so we decided to compile an ultimate list of troubleshooting methods you can use to fix this error and enjoy Fortnite without interruptions.
If you struggle with latency, read how to fix high ping in Fortnite.
Why does Fortnite keep failing to launch?
Fortnite can't launch due to temporary issues on your PC, lack of hardware resources, background apps creating compatibility issues, problems with permissions, corrupted game files, outdated GPU drivers, or faulty Visual C++ redistributable packages.
How do I fix Fortnite launch error?
Fix the Fortnite launch error quickly by performing these checks and applying these easy fixes:
Restart your PC: This will clear all temporary files and allow all programs, including Easy Anti-Cheat, to run again. It is recommended you do it at least once per day.
Check the system requirements: Your PC hardware must meet at least the minimum system requirements for Fortnite if you want the game to launch and run as expected. We suggest you upgrade your PC if it doesn't meet these requirements.
Close other apps before launching Fortnite: Before running the game, ensure no programs are in the background since they can cause compatibility issues and consume the hardware resources needed for Fortnite.
Run Fortnite as an administrator: Right-click on the game, select Properties and navigate to the Compatibility tab. Select Run this program as an administrator and hit OK to save changes.
If you still can't launch Fortnite, proceed with these step-by-step solutions.
1. Verify game files
Corrupted game files can cause launching and performance issues. Instead of reinstalling the game, you can use Epic Games Launcher feature for game file verification.
Open Epic Games Launcher and navigate to the Library.
Find Fortnite, click the three vertical dots, and select Manage.
Click the Verify button.

2. Update the GPU driver
Time needed: 5 minutes
The GPU driver is essential software to ensure your graphics card can function properly and communicate with the rest of your system. We advise you to keep it updated to avoid potential performance and launching issues in Fortnite and other games.
Click the Windows icon, type Device Manager, and open it.

Double-click on the Display Adapters section.

Right-click on GPU and select the Update driver option.

Select Search automatically for drivers.
Install driver update.
Restart your PC.
If this seems too much of a hassle, and you wish to automatize driver management, we recommend using Outbyte Driver Updater. This driver updater tool will ensure every device has the latest driver, which will save you a lot of time that you can dedicate to enjoying your favorite games!
3. Install Visual C++ redistributable
Games are built on different libraries and packages, making the development process faster. The downside is that you need these dependencies installed on your PC when playing the game. This is why you should install Visual C++ redistributable to launch Fortnite.
Open the Visual C++ Redist Packages download page.
Download the installation package.
➡ x64 is for 64-bit Windows
➡ x86 is for 32-bit Windows

Launch the installation package and follow the installation steps.
Restart your PC.
Extra steps
Sometimes you will have to do a bit more troubleshooting before being able to launch Fortnite:
💻 Run Fortnite in compatibility mode: Right-click on Fortnite executable file, select Properties and go to the Compatibility tab. Check the box next to Run this program in the compatibility mode, choose Windows 8, and hit OK.
🎮 Use DirectX 11: According to Epic Games support, Fortnite will launch and run smoother if you enable DirectX 11 rather than version 12.
🔁 Reinstall Fortnite: Some gamers report doing this to solve their issues with Fortnite launch errors. Since it is not the most popular solution, we recommend you double-check if you did everything we mentioned previously and then reinstall the game.
Related articles:
Conclusion
Fortnite launch errors can be challenging to troubleshoot, and we hope our suggestions help you. If you still experience issues, comment with the specific error code you get and we will do our best to assist you.