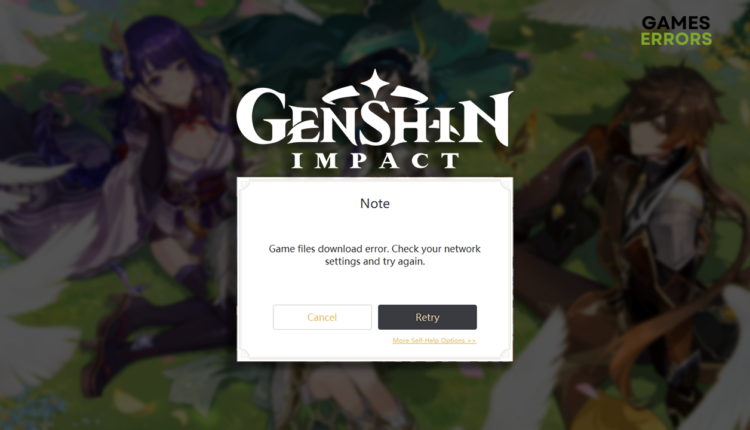 Game Files Download Error Genshin Impact [Quick Fix]
Beautiful visuals and interesting gameplay makes Genshin Impact so popular. However, download issues might be an obstacle. To remove this obstacle follow our solutions! 🚧
X
INSTALL BY CLICKING THE DOWNLOAD FILE
You realize that the game files download error Genshin Impact makes it impossible for you to play this anime game. Instead of panicking, we advise you to take a deep breath in and dive into our ultimate solutions for troubleshooting this issue!
If you downloaded the game, but can't load it, read what to do when Genshin Impact gets stuck on the loading screen.
Why do I get game files download error Genshin Impact?
You get the game files download error in Genshin Impact due to a bad internet connection, misconfigured network devices, outdated network driver, unreliable DNS server address, or misconfigured network settings on your PC.
What to do when Genshin Impact says game files download error?
Begin with these quick fixes and checks:
Check your internet connection: Head to the Internet Speed Test and check if your internet connection is working. Another essential detail is the download speed. Don't ignore latency. Anything greater than 100ms is considered high.
Reset the network devices: The devices that manage your home network, such as a router, modem, and switch, sometimes have temporary issues. These issues can be solved if you press the restart button on the back side of the device and wait a couple of minutes.
Use an alternative network: If you discover a problem with your home network, we advise you to use an alternative network in your surroundings. Mobile hotspots can be a good alternative if no other wireless or wired connections are available.
If this doesn't fix the game files download error Genshin Impact, proceed with the step-by-step solutions.
1. Update the network driver
Time needed: 5 minutes.
An outdated network driver will cause general connection issues, which might lead to game file download errors in Genshin Impact. To prevent this, you need to keep your network driver constantly updated.
Click the Windows icon, type Device Manager, and open it.

Double-click on Network Adapters.

Right-click on your internet adapter and select Update driver.

Select Search automatically for drivers.
Install the driver update.
Restart your PC.
To make this whole process quicker and more accessible, we recommend you use DriverFix. This driver updater tool will scan, monitor and update network drivers whenever necessary. It works flawlessly with other devices and their respective driver updates as well.
2. Use the Google DNS
The automatically chosen DNS server addresses are usually good enough for everyday use. However, we advise manually switching to Google DNS to maximize your network and online capabilities.
Use the Windows Key + R shortcut to open the Run dialog, type control, and hit OK.

Select View network status and tasks.

Click on the Change adapter settings.

Right-click on the network and select Properties.

Double-click Internet Protocol Version 4 (TCP/IPv4).

Enable Use the following DNS server addresses and add:
➡ 8.8.8.8 for the Preferred DNS server
➡ 8.8.4.4 for the Alternate DNS server

Click OK and restart your PC.
3. Reset the network settings
Some network settings are stored on your PC and can get misconfigured for various reasons. You can use Command Prompt to reset these settings whenever you notice something off with your connection.
Click on the Windows icon, type Command Prompt, and click on it to open it.
Type the commands below, one by one, and hit Enter after each one:
ipconfig /flushdns
ipconfig /registerdns
ipconfig /release
ipconfig /renew
netsh winsock reset

Restart your PC.
Extra steps
Some gamers will experience more difficulties when downloading this game, and if you are one of them, we advise you to:
🧹 Perform a disk cleanup: Windows has a great app that can clear up the storage on your drive, make it run smoother, and eliminate potential issues due to temporary files. Click on the Windows icon, type Disk Cleanup, and open this app from the search.
❌ Temporarily disable security software: To test if your antivirus or Windows Defender is an obstacle for the Genshin Impact game files download, disable them and check for a difference. If this turns out to be the issue, whitelist the game and re-enable the security software.
🔁 Reinstall Genshin Impact: The last and the least wanted option is to completely uninstall the game from your PC and install it again.
Related articles:
Conclusion
Hopefully, you don't wonder why you get the game files download error Genshin Impact, and you are already enjoying this open-world anime game. If you find an alternative way to fix this error, let us know so we can spread the word and help other gamers solve it.
If you encounter any issues or errors while playing your favorite games and require support, feel free to contact us here. Our team is always ready to assist you and ensure your gaming experience is seamless and enjoyable.