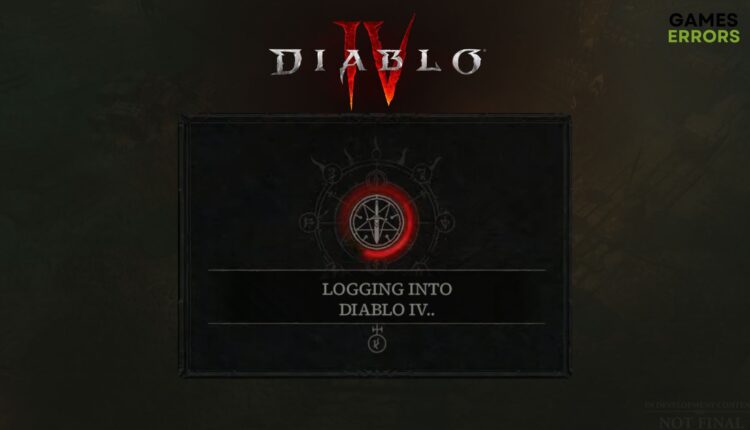 Diablo 4 Freezing at Logging In: 3 Effective Solutions To Fix
Repair Diablo 4 or re-install it on a faster SSD if this game gets stuck on logging into Diablo IV status 🎯
If you notice that while trying to play Diablo 4, it freezes at logging in, don't worry. We have the most comprehensive solution to fix this problem.
The early access version of this game is out. However, in various forums, we see that a lot of users are getting different problems. Particularly, for some, logging into Diablo IV may stop spinning after waiting in the queue. Luckily, it's not a serious problem.
Learn how to solve Diablo 4 crashing if necessary.
What causes freezing issues while logging into Diablo 4?
Gamers are getting this problem mostly on PC. Usually, it happens due to the following reasons:
Slow disk performance: If you have installed the game on a slow SSD or HDD, Diablo 4 may get stuck while logging in.
Network issue: If Diablo 4 freezes after a long queue, it may indicate that there are network problems or server issues.
Some other things, like your security program, also can be behind this problem.
How can I solve Diablo 4 freezing at logging in?
First, ensure that your PC meets the system requirements of Diablo 4. Also, check the server status from the Battle.net support page. Then, do these quick things before getting started:
Ensure that you are not using any proxy and that you have a stable connection.
Change your region and see if it helps.
Disable your antivirus or firewall.
Now, follow these steps to fix Diablo 4 freezing at logging in:
1. Reset the network settings
Press Win + I on the keyboard to open Windows settings.
Go to Network reset.
Click on Reset now.
Restart your PC.
2. Repair the game files
If the game still freezes or gets stuck at logging into Diablo IV, repair the installation files and see if it fixes the problem. For this, follow these steps:
Open the Battle.net launcher.
Navigate to All Games and go to Installed Games.
Click on the Diablo IV.
Next, click on the gear icon.
Then click on Scan and Repair.
At last, click on Begin Scan.
Give it some time to finish the process.
This method will also help if Diablo 4 won't launch.
3. Re-install the game on an SSD
Time needed: 4 minutes
To resolve Diablo 4 freezing at logging in, re-install it on a faster SSD.
Now, install the game again.
While installing, click on the Change Folder icon and select the location where you want to install the game. Make sure it's a faster SSD or a different drive.
Wait for a while until it finishes installing.
Now, run the game and see if it has worked. It should work perfectly if Diablo 4 does not respond after the queue.
Extra methods:
If you can't get through the login queue at all or the problem still keeps bugging you, follow these steps:
Keep patience and try again later.
Install the game on a different drive or even on an external SSD.
When the problem appears, press Win or CTRL + Shift + Esc and see if it helps.
Open a disk benchmark tool like CrystalDiskMark, select the drive, start the process, and launch the game. Then, stop the benchmark process.
Wait for the next game update.
For more suggestions, check out how to solve Diablo 4 stuck on the loading screen.
This article has featured the methods to fix Diablo 4 freezing at logging in. Let us know in the comment box if you have any better suggestions.