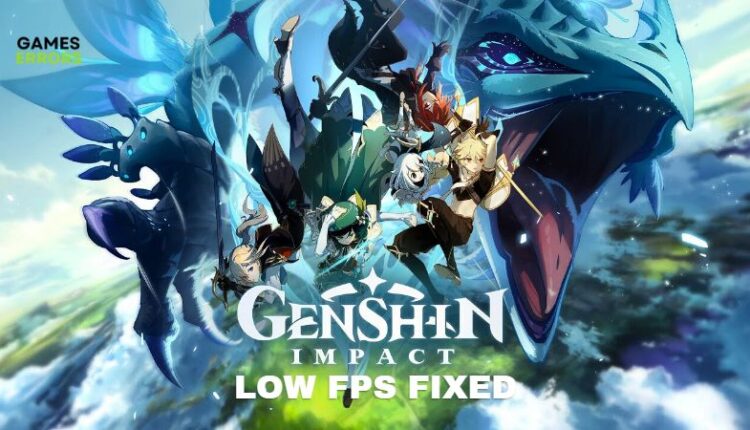 Genshin Impact Low FPS: How To Fix It Quickly
Fix the Genshin Impact low FPS problem with proven fixes discussed in this article. Good luck😎
X
INSTALL BY CLICKING THE DOWNLOAD FILE
Some gamers have reported that when getting into the Genshin Impact game and randomly during the session, the game lags due to the FPS drop. We have taken our time to discuss the Genshin Impact low fps problem and proven fixes you can perform to get rid of the issue.
Why is Genshin Impact so laggy?
In most cases, Geshin Impact gets laggy due to low FPS, which can be a result of different factors, including hardware configuration issues, internet connection, and game server-related problems.
It's important to ensure that your computer meets the minimum system requirements for the smooth play of Genshin Impact on PC. If otherwise, you are likely to experience lagging and stuttering issues on the game.
How do I fix low FPS in Genshin?
A better and more reliable frame rate is a key element that contributes to a more enjoyable and seamless gaming experience. Genshin Impact low frame rate issues must be resolved by optimizing in-game settings to use the graphics processor of your computer to its full potential and paying attention to external elements that may affect how smoothly the game app runs on your PC, such as peripherals.
To decrease lagging and/or stuttering and increase frame rate while you are playing the Genshin game, try the following basic troubleshooting methods:
Ensure that your computer cooling system is working fine.
Close other programs that could interfere with the game app on your PC.
Try to run the game as an administrator and check if the problem is fixed.
Check your internet connection.
If you still experience this problem, try to carefully perform the fixes highlighted and discussed below:
1. Update your graphics driver
The Genshin Impact low fps problem might be a result of a corrupted or outdated graphics driver installed on your PC. Hence, if the scenario is applicable to you, update your graphics driver to its latest version and check if the problem has been fixed.
To update your graphics driver manually, follow the steps below:
Press the Windows key + X and select Device Manager.
Scroll to the Display adapter option and double-click it to expand your network drivers.
Right-click on your network driver and select the Update driver option.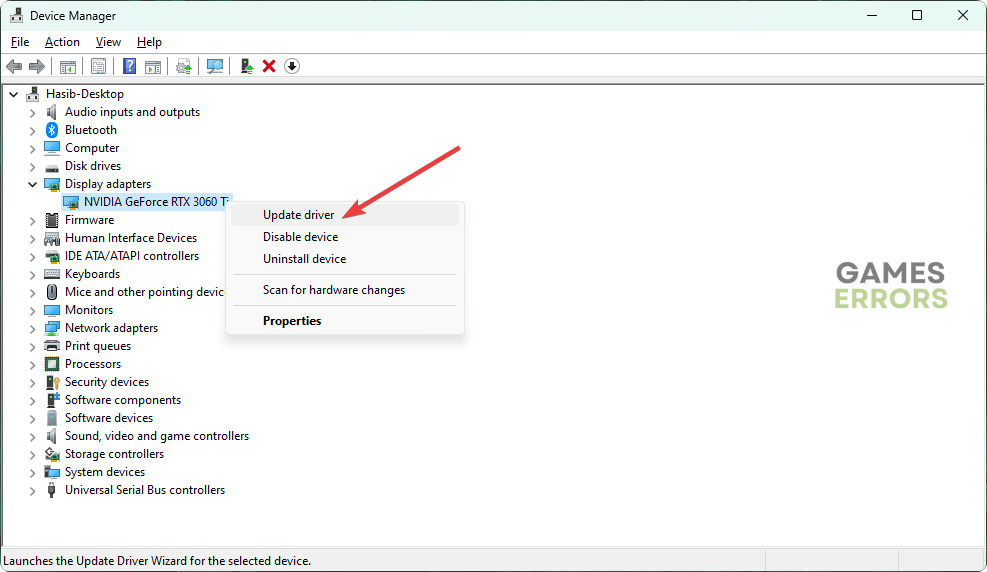 Select Search automatically for driver and allow it to install an updated version of your computer graphics driver.
On the other hand, to know whether your graphics driver is outdated or corrupted, we recommend that you make use of DriverFix. It will automatically scan your computer and determine whether your graphics processor needs a driver update or not. It also helps you download and install the update without much stress.
2. Turn off hardware acceleration
Hardware acceleration is an option enabled in Chrome and Discord by default. It makes use of your computer's GPU to address graphics-intensive tasks. To increase the frame rate you are getting on your Genshin Impact game, you can turn this feature off to give a significant FPS rise and the best possible gaming experience.
If this is applicable to you, follow the steps below to turn off hardware acceleration in Chrome and Discord:
In Chrome:
Open Chrome, click on the three lines at the top right, and select Settings.
Navigate down the left panel and click on System.
Toggle off the Use hardware acceleration when available option.
Click Relaunch and reopen your Genshin game.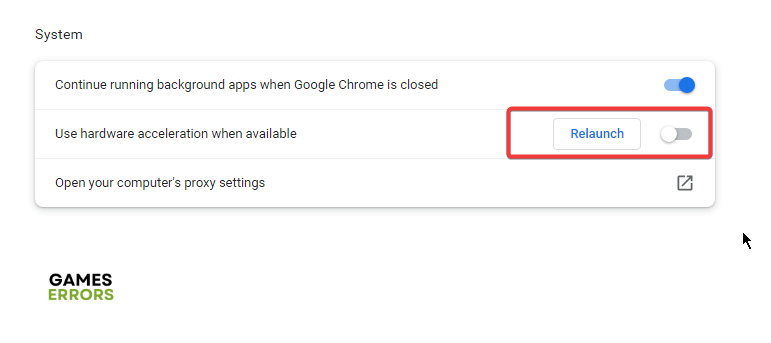 In Discord:
Open the Discord app and go to User Settings.
Find the APP SETTINGS section and click the Advanced option.
In the right screen panel, toggle off the Hardware Acceleration option.
Click Okay in the prompted window.
3. Set a high-performance power plan
Time needed: 5 minutes.
This is a proven solution you can implement to boost your game FPS and enjoy smooth gameplay. Follow the steps below to set a high-performance power plan for the Genshin Impact game app:
Press the Windows key + I to open Windows Settings.
Navigate to System > Display > Graphics.

Click on Browse to add the executable file of the Genshin Impact game to the list.

Click on Options and choose High performance.
Relaunch Genshin to check if the problem has been fixed.
4. Set the game app to high priority
You can also set Genshin Impact's priority to high to boost the frame per second. Follow the steps below:
Launch Genshin Impact and open the Task Manager app by pressing Ctrl + Shift + Esc.
Navigate to the Processes tab, then right-click on the Genshin Impact process and click on the Go to details option.
In the details tab, right-click on GenshinImpact.exe and select Set priority.
From the list of options, choose High.
After this, try to play the game to confirm if the problem has been fixed.
5. Switch to a wired internet connection
The last solution we recommend that you implement is to set up a wired internet network. It has been gathered from the gaming community that it gives a smooth gaming experience and is considered more reliable for gaming than a wireless connection. A consistent network decreases lags and boosts FPS. Therefore, we implore you to try a wired network, as the problem may just be a result of a weak internet connection.
We hope that one of these fixes works for you.
Related Articles:
If you encounter any issues or errors while playing your favorite games and require support, feel free to contact us here. Our team is always ready to assist you and ensure your gaming experience is seamless and enjoyable.