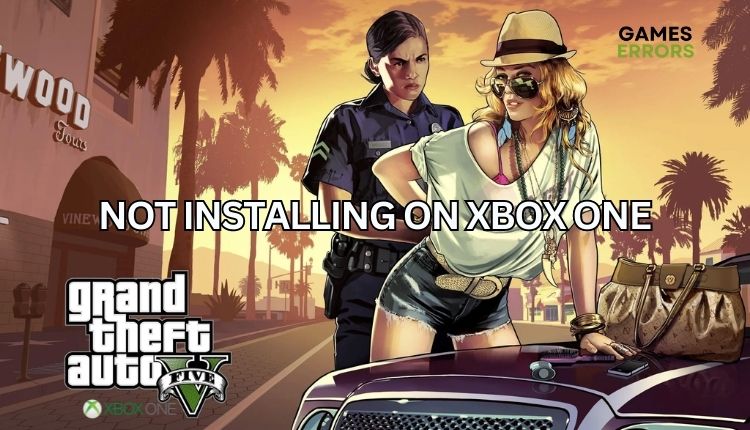 GTA 5 Not Installing Xbox One: Best Tips For Fix
GTA 5 not installing on the Xbox One? Try to clear your local saved games or install the game offline. ✅
Is GTA 5 the best yet? Definitely! There are more than enough reasons to play – unforgettable fun with three main characters, over 30 hours long main story (with even three different endings), at least twice as much fun with side missions and various activities, and there's GTA Social Club and GTA Online. But are you one of the players who encounter the "Installation Stopped" error, and GTA 5 won't install on the Xbox One or Xbox Series S/X console? This is not a rare problem, so we created this guide with tips on overcoming it.
Why my GTA 5 won't install on the Xbox One?
If you are facing the issue of GTA 5 not installing on your Xbox One, it's crucial to identify the root cause. We've compiled a list of common reasons that could be causing this problem:
corrupted saved game files
incorrect Xbox account you sign in
not enough space on Xbox One drive
Xbox One is trying to download an update for GTA 5 while the game is still installing
Xbox service issue
outdated Xbox system
How do I fix when GTA 5 not installing on Xbox One?
Before delving into our targeted troubleshooting advice, we recommend undertaking these fundamental preparatory measures:
Ensure that the Xbox Live Services are currently operational.
Check that the game disc is not damaged or dirty. If dirty, gently clean it with a soft cloth.
For digital downloads, ensure you are signed in with the account you used to purchase GTA 5.
Power cycle the console (turn off the Xbox, remove the power cord, wait 10-15 minutes, and turn on your console.) and test your internet connection.
After previously doing all the steps above and finding that you still have a problem, we recommend that you do the following:
1. Clear your local saved games
Time needed: 3 minutes
If GTA 5 won't install, it may result from corrupted game data and cache. We recommend clearing your local game saves and trying to install the game again. Don't worry; this process will not delete your Xbox Live data in the cloud, as you can restore your game files and progress from there.
Press the Xbox button

Ensure that no disc is inserted in your console, and press the Xbox button to open the menu. Select Settings from the menu.

Select Storage

Navigate to Settings>System>Storage.

Clear local saved games

Select the Clear local saved games and click Yes to confirm.

Restart console

Upon restarting your Xbox One, try to install GTA 5 again.
2. Install GTA 5 in offline mode
A GTA 5 installation error can occur when Xbox One tries to update the game while installing simultaneously. We recommend that you take your console offline:
1. Press the Xbox button to open the menu.
2. Select Settings>Network>Network Settings>Go Offline.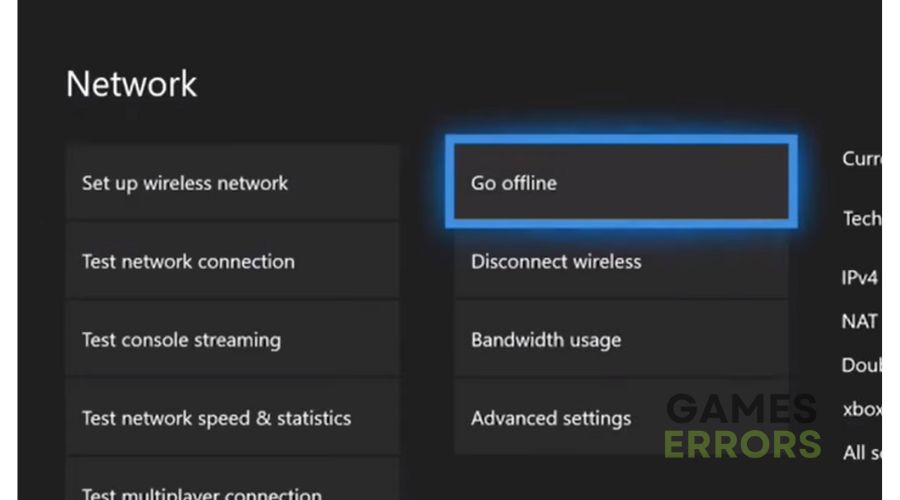 3. Now, open the My Games & Apps section and choose Queue.
4. Highlight GTA 5, and select Cancel.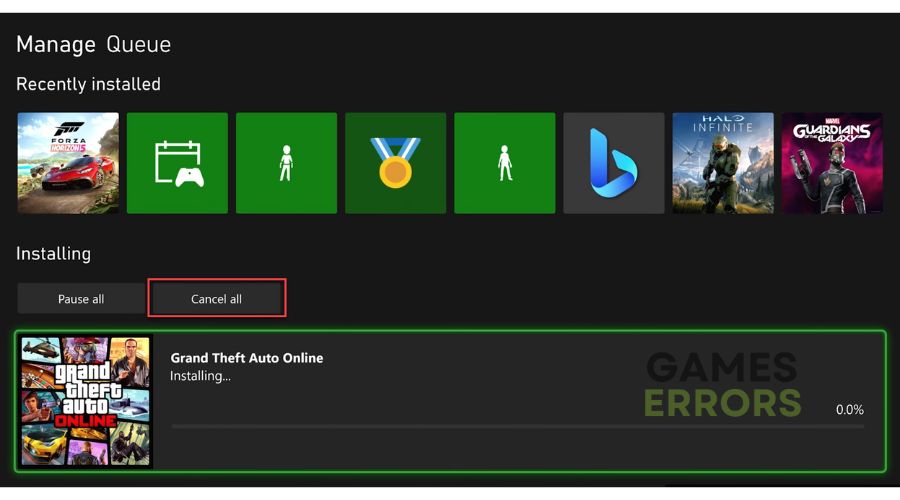 5. Eject the GTA 5 game disc and press the Xbox button on the controller.
6. Select the Restart console and Yes to confirm.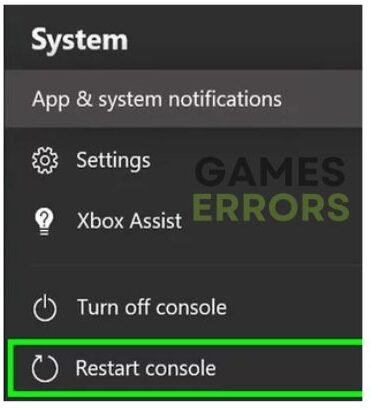 7. Upon restart, insert the GTA 5 disc and try reinstalling the game.
8. After installing the game, reconnect the internet (Go online from the Network menu) and install updates.
3. Check available storage space to install GTA 5
Most Xbox games take up a lot of storage space. There is a possibility that GTA 5 will not install if you lack the necessary storage space to download and install the game.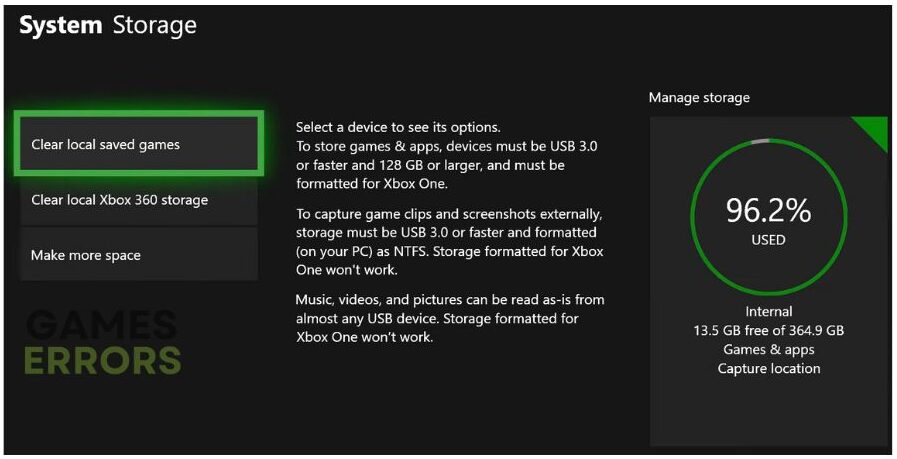 Check the free space on your disk. If your internal drive runs low on free space, you can free up disk space by uninstalling an older game you no longer play. Another solution is to add a new external hard drive and install GTA 5 on it.
4. Check for the system updates of the Xbox One
If you have the same problem with other games, there are chances that your console OS is outdated, so we recommend that you ensure you have installed all available system updates for Xbox One. Do the following:
1. Press the Xbox button to open the menu.
2. Select Settings>System>Update&downloads.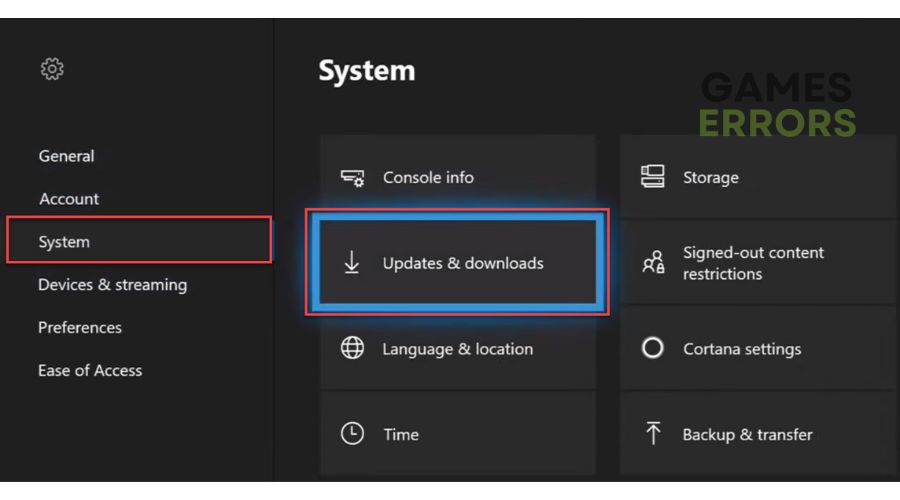 3. You can download and install any available updates from this location.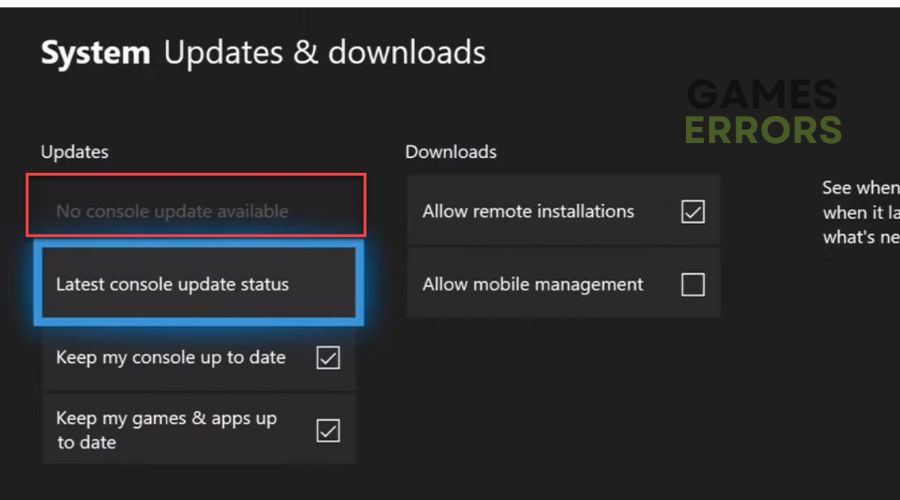 4. If a system update is available, install it and restart your console.
5. Upon restart, check if you can install GTA 5 without issues.
Related articles:
Conclusion
We hope that our tips will assist you in resolving the problem of GTA 5 not installing on the Xbox One. Feel free to comment below if you have any suggestions or questions.