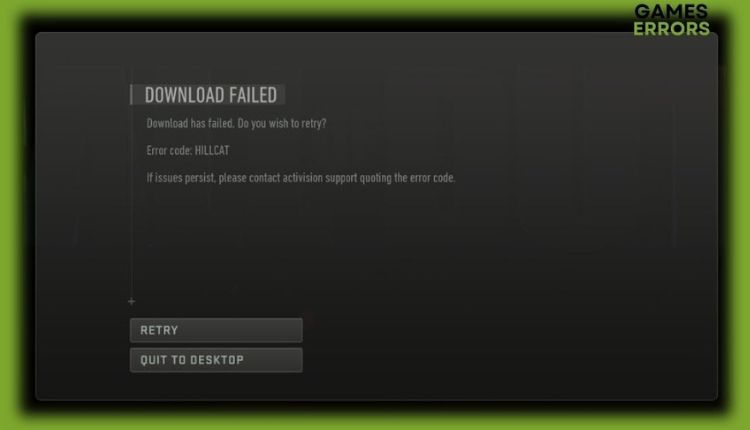 HILLCAT Error in MW2: Fixed [PC, Xbox, PS5]
If you suffer from the HILLCAT error code in MW2, we will solve this problem quickly. 💥
X
INSTALL BY CLICKING THE DOWNLOAD FILE
Call of Duty Modern Warfare 2 (MW2) is, in some segments, a better game than its predecessor and far better than the last two games. The classic Call of Duty formula in multiplayer has been upgraded and elaborated even more. It is a reasonable basis for the game that will be played for years. You won't like that the game is known to suffer from various problems and bugs that can significantly detract from the gaming experience. One such is Error Code HILLCAT in MW2. If you are affected by this problem, we have created this guide to explain the cause of the error and how to fix it quickly.
Why do I get the error code HILLCAT in MW2?
HILLCAT error codes refer to game server problems, slow and unstable internet connection, corrupted game files, DNS issues, etc.
How do I fix the error code HILLCAT in MW2?
First, do these basic steps to solve the problem quickly:
Check the game server status. If the server is down, wait for it to be operational again.
Restart the game or your PC.
Power cycle your modem or router (unplug power cables for one minute and back in).
MW 2 still has the error code HILLCAT? Then, do the following:
1. Check your internet connection
One of the main reasons you might get a HILLCAT error in MW2 could be your slow and unstable internet connection. To improve the reliability and quality of your Internet connection, we recommend that you do the following:
Check and verify your download, upload, and ping (latency) with popular online internet speed testers
If you use WiFi for gaming, bring the console or PC as close as possible to the router or modem
Temporarily or permanently disable any WiFi devices that reduce your bandwidth
If the WiFi signal is still weak, get a wireless network extender.
We always prefer ethernet for a faster and more stable connection than wireless for comfortable gaming
Check with your ISP for any other problem (maybe you have limited network resources).
2. Change your DNS server
Time needed: 1 minute.
Error code HILLCAT in MW2 can also happen if there is any interruption between the game servers and your default DNS (Domain Name Server) assigned to you by your ISP (Internet Service Provider). We recommend changing your DNS to a public and reliable one like Google's.
Open Run dialog

Type; ncpa.cpl and press Enter (or click OK.)

Select your default network adapter

Right-click on your network adapter, and select Properties.

Choose Internet Protocol Version 4 (TCP/IPv4)

Select Properties and tick the radio button – Use the following DNS server addresses. For the Preferred DNS server, type: 8.8.8.8, and for the Alternate DNS server, type: 8.8.4.4.

Restart your PC

Try running MW2 to see if the HILLCAT error code recurs.
3. Verify and repair game files
Do you still have the error code HILLCAT in MW2? This error can also occur if one or more game files are corrupted or missing. For this reason, we recommend you check the integrity of the game files on the Steam client and repair any missing or damaged files.
1. Launch the Steam client and go to your games library.
2. Locate Call Of Duty: Modern Warfare 2 in the Library, right-click on it and select Properties.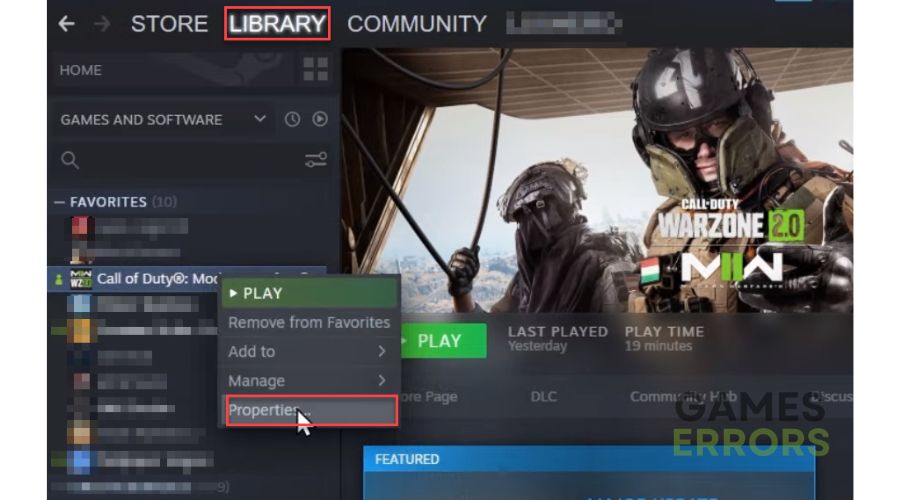 3. Select the LOCAL FILES menu option and click on Verify integrity of game files.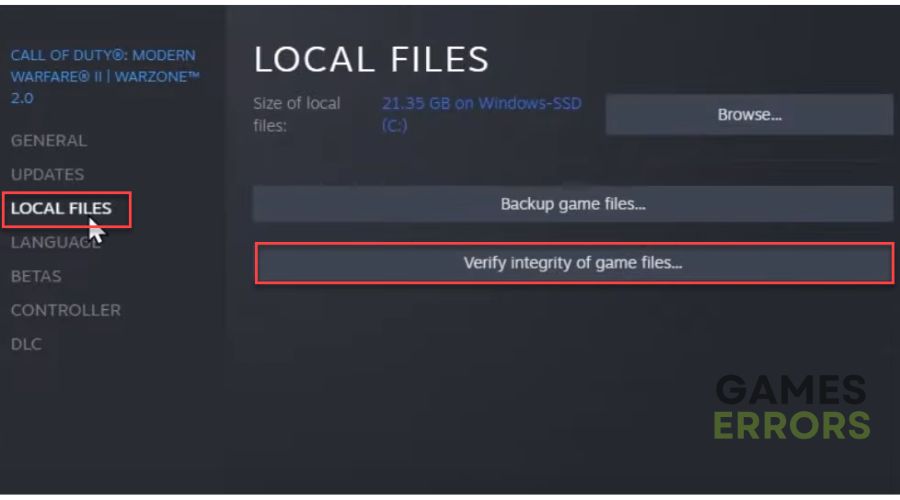 4. Wait a few minutes for Steam to finish verification, then restart the PC.
5. Launch MW2 to check if the HILLCAT error code is gone.
4. Check for game update
We recommend always having an updated version of MW2, as an outdated version can cause poor performance and errors like HILLCAT. To make sure you always have the latest version of the game, do the following:
1. Open the Steam client and go to Library.
2. Click on Call of Duty: Modern Warfare 2 and select UPDATE option.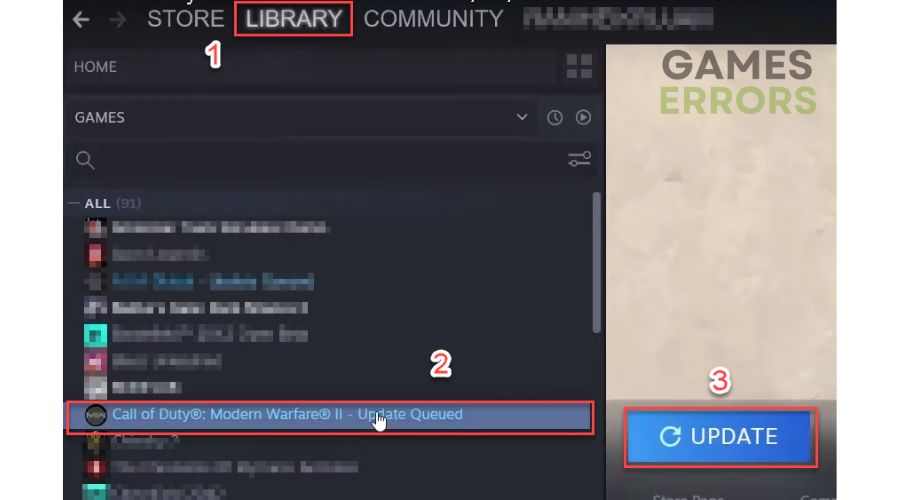 3. Be patient to wait for some time until the update completes, and after that, restart the PC to apply changes.
4. To set the always get an automatic update, right-click on the MW2 and select Properties.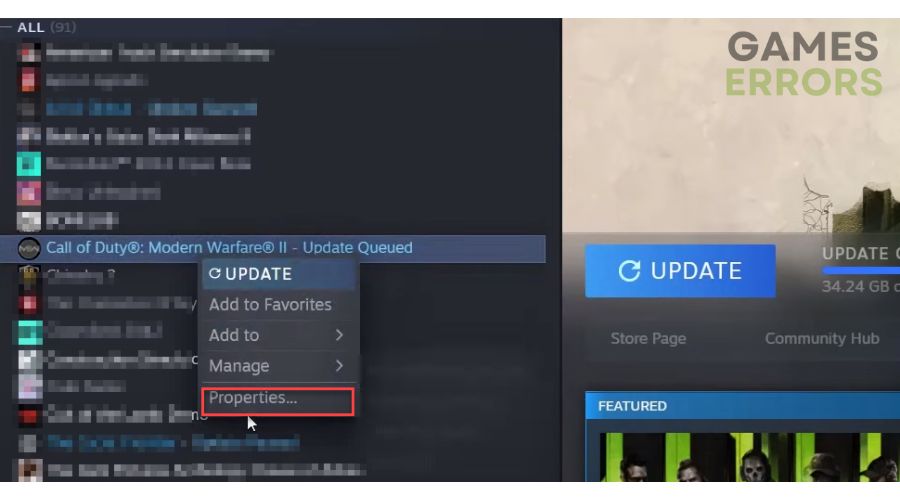 5. Click on the UPDATE and choose Always keep this game updated from the drop-down menu.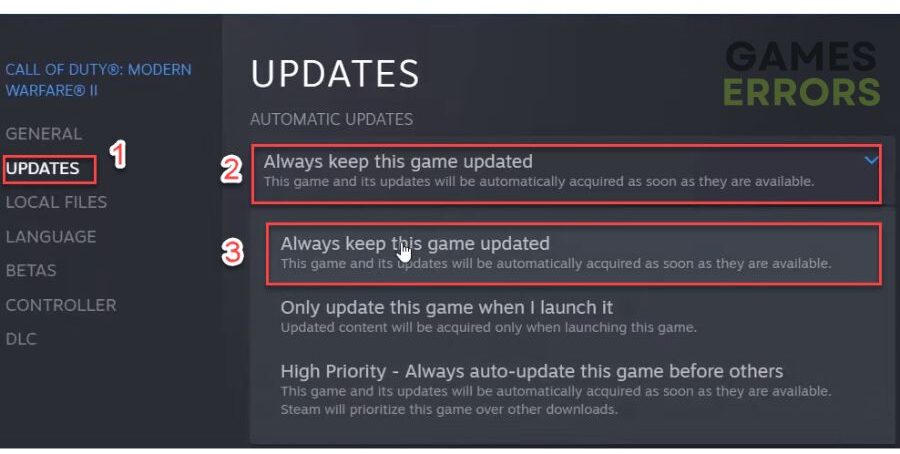 5. Reinstall game
If you've tried all of our solutions but still have the error code HILLCAT in MW2, the only thing left is to reinstall the game. Maybe some game files can't be recovered, or it's a subpar installation. In any case, a fresh installation of the game also brings the latest game patches, so you can be sure that most problems will be fixed. We recommend installing the game on a faster SSD if you're still stuck on an old HDD device. The game will load much faster, and the entire Windows will be more responsive.
🎮 How to fix the error code HILLCAT on Xbox?
Check Xbox Server
Test network connection (Press the Xbox button. In the Settings menu, choose the General option. Navigate to Network settings)
Check any updates (Open the My Games & Apps menu/Manage/Updates/Update All).
Clear console cache (Unplug the power cord for 5 to 6 minutes, then plug the power cord back and turn on your Xbox).
Delete and reinstall MW2
🕹 How to fix the error code HILLCAT on PS5?
Check Playstation Network
Test network connection (Home menu, select Settings, Network menu, choose Test Internet Connection).
Check any updates (Select MW2 from the Home screen, press the Options button on your controller, and select Check for Update).
Clear console cache (same procedure as Xbox console).
Delete and reinstall MW2
Related articles:
Conclusion
In this guide, we have given you specific tips on how to get rid of the HILLCAT error code in Call of Duty: MW2. Feel free to comment below if you still have the problem or found another way to fix it.
If you encounter any issues or errors while playing your favorite games and require support, feel free to contact us here. Our team is always ready to assist you and ensure your gaming experience is seamless and enjoyable.