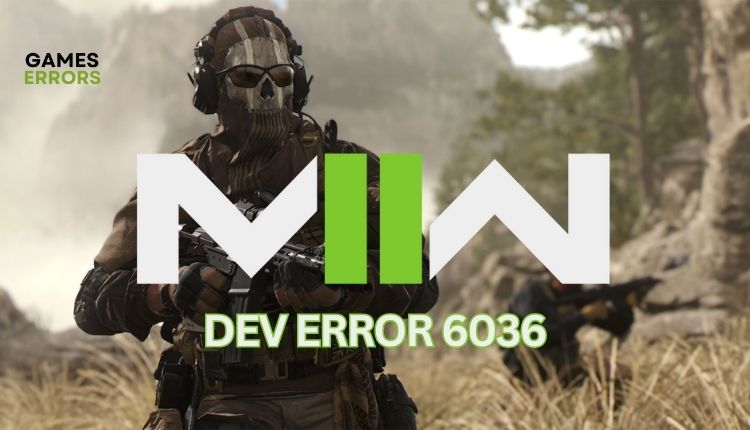 Dev Error 6036 in MW2: How to Fix It Step by Step
We know how to deal with DEV error 6036 in MW2, so check our guide before moving further. ✅
Modern Warfare 2 surpasses its predecessor in certain aspects, particularly in its multiplayer mode, which boasts improved and more intricate gameplay, but MW2 is not immune to annoying error codes like Dev Error 6036, which prevents players from continuing the game. This guide will give you concrete tips to fix this error code in MW2.
What is cod error 6036 MW2?
The Dev Error 6036 in Modern Warfare 2 is shown when the map data is not installed correctly. This fatal error started occurring in MW, and it was kept as a code since then. However, you might also encounter Call of Duty DEV error 6036 for several reasons, including:
low-end PC for game requirements
corrupted game files
the game is not updated
outdated graphic driver
incorrect in-game settings
issues with the overlay app
How do I fix Dev Error 6036 Modern Warfare 2?
To fix Dev Error 6036 in Modern Warfare 2, start with these simpler tasks:
Restart the game or your PC. Restarting the computer could resolve any temporary glitches that may be occurring.
Run the game as administrator from the installation folder.
If you have completed all the initial steps and the issue persists, try the following:
1. Update GPU driver
One of the most frequent causes of game errors and issues are outdated graphics drivers. Thus, we suggest updating them as the initial step.
1. Press the Win+R keys to bring up the Run dialog box.
2. Type; "devmgmt.msc" and hit Enter to open Device Manager.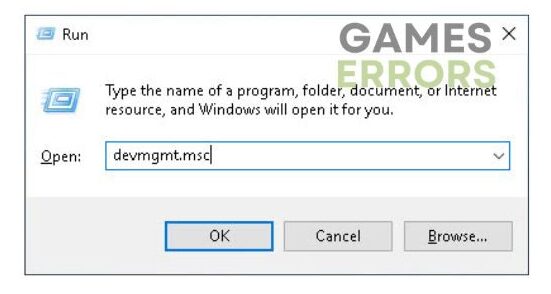 3. Double-click on the Display adapters to expand, right-click on GPU, and select Update driver.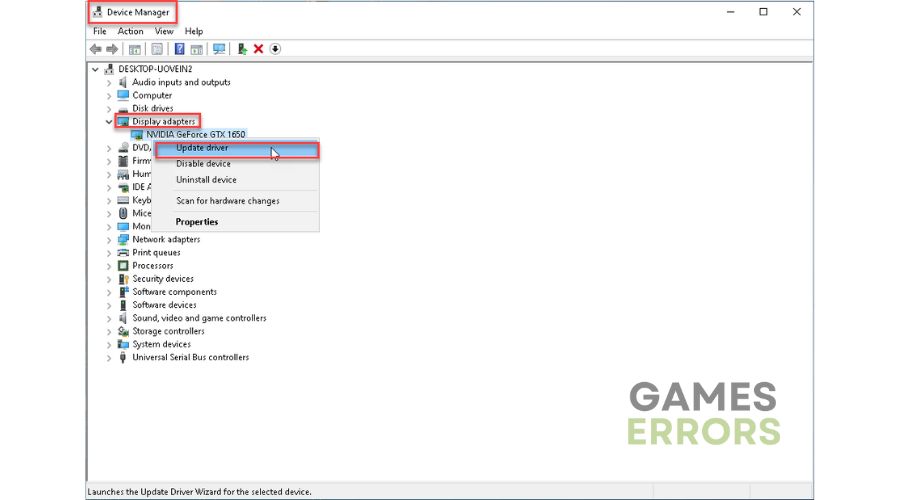 4. Follow the on-screen guide for installing the latest GPU driver version.
📌 Another way to update your GPU driver is to visit the official website of AMD, NVIDIA, or Intel and download the latest driver available.
ℹ️ Keeping all drivers updated on your Windows PC has become simpler and quicker thanks to Outbyte Driver Updater. This useful tool conducts a speedy scan and regularly updates all drivers with just a few clicks of the mouse, saving you valuable time.
⇒ Get Outbyte Driver Updater
2. Update the game
We recommend regularly checking for updates on MW2 to prevent severe bugs and instability issues caused by using an outdated version. Follow these steps to check for updates:
1. Run the Steam client and go to your game's library.
2. Select Call of Duty: Modern Warfare II.
3. If there is an update available, make sure to click on Update.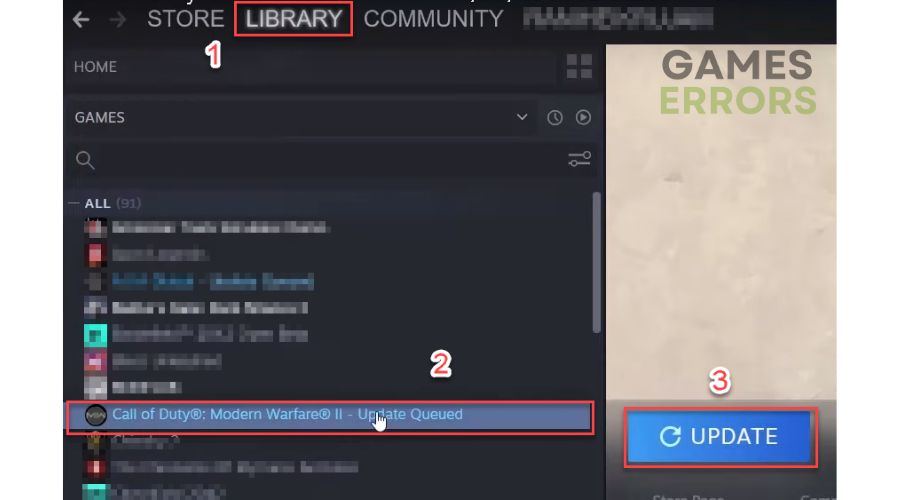 4. To ensure that you update the game automatically, right-click on MW2 and select Properties.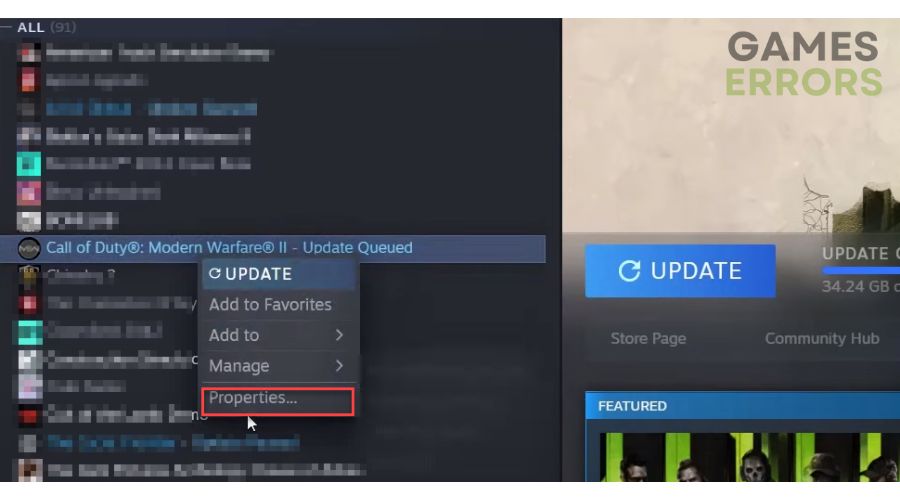 5. Select UPDATES from the left pane and then choose Always keep this game updated.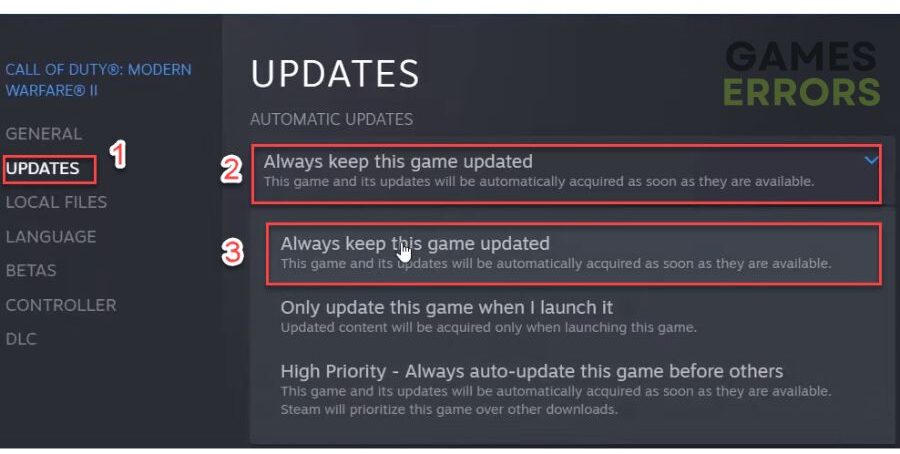 3. Disable Steam overlay
If the Steam Overlay app on your PC is enabled but not frequently used, we suggest turning it off immediately. While the Steam Overlay option can help stream, record, or take screenshots, it may not always be helpful for everyone.
1. Open the Steam client and choose the Settings option.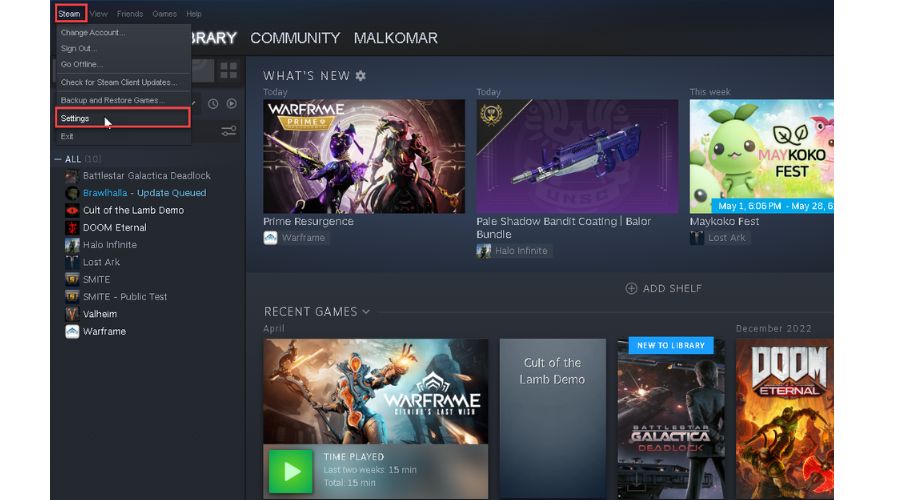 2. Click the In-Game tab and uncheck the Enable Steam Overlay while in-game.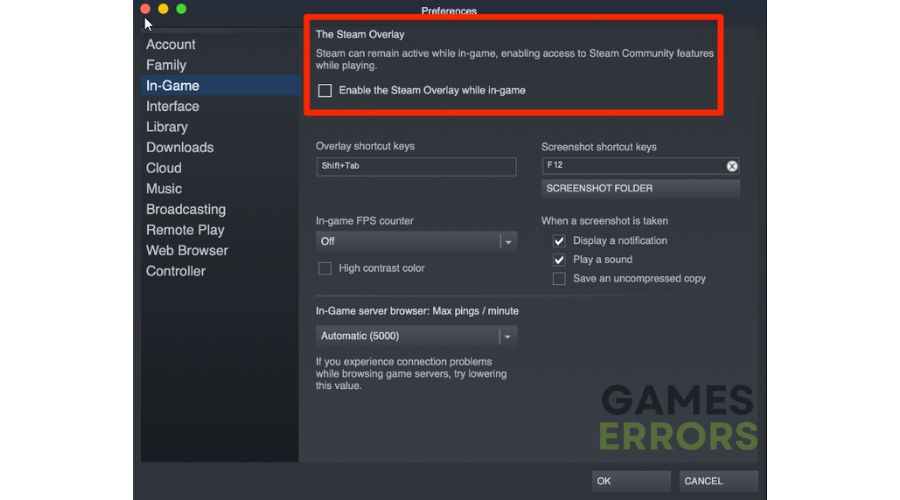 4. Adjust in-game settings
Time needed: 2 minutes
You can try resolving the dev error 6063 by disabling the Cache Sun Shadows and Cache Spot Shadows graphics settings related to the game's lighting balance. Additionally, we recommend keeping the Ambient Occlusion disabled. Although this may limit the gaming experience, it will at least render the game playable.
Launch the game

Open game Settings.

Select Graphics

From the Settings menu, choose Graphics.

Adjust Graphics Settings

Disable: Cache Sun Shadows, Cache Spot Shadows, and Ambient Occlusion.

5. Run MW2 with DirectX 11
Although DirectX 12 is an upgraded version of DirectX 11, there seems to be an issue with MW2 crashing when it's run with DirectX 12. The solution is to configure the game to run with DirectX 11 instead. Follow these steps to make the necessary changes:
1. Open the Steam client and go to the game library.
2. Right-click on Call of Duty: Modern Warfare II and select Properties.
3. Select General from the left pane, and under Launch Options, enter -d3d11.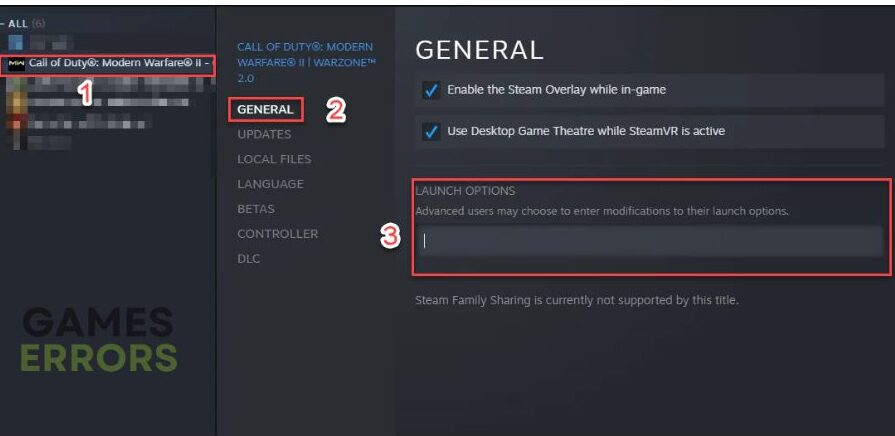 6. Modify MW2 Priority Settings
Sometimes just closing the background applications is not enough, and your system might put some of your games into the low priority section. This will affect their overall performance as fewer resources are distributed to them. Make sure that there is sufficient space for Modern Warfare 2 to run by changing its priority, as seen below. This fix will not only solve the Dev Error 6036, but it might also boost your overall performance.
Launch Task Manager to check all apps
Right Click on ModernWarfare.exe
Select the Set Priority button, or hover over it, and set the priority to High
If a confirmation box pops up, select change priority
7. Close the Origin Services
Another quick fix for Dev Error 6036 is to close the origin services as they might create a conflict when paired with Battle.net. To close them follow the next few steps:
Go to the Task Manager
Search for Origin, Right Click it and press End Task
Go to Startup, find Origin once more and press Disable
Only launch Origin when you need it to make sure that the software conflict doesn't happen.
Extra steps to fix COD dev error 6036:
If you still have a Dev error 6036 in MW2, consider these options:
Update Windows to the latest version.
Update DirectX, .NET Framework, and VCRedist.
Close any unnecessary tasks running in the background.
If MW2 is installed on an external drive connected to your PC via USB, reinstall the game on an internal drive (HDD or SSD).
Delete the Data folder located in the Modern Warfare 2 Installation Folder.

Delete the other files but not BlizzardBrowser, Data, and Main
Related Articles:
We have tried to provide the best solutions to solve Dev error 6036 in MW2. Let us know in the comments below which solution worked for you or if you have a better one that we haven't mentioned.