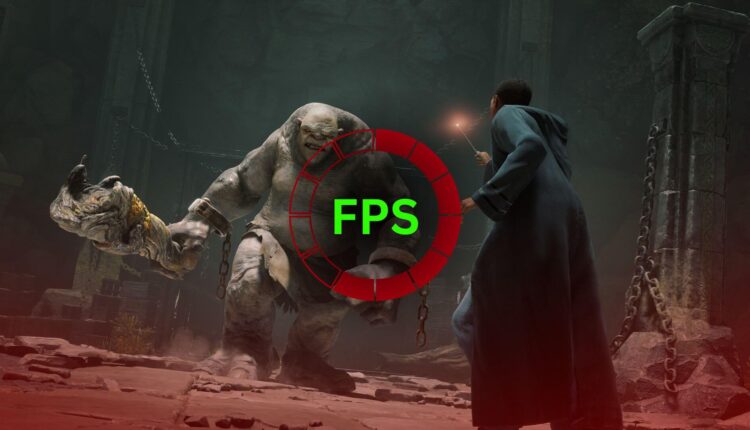 Hogwarts Legacy FPS Drops: How to Easily Increase FPS
Low FPS, FPS drops, lag or stuttering? Fix these performance issues quickly with our handy solutions 🎯
X
INSTALL BY CLICKING THE DOWNLOAD FILE
If you are facing Hogwarts Legacy FPS drops and low FPS even after having a good specification, you should look into some suggestions. This article will help you with all the required information.
Getting mediocre FPS from the high-end game is a common problem. However, this becomes a matter of serious concern if Hogwarts Legacy FPS drop is too low and the game is not playable.
Your PC specifications may have a significant role here, but other things also can affect your game performance. So, if you're getting the Hogwarts Legacy low FPS on a high-end PC, we have the right fixes for this.
Why is my FPS so low Hogwarts Legacy? ⬇️
When this action role-playing game performance is below average, or suddenly, the frame rate drops significantly, you may have Hogwarts Legacy low frames due to these reasons:
PC specification problem:

If your PC cannot handle graphic-intensive tasks, Hogwarts Legacy won't give better FPS for sure.

Graphics card driver problem:

Even if you have a decent graphics card, it will not provide acceptable performance without a proper compatible driver.

Low GPU usage:

Disk problem:

Poor disk performance can severely affect this game's FPS.

Problematic background tasks:

Excessive amount of background processes or a few problematic processes are both bad for Hogwarts Legacy's gameplay experience.

Problems with the game itself:

If the current version of the game has known bugs or there is a problem with some game files, the frame rate drop may occur.
How do I fix low FPS in Hogwarts Legacy?
If you are wondering how to increase your FPS in Hogwarts Legacy, we have the most accurate solutions. But, these will not work perfectly if the following things are not ensured:
If everything is perfect, go through these methods to get rid of the low FPS problem with Hogwarts Legacy:
1. Update the graphics driver
Time needed: 4 minutes.
Graphics drivers are designed to improve performance. Thus, updated drivers can provide better compatibility with the latest games, bug fixes, and optimizations.
Press simultaneously on these keys on your keyboard: Windows + X
Choose Device Manager.

Expand the Display adapters section.

Right-click on the needed driver, then choose to Update driver.

Click on Search automatically for drivers.

Wait until the process is completed.
If updating drivers from Windows Device Manager may not seem so easy and also consumes your time, we strongly suggest you use a tool like DriverFix. A driver updating program can automatically update the drivers to the most recent version safely without producing any malfunction to your PC.
We also recommend checking our dedicated guide on how to update your graphics driver for better gaming performance.
2. Kill some background activities
Some background tasks can take a lot of computing power. Else, an excessive amount of the processes should be avoided. So, consider ending some tasks to solve Hogwarts Legacy FPS drops on PC by following these steps:
Press Win + X on the keyboard and click on Task Manager.

Go to the

Processes

tab.

End all the unnecessary and power-hungry tasks.
Ending these processes should solve Hogwart Legacy's low FPS and stuttering problem. You can start playing and verify if it has worked.
3. Roll back the video driver
Open

Device Manager

as shown in method 1.

Right-click on the graphics driver and go to its

Properties

.

Go to the

Driver

tab.

Follow any on-screen steps to complete the process.
However, if a backup of the previous version of the drive doesn't exist on your PC, the Roll Back option may not be clickable. In this case, to solve Hogwarts Legacy's low frame rate problem, install an older driver manually. To get old drivers, you can search on your driver's manufacturers (NVIDIA. AMD, Intel)
4. Re-install the graphics card driver
4.1 Uninstall the driver
Restart your PC.
4.2 Install again
Go to AMD, Intel, or NVIDIA driver download page, depending on the GPU you are using.
Download the driver software.

Install it on your PC.
5. Verify the game files
Open

Steam

.

Go to Library.

Right-click on the 

Hogwarts Legacy

 and go to its Properties (As shown in the example below).

Go to the

Local Files

tab.

Wait until it finishes the process.
Epic Games Launcher has a similar option. If you are using that one, find the verify option and repair the game files to fix Hogwarts Legacy's low FPS problem.
6. Install the latest patch
Go to the Hogwarts Legacy's Properties like before.

Go to the Updates tab.
It should automatically update the game. But, if it doesn't happen, re-installation of the game should do the job perfectly.
7. Disable V-sync
Open the graphics card software like NVIDIA Control Panel.
If you have AMD GPU, you need to use AMD's software and disable V-sync from there. The same thing is applicable to Intel GPUs.
You also can disable V-sync from in-game settings. It may boost the FPS in Hogwarts Legacy.
One thing to keep in mind is that your monitor resolution plays a big role. By default, your game may have selected the native resolution. If your graphics card cannot handle the Hogwarts Legacy properly, lowering the resolution and also tweaking some in-game settings may help.
If nothing seems to work by now, we also encourage you to fix any performance issues with an extensive guide that makes Hogwarts Legacy run better on your PC.
🪄
Other solutions that may help:
Disable third-party antivirus temporarily.
Install the game on SSD if it's not done already.
Ensure that your PC's cooling system is sufficient enough for gaming.
If it's an old system but meets minimum system requirements, using a game-boosting tool may increase a few FPS. However, improper usage also can lead to problems like Hogwarts Legacy crashing issues.
If necessary, learn how to solve Hogwarts Legacy stuck on loading screen.
The methods mentioned above should solve the low FPS count of Hogwarts Legacy. However, if you have a better idea that may help others to get rid of this problem, feel free to let us know in the comment box.
If you encounter any issues or errors while playing your favorite games and require support, feel free to contact us here. Our team is always ready to assist you and ensure your gaming experience is seamless and enjoyable.