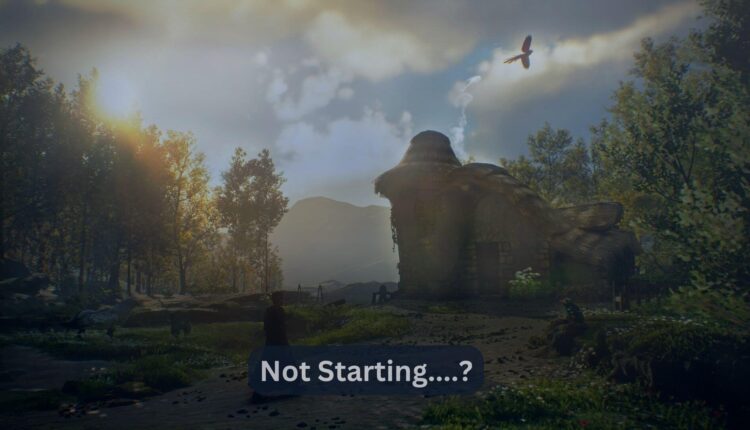 Hogwarts Legacy Not Launching/Responding: Fix It Effortlessly
Hogwarts Legacy not responding on launch? Here're are the most effective ways to open it & enjoy an amazing gameplay 🚀
X
INSTALL BY CLICKING THE DOWNLOAD FILE
If your Hogwarts Legacy won't launch on Steam or Epic Games, you are in the right place. This article will tell you what to do.
Like any other game, Hogwarts Legacy may crash or become stuck at the loading screen, or even not launch. You may miss exploring this excellent open-world action RPG if any bugs or problems prevent your PC from running this game.
Why is my Hogwarts Legacy not launching?
If Hogwarts legacy not responding on launch, it may have the following reasons:
System requirements:

If your PC doesn't meet the minimum requirements, Hogwarts Legacy won't start.

Third-party background services:

Problematic background services may prevent you from launching Hogwarts Legacy.

Required components are missing:

If some required components are missing on your PC, this title may not run.

Corrupted game files:

The game installation files may have been altered or corrupted, which is the reason it is not launching.

Driver problem:

Driver problems, especially the outdated graphics card driver, can cause game-launching issues.
There may be other reasons involved with Hogwarts Legacy not starting. Right now, this title is very playable on consoles and PCs that meet the minimum system requirements.
Keep in mind that if you have preloaded a specific version or DLC of the game, you may not run it until the official release is done.
What to do if Hogwarts Legacy won't launch
?

🚀
In case Hogwarts Legacy is not opening/launching, at first, you must do these things before going through the main methods:
In some cases, doing the above things may save you time by solving Hogwarts Legacy won't start. If not, try the methods mentioned below.
1. Reduce background processes
Right-click on the Taskbar and click on

Task Manager

.

Go to the

Processes

tab.

End every unnecessary and problematic process in this way.
You can kill any unnecessary third-party processes you wish. However, if you see some like Razer Synapse, Game Booster, iCUE, Armory Crate, and any overclocking app-related processes, disable them.
2. Update the display driver
Open the

Start Menu

, type

device manager

, and press

Enter

.
If you get a message like the best driver is already installed, it may not be accurate as Device Manager often fails to detect an outdated driver. So, to troubleshoot various GPU – related issues along with game launching problems, we suggest using DriverFix. It can update any drivers to the latest version easily.
3. Repair the game files
If the Hogwarts Legacy launching problem still exists, taking steps to scan and repair the game installation files is the right thing to do. Here are the steps you should follow:
Open

Steam

or Epic Games Launcher.

Right-click on the

Hogwarts Legacy

and go to its

Properties

.

Navigate to the

Local Files

tab.

Wait a bit until it finishes the scanning and repairing process.
In Epic Games Launcher, you will get a similar option. It scans the Hogwarts Legacy game files, and if it finds any problems, Steam/Epic Games will replace the problematic files with fresh ones. As a result, you will notice immediate effectiveness.
4. Install Visual C++ Redistributables
Go to the Microsoft Visual C++ Redistributable page.
Click on the correct download link depending on your PC's architecture.

Install it on your PC.

Restart Windows.
To solve Hogwarts Legacy won't start, you may need to install the required Visual C++ components. Many games on Windows depend on it. If a dependent app or game doesn't find these things while starting, it won't launch.
5. Uninstall or disable the game booster and other conflicting apps
Some applications are known to interfere with game processes. Disabling or uninstalling these apps may help you to get rid of any related problems.
Press

Win

+

I

on the keyboard to open

Windows Settings

.

Find the game booster software.

Also, uninstall any over-clocking applications.
6. Try in the clean boot state
In the Start Menu, type

msconfig

and press

Enter.

Navigate to the

Services

tab.

Next, click on

Apply

and

OK

.

At last, restart Windows to boot into the clean boot state.
You will probably be able to launch Hogwarts Legacy without any problem this time. If everything seems OK, it indicates that a third-party service is responsible for the game launching problem.
Try to enable the services one by one and find out the culprit. Uninstall the problematic app or keep the process disabled.
7. Run Game Launcher as an Administrator
On your PC, locate the Steam/Epic Games Launcher exe shortcut file, then right-click on it, and choose Properties.
Select the Compatibility tab.
Checkmark the Run this program as an administrator box.
Now, click on Apply, then on the OK button.
Launch the game and check if the problem is still there.
8. Update the game
8.1 Steam
Open your Steam client.
Select Library.
In the left window pane, locate Hogwarts Legacy, then click on it.
Your system will automatically look for the available update.
In case there are any available updates, you'll be notified. If so, choose to Update.
Be patient until the installation process is completed.
Exit Steam.
Restart your computer and try to launch the game.
8.2 Epic Games
Open Epic Games Launcher.
Go to Library.
Click on the icon marked as three dots, next to Howarts Legacy.
Enable the Auto Update option.
9. Run the game in Windowed Mode
Hit the Windows key, then type %LOCALAPPDATA%, and open it.
In the %LOCALAPPDATA% folder, look for the Prospect folder.
Now, go to Saved > Config > WindowsNoEditor directory.
Under the WindowsNoEditor folder, look for 'GameUserSettings'.
You can open the user settings file by using any text editor.
Now, change the FullscreenMode option from 1 to 0.
Relaunch the game and check if the issue persists.
10. System File Checker (SFC) tool
Open the Command Prompt as an administrator.
Type "sfc /scannow" and press Enter.
Wait for the scan to complete.
Restart your computer.
This should help you repair the corrupted system files and resolve the Hogwarts Legacy error code 0xc0000906 while launching.
🌱 Other things you could try:
Update Windows.
Make sure that you are not going through any hard disk or SSD problems.
Consider reinstalling the game
This launching issue in Hogwarts Legacy can appear in different forms:
Not launching on startup
Error code 0xc0000906 – Related to system file corruption that is interfering with the DLL files essential for launching the applications. If you are experiencing this error while trying to launch Hogwarts Legacy, you can try using the System File Checker (SFC) tool to repair the corrupted system files.
Not launching after driver update
Won't launch after update
If necessary, learn how to solve Hogwarts Legacy's low FPS problem. Not only that, but you can take care of various performance troubles by using our expert guide to make Hogwarts Legacy run better on the PC
This article has explained how you can troubleshoot the problem: Hogwarts Legacy won't launch on Steam. If you have helpful suggestions for others or any opinions, don't hesitate to write them in the comment box.
If you encounter any issues or errors while playing your favorite games and require support, feel free to contact us here. Our team is always ready to assist you and ensure your gaming experience is seamless and enjoyable.