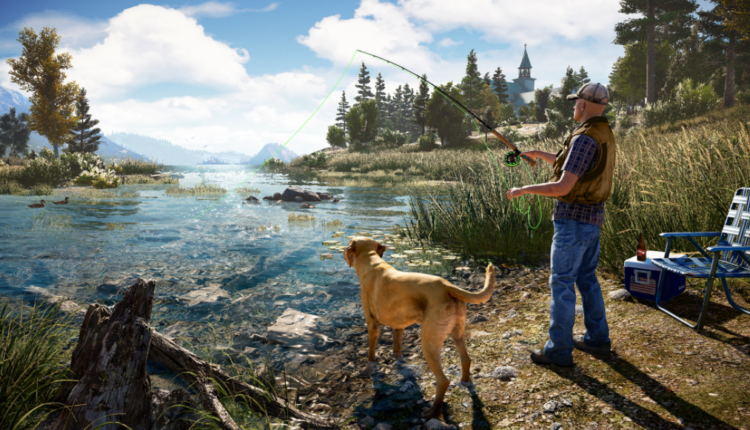 Far Cry 5 Is Crashing: How To Fix It With Ease
Some worldwide players reported that Far Cry 5 keeps crashing on their PC. If you're in the same boat, follow this guide without hesitation!🍀
X
INSTALL BY CLICKING THE DOWNLOAD FILE
Far Cry 5 is a first-person shooter video game that was released in 2018. One common issue that some players have reported experiencing is crashing.
It seems like this issue occurs on startup or when the game unexpectedly closes or freezes during gameplay.
If you're experiencing crashing while playing Far Cry 5, there are several troubleshooting steps you can take, including updating drivers, verifying game files, and adjusting in-game settings.
Why does Far Cry 5 keep crashing?
The causes of Far Cry 5 crashing can vary. Below you can discover the most common of these.
Hardware Issues: The game may be too demanding for your computer's hardware, causing it to crash. This could be due to insufficient RAM or graphics card, overheating, or a hardware malfunction.
Outdated or Corrupted Drivers: Your computer's drivers, particularly the graphics driver, may be outdated or corrupted, causing the game to crash.
Software Conflicts: Other software running on your computer may conflict with the game, causing it to crash. This could include antivirus software, firewalls, or other applications running in the background.
Incompatibility: The game may not be compatible with your computer's operating system, causing it to crash.
How to fix Far Cry 5 crashing on PC?
Table of contents:
Before getting into the main solutions, we strongly recommend first checking if your system is meeting the minimum requirements to run Far Cry 5. Below you can find the minim specs:
Minimum:
OS (64bit versions only): Windows 7 or higher
Processor: Intel Core i5 2400 @ 3.1 GHz or AMD FX 6300 @ 3.5 GHz (or better)
Video card (2GB VRAM with Shader Model 5.0): NVIDIA GeForce GTX 670 or AMD Radeon R9 270 (or better)
RAM: 8 GB
Recommended configuration: Resolution: 1080p; Video Preset: High
Note that if your PC doesn't meet the minimum system requirements of the game, our guide won't help you fix your game because your issues are probably generated by your PC.
You should also try updating your operating system and running the game file with administrator privileges.
1. Update your graphic card drivers
Time needed: 4 minutes.
Keep in mind that any game crashes can be easily solved with this option, so make sure you save the recommended steps.
Press simultaneously on these keys on your keyboard: Windows + X
Select Device Manager.

Expand the Display adapters section.

Identify the needed driver, then right-click on it, and choose to Update driver.

Click on Search automatically for drivers.

Wait until the process is completed, then check if the Far Cry 5 crashing issue is gone.
To easily update your drivers without consuming precious time, you can also try using an automatic solution.
DriverFix is a software that can help you simplify this process. It will automatically scan and update your components, without giving you headaches.
We also recommend checking our dedicated guide on how to update your graphics driver for better gaming performance.
2. Verify the integrity of game files
2.1 Steam
Launch your Steam client.
From the top menu, select Library.
Look at the left window menu, then right-click on Far Cry 5, and choose Properties.
Now, select Local Files.
From the right side of the window, choose to Verify the integrity of game files…
Once the verifying process is completed, check if the game crashing is gone.
2.2 Epic Games
Launch Epic Games.
Select the three dots button (placed below your game title), then click on Manage.
Choose to Verify the game files.
Now, wait a bit until the process is done. Then, check if the Far Cry 5 crashing issue is gone on your PC.
3. Lower your graphics
Open the game, then go to the Main Menu.
Now, choose the Video option.
Navigate to the Monitor tab.
Locate the Windowed Mode option, click on it, then select Windowed.
Now, click on the Graphics Quality option and choose Low.
You can also navigate to the Advanced Settings section, then turn off the V-Sync option.
Restart your PC and check if the issue is gone.
4. Stop the CPU/GPU overclocking
Increasing the speed of your computer's CPU and memory beyond the official speed grade, known as overclocking, can enhance gaming performance.
However, it can also lead to issues like the crashing problem in Far Cry 5. Several users have found that the issue disappears after they stop overclocking their computers.
Therefore, it is advisable to revert the CPU to its default speed if you are currently overclocking it.
5. Disable Windows Defender Firewall
Open Control Panel by pressing on the Windows key and choosing the first shown option.
Navigate to System and Security.
Go to Windows Defender Firewall.
Look at the left side of the window, then choose to Turn Windows Defender Firewall on or off.
Checkmark the two options shown in the picture below.
Verify if the crashing issue persists.
Are you running any Anti-Virus or Firewall software? This could generate crashes in Far Cry 5. Make sure that your game is not interfering with any overprotective applications.
How do I fix the Far Cry 5 loading screen crash?
In case you're experiencing loading screen crashes on Far Cry 5, here's what you can do:
Verify game files (as shown in this guide)
Install the latest patch
Update your driver (manually or automatically)
Set the Graphics Options to low settings
Stop overclocking
Related articles:
We hope that our guide helped you fix your Far Cry 5 errors and that now you are enjoying the game. If you have questions, please use the comment section below, and we will help you as soon as possible. Have fun gaming!
If you encounter any issues or errors while playing your favorite games and require support, feel free to contact us here. Our team is always ready to assist you and ensure your gaming experience is seamless and enjoyable.