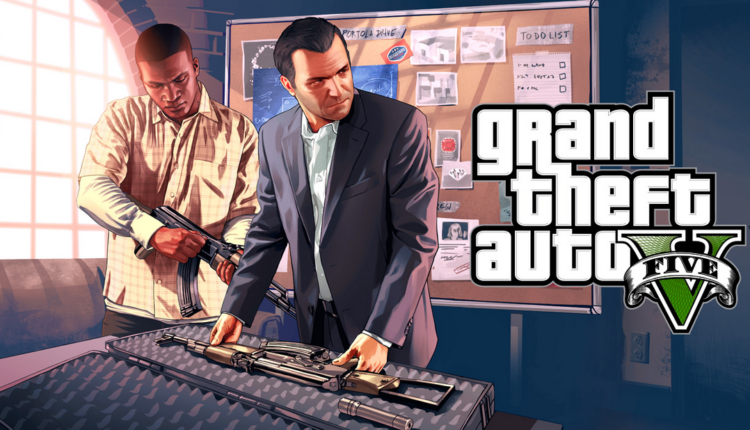 How to Fix GTA 5 PC Errors, Not Launching, Low FPS, Crashes, Stuttering
Grand Theft Auto V has finally been released today on PC, apart from gta 5 mods xbox one, and many players are encountering issues and errors that are preventing them from being able to play the game. The most common GTA 5 PC Errors are Low FPS, Stuttering, Game Not Launching, Crashes and some other minor issues. Below you can see this error described and how to fix them by following our solutions and workarounds.
How to fix GTA 5 PC Errors:
GTA 5 PC Not Launching, some players are encountering this error and the game simply won't start, they click Play in Steam, and nothing happens.
"When I go to launch my game doesn't load. It displays nothing about the game or Rockstar, and I'm not sure why. I have the correct windows name with the allowed characters, but it still isn't loading.Please help!"
Solution: Check all the workarounds below and if nothing works for you take a look at the tutorial at the end of the post and apply our patch to your game, after that it should launch and run fine.
Verify you Game cache.
Try running the launcher as administrator.
Make sure that your antivirus/firewall is not blocking the process.
Make sure that you have latest versions of C++ and DirectX installed on your PC.
You also need to make sure that the program is being installed in Program Files\Rockstar Games\Social Club directory.
Social Club failed to initialize or load, to fix this issue follow the tips below from Rockstar:
The most common cause for these errors is an incorrect installation of Social Club. If you are receiving one of these errors, we recommend uninstalling Social Club and then reinstalling it manually fromthis page. When installing the second time:

First, be sure GTAV is not running in the background. Open the Task Manager and end the following processes if they are running (right click the process and click "End Process"):

GTA5.exe
PlayGTAV.exe
GTAVLauncher.exe

Ensure you have administrator rights on your computer. Run the Social Club Installation application as an administrator by right clicking the application and choosing "Run as Administrator."

If you are still experiencing the same problem, please try the additional troubleshooting below:

Verify the Steam Cache (Steam version only):

Load Steam.
From the Library section, right-click on the game and select Properties from the menu.
Select the Local files tab and click the Verify integrity of game cache… button.
Steam will verify the game's files – this process may take several minutes.

Run GTAV as an Administrator

Go to the install directory for GTAV PC
Right click "PlayGTAV.exe"
Click "Run as Administrator"

Verify that you have the latest version of DirectX and Visual C++. The latest versions can be downloaded from here.
If you are stuck loading, auto-signin may have failed. Press the Home key and see if you can log in manually.
Temporarily disable antivirus/security, then uninstall if disabling does not work as a test. Be sure to reinstall and re-enable your antivirus after the test.
Make sure that Social Club is installed to the correct directory (by default, this is: Program Files\Rockstar Games\Social Club)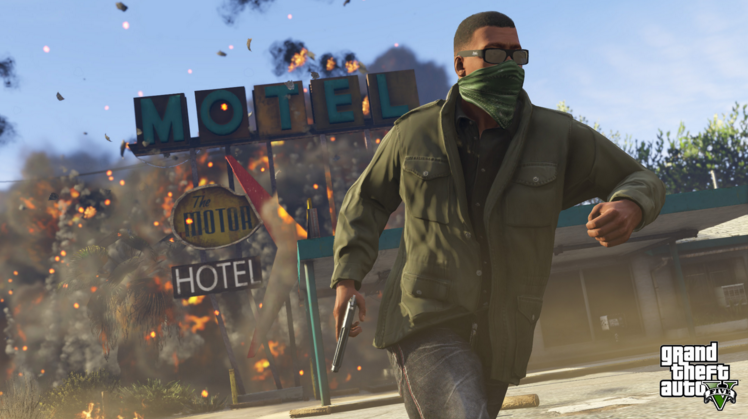 GTA 5 PC Low FPS/Stuttering, some users are complaining about low FPS, 30-50 fps on Maximum Settings and for others the FPS just drops very low sometimes.
"So I meet the recommended specs for Grand Theft Auto V, I'm not sure if it's a bug or its just my computer, but I asked around and people say they have the same issue. The game randomly drops from between 60-30 FPS every so often, and it's noticeable, and rather annoying. Apart from that, the game is brilliant for Day One release, and Rockstar should consider it an almost complete success. But a patch as soon as possible to fix the FPS drop or some advice to fix it would be greatly appreciated!"
Solution: To improve the game performance you can try disabling in-game Vsync and forcing Vsync and triple buffering via GPU (Nvidia control panel/catalyst center) seems to have improved the performance. Also, to improve the performance and optimize the game fps overall use our tutorial at the end of the post.
GTA 5 PC Windows User Name Error, some players are having problems installing or playing GTA 5, and their Windows username includes abstract characters. They get this error: The Rockstar update service is unavailable (code 1)", or the game hanging while trying to download the update.
Rockstar Games posted on their site a fix for this error:
We have identified an issue where players with Windows usernames that include characters not found in the table at the bottom of this page will likely run into difficulties when attempting to download, install, or play GTAV. We are currently working on a fix for this issue.
If you don't want to wait for a fix, you need to create a new Administrator User Account for your Windows system that only includes letters A to Z, a to z or numbers 0-9 from the basic Roman alphabet. For a full list of supported characters, see the table at the bottom of this page. Please note that simply renaming your current User Account will not correct this issue. Once your new account is created (or if you already have an account that only uses these characters) we recommend you restart your PC and log in with that account before starting or continuing with the installation process. To create the account, follow these instructions from Microsoft's website:
GTA 5 PC Crashes, some players reported that they play for like 5 minutes and then the game just crashes.
"I play for maybe 5 min, and it crashes everytime. Got through the start with Michael Trevor brad and that other guy in the country side, but the first mission with Franklin where you deliver the cars, I cant even complete it. My PC is enough to play this game, have gone through the video settings, memory usage is only 1.4gb, I get 60 fps, but I cant play more than 5 min without crashing, maybe we need a driver update?"
"Can play for anywhere from 5-30 minutes before it freezes and crashes. Medium specs and full 60fps in the game but just crashes randomly. Any ideas?"
"Anybody have random crashes? I have. Every 15-20 minutes "GTA 5 has stopped working". Changing graphics settings is not helping. 80-90 fps is in the game while playing on medium-high settings, so the game is working fine on my specs. Any fixes?"
Solution: The best fix for the crashes, is to use our patch and apply it to your game, you can find a tutorial a the end of the post on how to do that. If you are an nVidia user and your launcher is crashing every time you try to update, disable it and then download the update. You can disable your NVIDIA GPU from device manager. Also, if running the game as admin doesn't fix the issue, try running the game in compatibility mode.
GTA 5 PC Unable to Detect Windows Media Player, if you are not having Windows Media Players installed on your PC you will get this error when installing the game: "Unable to detect Windows Media Player on your system. Please install Windows Media Player, then retry the installation."
You can install it by following these instructions, courtesy of Rockstar:
Open the Control Panel
Click "Programs."
Click "Turn Windows Features On or Off."
In the resulting popup, make sure "Windows Media Player" is checked under the "Media Features" folder
Click "OK" and wait for Windows Media Player to install
GTA V Tutorial to Fix Major Issues:
Our team of developers managed to release a patch that helps you fix the errors described above. You can see how our patch looks like below, where you can also find a tutorial on how to use it and a download link. Please follow the tutorial step by step before asking any questions regarding your issues. Our patch won't interfere with your Steam account, it will just change some files and .dll in the game folder in order for the errors to be fixed.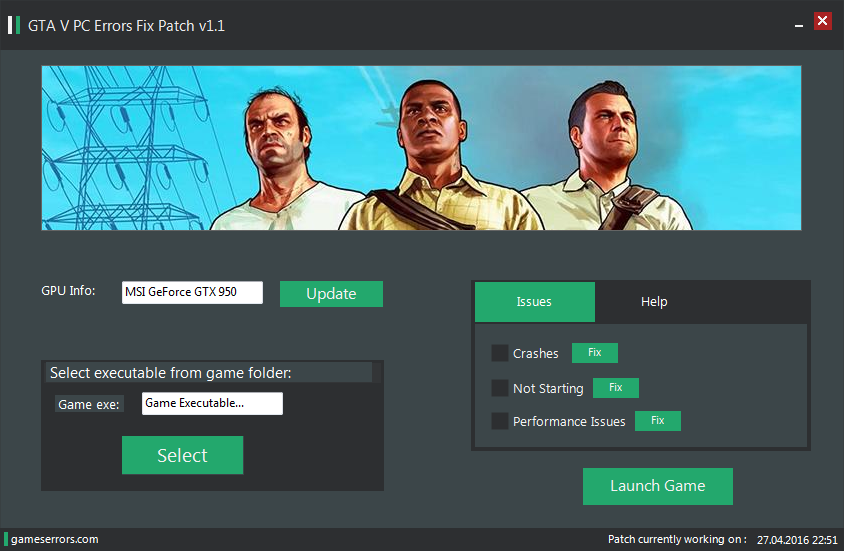 Follow the tutorial below to apply the patch correctly to your game.
How to apply our patch:
Download the archive of the patch from here: download
 Extract the downloaded archive on your PC, and open the patch from the folder.
Your GPU will be selected automatically, make sure that you use your dedicated GPU if you have a laptop!
Select the game executable from the game folder, if you used the default install folder it should be: "C:\Program Files (x86)\Steam\Steamapps\common\Grand Theft Auto V"
 Select your issue or issues from the box to the right and click the corresponding "Fix" button.
After your errors are successfully fixed you can click the "Launch Game" button and play the game.
How to download: Well, you might think that our download service is pretty annoying but is very effective. To download you just need to complete a simple offer, it usually takes a few minutes, and after that, you will be able to download the patch. We use this service because is the only way to support our developers and to keep releasing and updating patches for games. Thank you! We hope you understand us and have fun playing GTA 5!
We hope that our tutorial helped you fix your GTA 5 PC Errors and that now you are playing and enjoying the game. If you have any questions or if you are encountering another error and you need a fix, please comment below with your issue and we will help you fix your game. – GamesErrors.com Team
Complaining about Lag?
Kill Ping is a Gaming VPN that helps users reduce their lag, high ping, disconnections and other related problems by using its network of dedicated servers. It helps users improve the quality of their online gaming experience and helps reduce lag and other related issues via bypassing your ISP's inefficient configuration. For more details, click the image below.