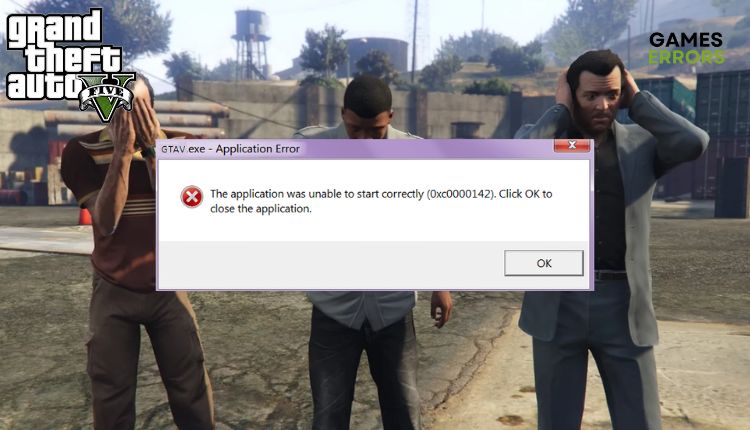 GTA 5 0xc0000142 Error [Pro Tips for Fix]
We have proven solutions if you have error 0xc0000142 in GTA 5. 🏎
X
INSTALL BY CLICKING THE DOWNLOAD FILE
Rockstar has once again taught other development studios a real lesson on how to do an open world. No open-world game today has come close to the immersive, addictive, and just plain fun world of Grand Theft Auto 5. But what stops you from launching GTA 5 and planning to have fun? It's an annoying GTA 5 0xc0000142 error that you can quickly fix with the help of our tips.
Why do I get 0xc0000142 Error in GTA 5?
This error is not new and has appeared in other games, such as Far Cry 4 or Advanced Warfare, or even MS Office. There are several reasons for error code 0xc0000142 in GTA 5:
outdated GPU driver
corrupted or missing game files
corrupted or missing system files
How do I fix the 0xc0000142 Error in GTA 5?
Before delving into our troubleshooting tips, it is recommended that you first complete some basic preliminary actions:
If you have completed the pre-checks and still encounter 0xc0000142 Error in GTA 5, follow these steps:
1. Update GPU driver
If you're having trouble with GTA 5, such as getting stuck on the loading screen or experiencing crashes and a black screen, including 0xc0000142 error, it may be due to outdated or corrupted graphics drivers. Updating your graphics card driver to the latest version is essential to fix this issue. Do following:
✅ Update GPU driver through Device Manager
1. Press the Win+R keys to bring up the Run dialog.
2. Type; "devmgmt.msc" and hit Enter to open Device Manager.
3. Double-click on the Display adapters to expand, right-click on GPU, and select Update driver.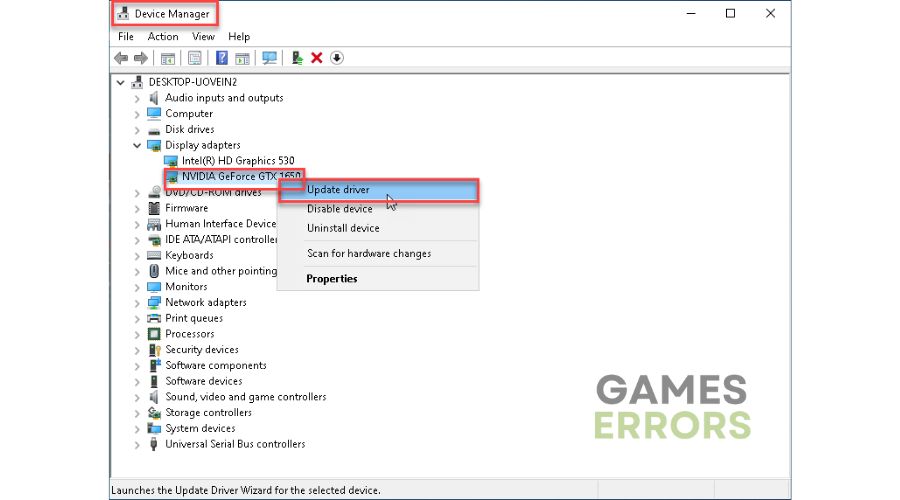 4. Refer to the on-screen instructions to install the most recent version of the GPU driver.
✅ Update GPU driver through the web browser
Determine the exact model of your graphics card (by visual inspection, device manager, or the label on the packaging) and download the latest driver from the official website of AMD, NVIDIA, or Intel.
✅ Update GPU driver using DriverFix
We suggest an effortless approach to ensure your PC has the latest system drivers using DriverFix. This tool scans and maintains all your Windows drivers up-to-date, saving you time and eliminating all the inconveniences of manual updates.
2. Verify and repair game files
You may have a GTA 5 0xc0000142 Error if one or more game files are missing or corrupted. Do the following:
👉 Steam Launcher
1. Launch the Steam client and go to the game library.
2. Right-click on GTA 5 and select Properties.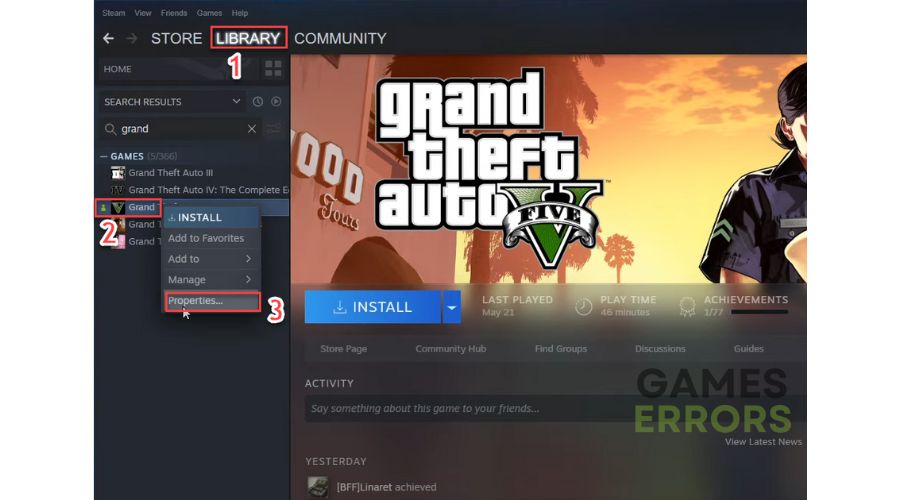 3. Navigate to the Local Files and click on Verify integrity of game files.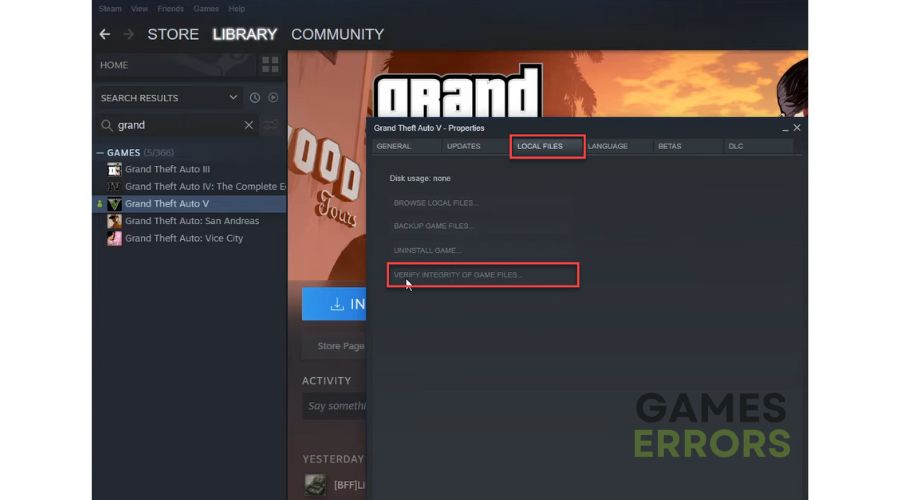 4. Wait for the file verification process to complete and launch GTA 5 to see if the issue is gone
👉 Epic Launcher
1. Run the Epic launcher and go to your games library.
2. Locate GTA 5, and click on the three dots under the game icon.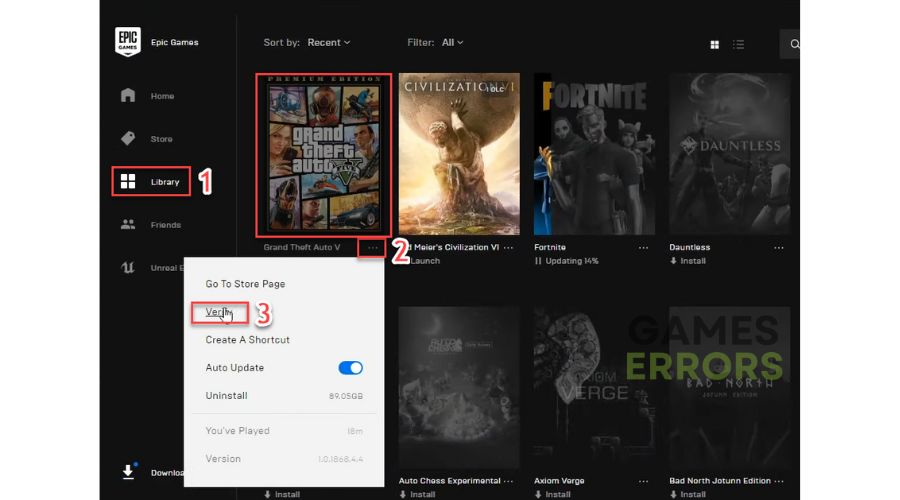 3. Click on the Verify option.
⭐ Rockstar Games Launcher
1. Open Rockstar Games Launcher and click on Settings.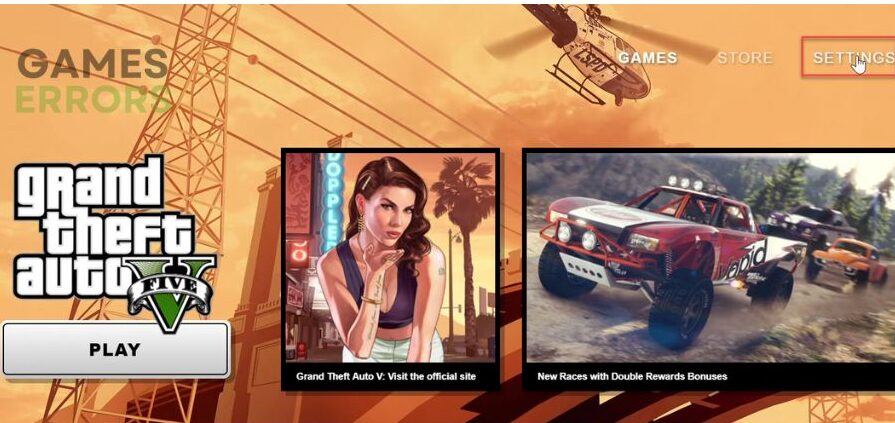 2. Select Grand Theft Auto V and then click on Verify Integrity.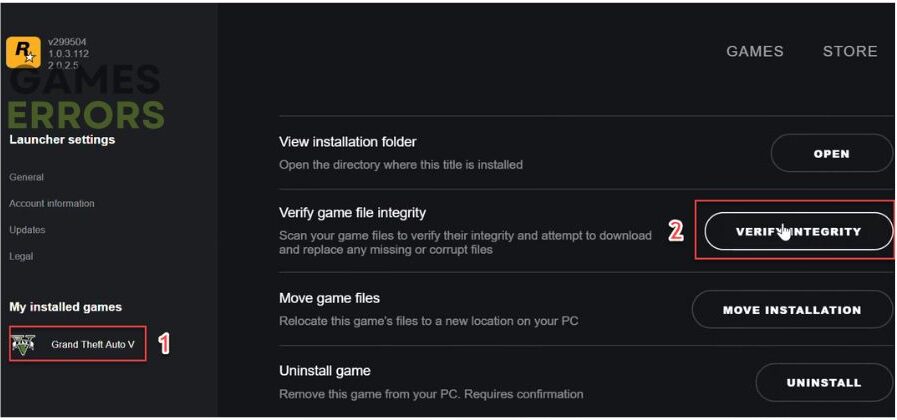 3. Update GTA 5
Time needed: 1 minute.
To avoid encountering the GTA 5 0xc0000142 error, it is essential to ensure that you have the latest version of the game installed. Install all available game patches and update the game to the most recent version. The following example is the Steam launcher, a similar procedure is for Rockstar and Epic launchers.
Open Steam launcher

Navigate to the game library.

Select GTA 5 Properties

Right-click on GTA 5 and select Properties.

Select Update

Click on UPDATES. Choose "Always keep this game updated" from the drop-down menu.
4. Repair system files
If you're still encountering a 0xc0000142 error while playing GTA 5, it may indicate that certain system DLL files are damaged or absent. In this scenario, you can attempt to restore them using the Windows System File Checker (SFC) tool.
1. Type; "cmd2 in the search bar to find a Command Prompt.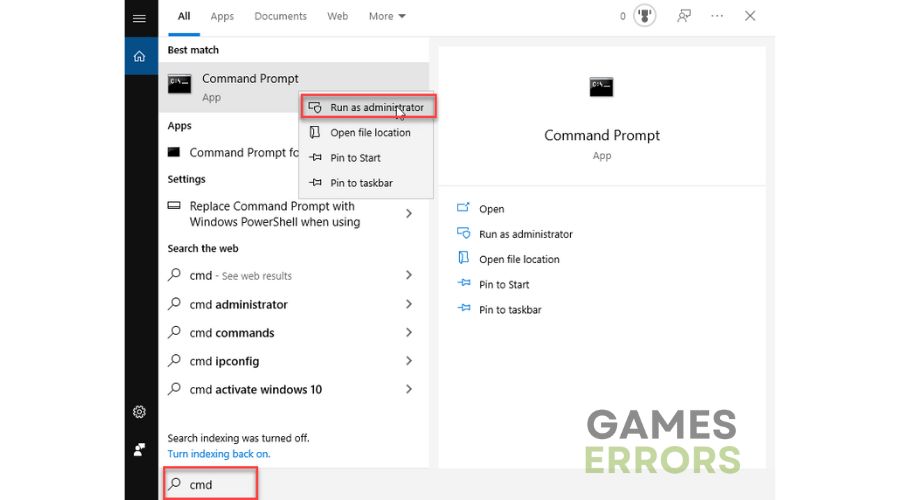 2. Right-click on the Command Prompt in the search result and select Run as administrator.
3. Type; "sfc /scannow" in the Command Prompt and press Enter.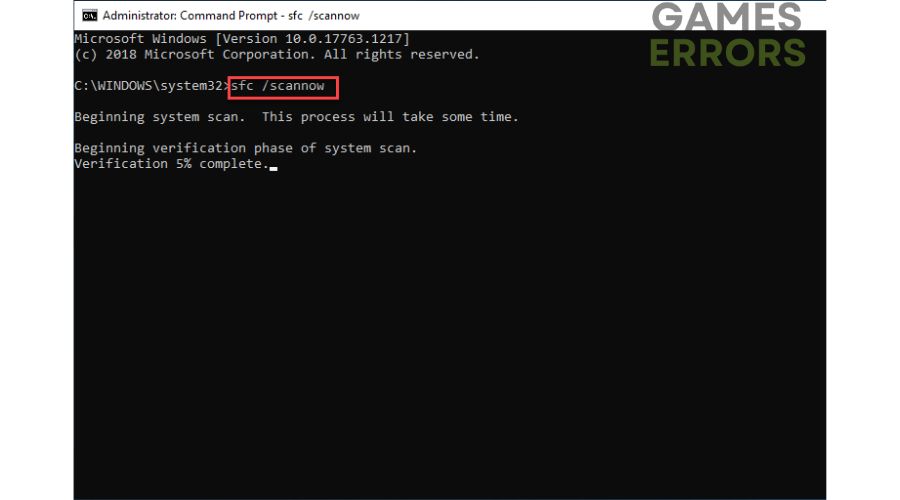 4. Wait for SFC to scan your system and recover any corrupted or missing files.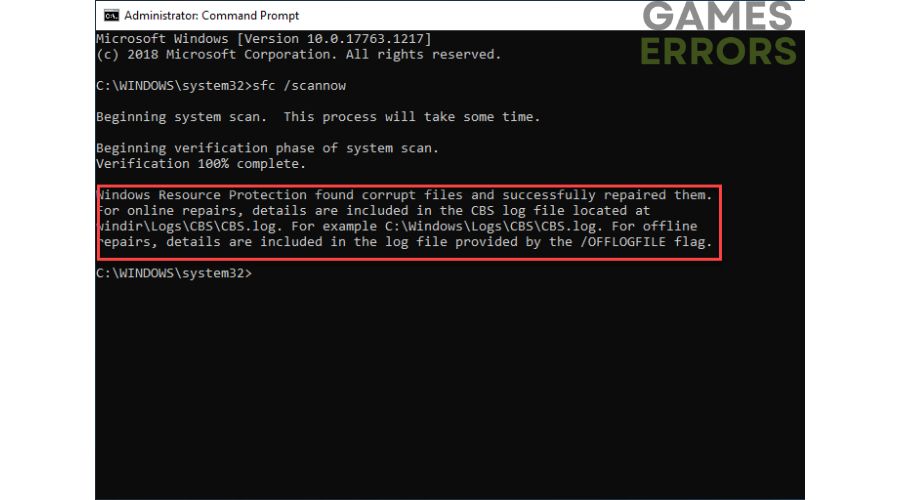 5. Restart your PC and launch GTA 5 to check if the 0xc0000142 error is gone.
🪄Extra steps:
If, after all the steps, the 0xc0000142 error still exists, consider these options:
Related articles:
Conclusion
That's all we have prepared for you to solve the 0xc0000142 error in GTA 5 successfully. Leave any suggestions or questions in the comments below.
If you encounter any issues or errors while playing your favorite games and require support, feel free to contact us here. Our team is always ready to assist you and ensure your gaming experience is seamless and enjoyable.