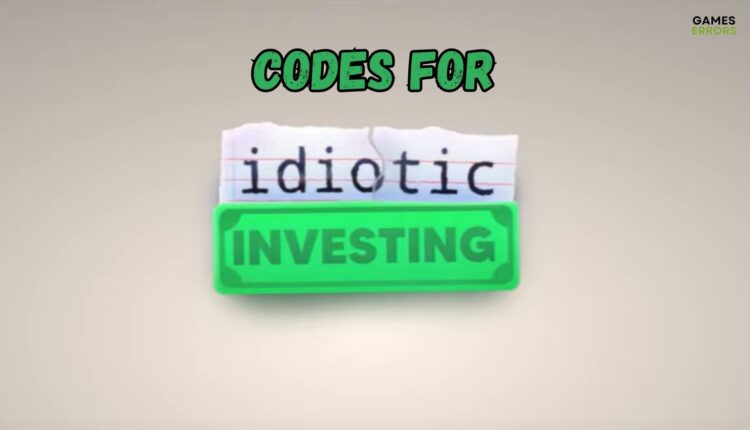 Idiotic Investing Codes In Roblox: Updated on September 2023
In order to gain the ultimate gaming advantage, explore our gamer list for exclusive codes and bonuses for Idiotic Investing! 👀
In order to improve their gaming experience, tons of worldwide players are wondering what are the latest working 2023 codes for Idiotic Investing.
If you're also looking to enhance your gameplay with exclusive rewards and in-game advantages, you've come to the right place.
In this comprehensive guide, we'll present the newest Idiotic Investing codes, providing you with the keys to boost your progress in the world of Roblox.
What are the working Idiotic Investing codes for 2023? 🔐
| | |
| --- | --- |
| Code | Reward |
| Ayron | Redeem the code for 600 Coins |
| FanBoy | Redeem the code for Fanboy Icon |
| GelPlays | Redeem the code for 600 Coins |
| GiveMeMoneyPls | Redeem the code for 1200 Coins |
What are the expired codes for 2023? ⏰
| | |
| --- | --- |
| Code | Reward |
| 100FOLLOWERS! | Coins & Icon |
| 1YEARWOO | 5000 Coins |
| Released! | 1200 Coins & Icon |
| SPOOKYMONTH | 5000 Coins |
How do I redeem codes? 🍀
Launch Roblox Idiotic Investing.
From the main menu, tap on the Codes button.
In the opened window, type/Copy-Paste one of the working codes listed below, then press Enter.
Now, you can enjoy your reward!
🆓 How to get more free codes?
The most reliable sources for additional Idiotic Investing codes can be found directly from the creators. Keeping an eye on their dedicated content by following @Mewious or @M3W on Twitter, or various other social media platforms is a good choice in order to discover more codes.
An alternative method involves locating a Roblox Discord server or locating a YouTube video showcasing the most recent codes.
If you'd rather avoid the complexities of these methods, you can simply bookmark this page, as we will consistently refresh it with the most up-to-date codes.
💡 Tips to improve your Idiotic Investing gaming experience
Stay Informed About Updates: Keep an eye on the game's announcements and updates. Developers often introduce new features, codes, and events that can enhance your gameplay.
Join a Community: Become part of the Idiotic Investing community on platforms like Discord or Roblox groups. You can exchange tips and strategies, and even find players to collaborate with.
Follow Social Media Accounts: Follow the game's official social media accounts and the developers' accounts on platforms like Twitter. They frequently share codes, news, and events that can provide you with in-game rewards.
Utilize Codes: Redeem game codes regularly. These codes often grant you in-game currency, items, or boosts that can help you progress faster.
Explore Strategies: Experiment with different investment strategies within the game. Learn from others and adapt your approach to maximize your earnings.
Network and Trade: Engage with other players and consider trading assets or collaborating on investments. Networking can lead to new opportunities and strategies.
Complete Quests and Achievements: Focus on completing quests and achievements within the game. These objectives often provide substantial rewards and help you progress.
Participate in Events: Join special in-game events and competitions. These events often offer unique rewards and challenges that can make the game more exciting.
🔍 Related articles:
Idiotic Investing is all about seizing opportunities, making smart choices, and enjoying the fruits of your investments.
We hope you've found the valuable information and codes for Idiotic Investing to improve your Roblox gaming journey.