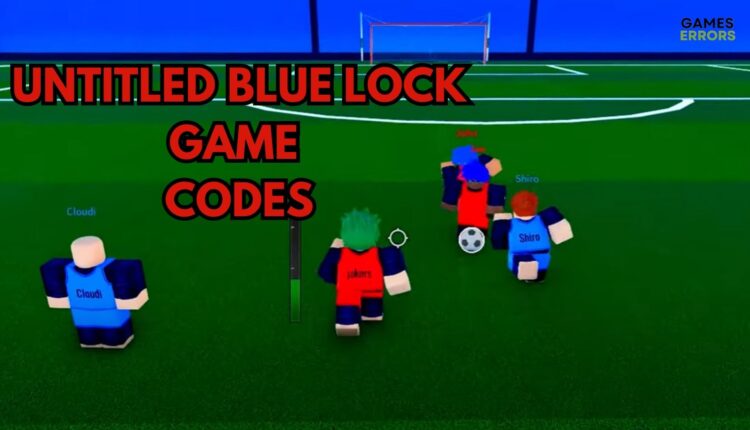 Untitled Blue Lock Game Codes: Gamer Guide For September 2023
Boost your gaming experience by getting free rolls and many other surprises with the latest Untitled Blue Lock Game codes!⚡
Utilizing game codes proved to be one of the most valuable strategies in order to master your Untitled Blue Lock Game experience. These game keys are freely available and can be exchanged for various in-game rewards.
Our today's guide is your gateway for discovering a completely updated list of such codes. We will also walk you through the code redemption process and outline the rewards you can anticipate receiving, so make sure you carefully check all the content.
What are the Untitled Blue Lock Game codes?⚽
1. Working codes
| | |
| --- | --- |
| Code | Reward |
| 🔄!code 1klikes | Redeem the code for 25UT & Free Roll |
| 🎁!code 1mvisits | Redeem the code for Free Rewards |
| 🎁!code 2klikes | Redeem the code for Free Rewards |
| 🎁!code 2klikesfixed | Redeem the code for Free Rewards |
| 🎁!code 20kmembers | Redeem the code for Free Rewards |
| 🔄!code dmkiteifcatgirl | Redeem the code for 20UT & Free Roll |
| 💸!code koharu | Redeem the code for Free Roll & Removes 10UT |
| 🔄!code march 8th | Redeem the code for 25UT & Free Roll |
| 💰!code peppersavior | Redeem the code for 150 UT |
| 🔄💰!code shrinemaidens | Redeem the code for 20UT & Free Roll |
| 🔄💰!code thinkofthechildren | Redeem the code for 25UT & Free Roll |
| 🔄!code UNKNOWNSPECIALCOMBOATTACK | Redeem the code for Face Roll |
| 💸!code woebapology | Redeem the code for Removing 100 UT |
| 💸!code woebloveshismoney | Redeem the code for Removing 50 UT |
2. Expired codes
We're happy to announce that no codes have expired yet. We'll do our best to keep the list updated with new and fresh codes, so bookmark our site and check back often for new codes.
How to redeem Untitled Blue Lock Game Codes?🏆
Launch the game.
Find the Settings section, then click on Chat.
Copy and paste one of today's provided working codes, just as it appears in the dedicated table.
Now, just hit Enter and that's it!
🥅Best ways to get more Untitled Blue Lock game codes:
🌐📱Connect through Social Media: Dive into the world of Untitled Blue Lock by following the game's social media channels. The developers frequently unveil hidden codes on platforms like Twitter, Facebook, and Discord.
📜🔄 Your Trusted Guide Awaits: Don't miss a beat – frequently check our dedicated guide. It's your compass through the ever-evolving landscape of Untitled Blue Lock.
👥📢 Join a Thriving Community: The magic of Untitled Blue Lock extends beyond the game itself. Join vibrant communities on platforms like Discord servers and forums. These hubs are treasure troves where fellow gamers readily share coveted free codes.
🎮🎉Attend Grand Gaming Galas: Keep your gaming calendar marked! Attend gaming events, where the developers occasionally bestow codes upon eager adventurers. Unite with your fellow players in the quest for treasure.
🎁🗝️Seize Giveaway Opportunities: The digital realm is alive with giveaways! Hunt for Untitled Blue Lock codes in giveaways hosted on social media and gaming websites. These events are your golden ticket to abundant rewards.
How do you shoot in the Untitled Blue Lock game?🚀
Mastering the art of shooting is fundamental to achieving glory on the virtual soccer pitch. In this guide, we will explore the intricacies of shooting in Untitled Blue Lock, unraveling the controls that dictate your every move.
Whether it's a ground pass, a skillful lob, or the perfect shot, understanding these commands is your ticket to becoming a formidable force in the world of virtual soccer.
Get ready to unleash your shooting prowess and secure victory for your team!
1. Ball Possession ⚽🏆
R – Ground Pass
T – Lob
G – Enter Flow
Hold M1 – Charge Shot

Release M1 – Shoot Ball
Release M2 – Backwards Kick
2. Goalkeeper Controls 🥅🧤
Q/E – Right Jump/Left Jump
Z/C – Right Block/Left Block
M1 – Punt
3. Additional Controls🕹️🎮
F – Ping Pass
Ctrl – Shiftlock
💡Related articles:
This guide is the top valuable resource of all-time updated Untitled Blue Lock Game codes. Don't forget to bookmark it, for it's your trusty map through the dynamic world of this game.
Return frequently, as we'll be your vigilant scouts, tirelessly updating it with new codes. In this ever-evolving landscape, where strategies and opportunities change like the wind, we'll ensure you're always one step ahead.
If you encounter any issues or errors while playing your favorite games and require support, feel free to contact us here. Our team is always ready to assist you and ensure your gaming experience is seamless and enjoyable.