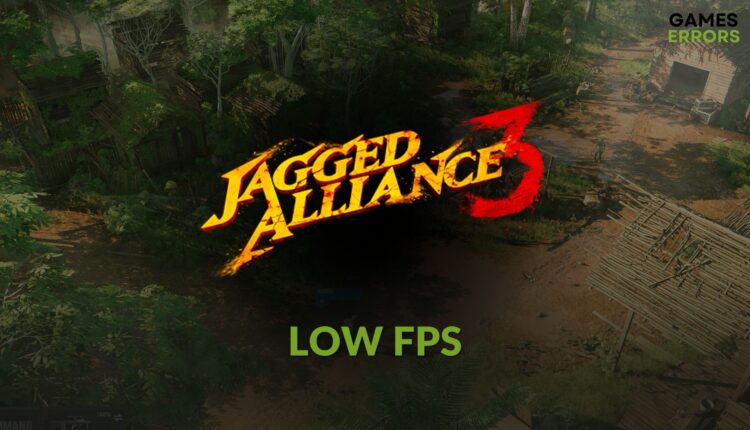 Jagged Alliance 3 Low FPS: How to Boost Its Performance
Is Jagged Alliance 3 performing terribly on your PC? Before losing hope, try these optimization techniques to fix this issue 🚀
X
INSTALL BY CLICKING THE DOWNLOAD FILE
Are you getting very low FPS from Jagged Alliance 3 on your PC? It may affect the total gameplay experience. By tweaking a few things, you can improve the whole situation.
Unlike many other turned-based combat RPG games, the Jagged Alliance 3 has a decent visual that can attract players like you. But things will get worse if you don't get the expected frame rate from this title.
If needed, check out this guide on how to prevent Jagged Alliance 3 from crashing.
Why is not Jagged Alliance 3 performing well on my PC?
If you experience Jagged Alliance 3 low FPS problem on your Windows 11 or 10 computer, it is mostly because of these reasons:
Problematic GPU driver: If your display driver is buggy, outdated, or corrupted, you will not get good performance from JA 3.
Too many background services: Too many problematic or resource-hungry background tasks can dramatically reduce the frame rate per second on a game like Jagged Alliance 3.
Incorrect settings: If you don't apply optimized settings on your PC and the game itself, JA 3 will get stuck while loading, or you will get very low FPS, even with a decent GPU and CPU.
There may be other reasons, like weak GPU, problematic PC hardware, corrupted components that can cause poor performance, or stuttering issues on games like Jagged Alliance 3. But, solutions featured in the next part will help in all of these situations.
How do I fix Jagged Alliance 3 low FPS problem?
To boost performance on JA 3, we have the most effective methods. But before trying them, we suggest you complete these steps:
Make sure that your PC meets the Jagged Alliance 3's system requirements properly.
Enable game mode from Windows Settings.
Disable your antivirus and firewall.
Disable energy saving mode and enable high-performance mode from the Windows Settings.
Now, follow these methods to improve FPS on Jagged Alliance 3:
1. Disable fullscreen optimizations
Even though the fullscreen optimization feature helps to improve performance, the opposite may happen for some games. By disabling this feature, you can check and verify whether it improves the frame rate on JA 3 or not. Here are the steps to follow:
Open the Steam desktop app.
Go to the game library.
Right-click on Jagged Alliance 3 and then click on Browse local files.

Right-click on the application file of this game and go to

Properties

.

Click on

Apply

and

OK

.
2. Update the GPU driver
Right-click on the Start button and then click on Device Manager.
Double-click on Display adapters.
Right-click on the GPU driver and then click on Update driver.
Click on Search automatically for drivers.
Complete the update and restart your PC.
Outbyte Driver Updater is an excellent tool that can install the latest official driver for your GPU on your PC. Instead of the Device Manager, it's better to use this type of tool as it may improve performance in games.
3. Reduce the background activities
Too many background services may affect the gameplay experience. So, to gain more FPS on Jagged Alliance 3, you can kill unnecessary and resource-hungry processes by following these steps:
Press CTRL + Shift + Esc on the keyboard to open

Task Manager

.

Navigate to the Process tab.
Don't end any essential processes as it may bring even more problems.
4. Roll back the GPU driver
Open

Device Manager

like before.

Double-click on your GPU to open its Properties.

Navigate to the

Driver

tab.

Restart Windows
If you start getting low FPS from JA 3 after updating your graphics card driver recently, this method should help.
5. Re-install the GPU driver
Time needed: 2 minutes
To solve the low FPS problem on Jagged Alliance 3 on your PC, you can re-install the graphics card driver from the official source.
Restart your PC.

Visit the

AMD

, 

Intel

, or 

NVIDIA driver download site

.

Download the driver software.
Install it and restart your PC.
Then, launch and start playing the Jagged Alliance 3 and see if the frame rate is still terrible or not.
More tips:
Is the low FPS issue still hurting your experience? You can try these methods as well:
Disable Vsync.
Play JA 3 with lower settings.
Update Windows and all components on your PC.
Re-install the game.
If necessary, learn what to do if Jagged Alliance 3 won't launch on your PC.
The above methods should help you to get rid of Jagged Alliance 3 low FPS problem. If you have any other helpful suggestions, let us know in the comment box.