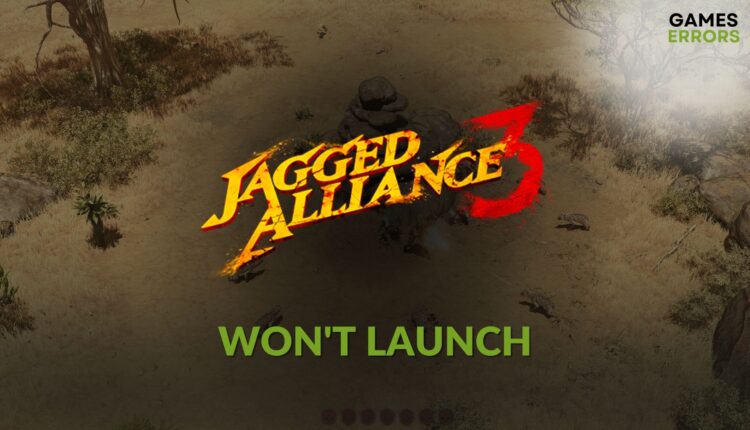 Jagged Alliance 3 Won't Launch: Most Practical Fixes
Is JA 3 not launching on Windows PC? You won't have to lose hope as tricks featured in this post can successfully fix this problem ✅
X
INSTALL BY CLICKING THE DOWNLOAD FILE
If you notice that the Jagged Alliance 3 won't launch on your PC even after trying again and again, it can ruin your expectation. But you are not alone who is encountering this problem.
This Jagged Alliance 3, published by THQ Nordic AB and developed by Haemimont Games, is one of the best turned-based tactical RPG combat games you can play right now. However, for some users, this item may not launch on their system. Luckily, we have the solutions to fix this problem.
Learn how to fix the Jagged Alliance 3 crashing issue if necessary.
What is preventing Jagged Alliance 3 from launching on my PC?
The JA 3 not launching problem on a Windows 11 or 10 PC may be caused by the following reasons:
Security programs: Your antivirus, firewall, and any other security programs may block the required process and stop Jagged Alliance 3 from launching on your system.
Problematic game files: Corrupted or problematic game files can also be why JA 3 is not running on your PC.
Problematic cache and components: Related game components and client or launcher cache issues can also cause this problem.
Driver issues: If your GPU driver or other relevant driver software is outdated or buggy, it can trigger the Jagged Alliance 3 won't launch problem.
You may find other minor reasons behind this problem as well.
How can I fix Jagged Alliance 3 won't launch?
Before trying our solutions, we suggest you do these quick things:
Then, apply the following techniques one by one to fix JA 3 not launching problem:
1. Update the GPU driver
Right-click on the Start button and then go to Device Manager.
Expand Display adapters.
Right-click on the graphics card driver and click on Update driver.
Choose Search automatically for drivers.
Complete the additional steps and restart your PC.
We suggest you use Outbyte Driver Updater to update your graphics card driver instead of the Device Manager. This is really a very powerful tool that can detect the most stable version of the latest official driver for your graphics and install it with just a single click.
2. Clear the client cache
Time needed: 2 minutes
To fix the Jagged Alliance 3 not launching problem on Windows, we suggest you clear Steam's download cache, as it is the most effective solution.
Relaunch Steam
Now, run JA 3 again and see if you still encounter the same issue or not.
3. Run in clean boot
Press Win + X and then click on Run.
Type msconfig, and hit Enter to open System Configuration window.
Now, go to the Services tab.
Click on Apply and OK.
Restart Windows.
Next, try to run and play Jagged Alliance 3 and see if it still won't launch or not. If you see that everything is OK, it may be because a third-party service was causing the problem. We suggest you enable the third-party services one by one from the System Configuration window.
After enabling a service, try to open JA 3 until you face the not launching issue again. Then, uninstall the problematic app from Windows. At last, boot into normal mode.
4. Re-install the game
Go to the Steam game library.
Right-click on Jagged Alliance 3 and click on Uninstall.
Next, click on the Install button.
Choose the installation location and click on Next.
Give it a few minutes to finish the process.
While installing, make sure you have picked a location located on an SSD. Then see whether it has fixed Jagged Alliance 3 not opening or not.
In case the problem still exists, update all other drivers. Also, update Windows to the latest version. Uninstall any FPS booster and cheating tools. If needed, re-install Steam.
To get more tips, check out this guide on how to solve games not launching on PC.
Hopefully, the solutions featured in this article will fix the Jagged Alliance 3 won't launch. Do you have a question? Let us know in the comment box.