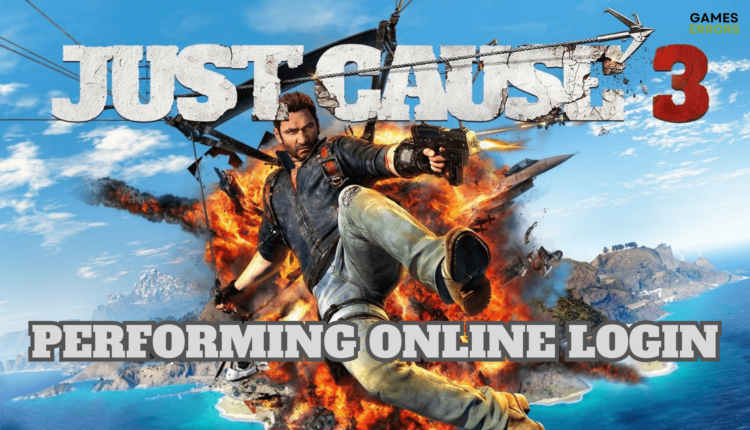 Just Cause 3 Performing Online Login Error: Fix It In No Time
Just Cause 3 Performing Online Login Error can be pretty annoying, but you're in the right place to quickly get rid of it!👾
Just Cause 3 is one of the most popular open-world action-adventure games, but it seems like some players are facing an error while performing an online login.
According to users, it seems like the screen loops over and over again and won't let them properly play.
This guide provides step-by-step instructions to help you resolve this annoying issue and get back in the game without any problems.
How can I fix Just Cause 3 Performing Online Login Error?
In case you tried each of the above solutions, but none of them worked, we suggest going to the next ones:
1. Remove all broken mods
Time needed: 3 minutes
Broken mods can potentially interfere with the game's normal operation, including its online functionality, so it is recommended to remove them.
Determine which mods are causing problems in the game. These could be mods that trigger errors, crashes, or any other undesirable behavior.
Locate the folders or files related to the mods you want to remove. You can find them within the game's installation directory or in a dedicated Mods folder (just as in the example below).

Delete the folders or files associated with the problematic mods from the game's directory. This effectively removes the mods from the game.
After removing the broken mods, launch Just Cause 3 again to see if the issues have been resolved.
If you still want to use mods, reinstall them one by one, ensuring they are compatible with the current version of the game.
2. Set the game to offline mode
2.1 Steam Users
Open the Steam client on your computer.
From the top menu, click on Steam, then choose to Go Offline…
Try running Just Cause 3 in offline mode, then check if the issue is gone.
2.2 Console Users
If you're playing on a console, setting the game to offline mode can be achieved by disconnecting from the internet.
Ensure your console is not connected to Wi-Fi or Ethernet, and then launch the game. This will prevent the game from attempting to connect to online servers.
Another way to do this is by navigating to Network Settings, then choosing to Go offline.
3. Update the game
3.1 For Steam
Open your Steam client, then navigate to Library.
Search for Just Cause 3, right-click on it, then choose to Update.
You can also right-click on the game, then click on its Properties.
From the left window pane, select Updates, and make sure to select Always keep this game updated.
After completing the updating process, check if you can run Just Cause 3 by performing an online login.
3.2 For Xbox
Press the Xbox button on your controller to open the guide.
Navigate to Games.
Search for Just Cause 3, and if any updates are available, you'll be able to see an option to update the game.
After the process is completed, try to run the game and check if you've managed to get rid of the Just Cause 3 performing online login error.
3.3 For PS
Go to Just Cause 3 on your home screen or in your Library.
Press the Options button on your controller.
Choose Check for Updates.
If an update is available, you'll be prompted to download, then install it.
4. Clear Cache
4.1 Steam
Open your Steam client.
From the top menu, select Steam, then navigate to Settings.
Go to Downloads and choose to Clear Cache.
Restart your PC, then check if the Just Cause 3 Performing Online Login error is gone.
4.2 Console
Turn off your console.
Unplug the power cord from the back of the console.
Wait for at least 30 seconds to a minute.
Plug the power cord back in and turn on the console.
Related articles:
As you can see, in case of encountering the Just Cause 3 Performing Online Login error, multiple solutions will help you easily get back in the game.
Do not forget that removing all broken mods or/and setting the game to offline mode proved to be the most efficient workarounds, according to worldwide players.