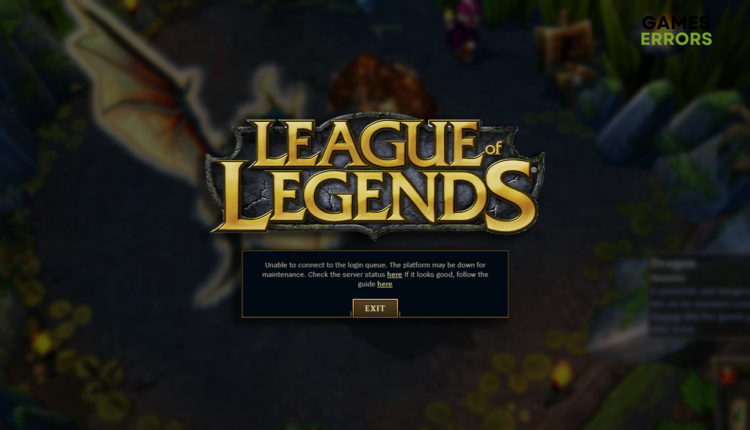 League of Legends Unable to Connect to Login Queue [Solved]
Although the game has been around for some time now, it is common to stumble upon login errors in LoL. We are here to assist you in overcoming it! 🚀
Getting the League of Legends unable to connect to login queue error message means you cannot play for some time. Depending on how long the problem is occurring, you want to take some action to be back in your favorite MOBA!
If your problem is related to the server, read how to solve the League of Legends unable to connect to the server issue.
Why is League of Legends unable to connect to login queue?
League of Legends cannot connect to the login queue due to temporary issues on your PC, problems with the internet connection, temporary issues with your home network, unreliable DNS server address, an outdated network driver, incorrect network settings, or VPN-related issues.
How to fix League of Legends unable to connect to the login queue?
Perform these initial checks and easy fixes:
Restart your PC: A simple restart can resolve many temporary problems, including the LoL's inability to connect to the login queue.
Check the internet connection: Head to the Google Speed Test and check your internet connection. You want your download/upload speed to be high and ping as low as possible.
Reset your network devices: Find your modem or router and press the reset button. The button is usually on the back side of the device, and it will take a few minutes to complete.
Here are step-by-step solutions to help you fix the League of Legends unable-to-connect to login queue problem.
1. Use Google DNS
Time needed: 4 minutes
Windows automatically assigns you a suitable DNS server address based on your location. We discovered that the most reliable one is Google DNS, so the advice is to change it in DNS settings manually.
Using the Windows Key + R shortcut, open the Run dialog, type control, and hit OK.

Click on View network status and tasks.

Click on the Change adapter settings.

Right-click the internet network you use and select Properties.

Double-click Internet Protocol Version 4 (TCP/IPv4).

Enable Use the following DNS server addresses and add:

➡ 8.8.8.8 for the Preferred DNS server
➡ 8.8.4.4 for the Alternate DNS server

Click OK and restart your PC.
2. Update the network driver
If LoL can't connect to the login queue, it is a clear sign that there might be a problem with your internet connection. The first thing to do, as with any connection-related issue, is to check for network driver updates.
Click the Windows icon, type Device Manager, and open it.

Double-click on the Network Adapters section.

Right-click on your internet adapter and select Update driver.

Select the Search automatically for drivers option.
Install the driver update.
Restart your PC.
There is another method for updating the network driver. This one is simpler and automatized, and to try it out, check Outbyte Driver Updater. This driver updater tool can scan, monitor, and update drivers when needed!
⇒ Get Outbyte Driver Updater
3. Restart network settings
Even if you have the latest network driver update, some network settings stored on your PC might create trouble for the game client when using the network. This can be fixed easily by applying a few commands in the Command Prompt.
Click on the Windows icon, type Command Prompt, and open it.
Right-click Command Prompt from the search results and choose the Run as administrator option.
If Windows asks for any additional permissions, allow them by clicking Yes.
Type in the following commands and hit Enter after each one:
ipconfig /flushdns
ipconfig /registerdns
ipconfig /release
ipconfig /renew
netsh winsock reset

Restart your PC.
Extra steps
If you are still unable to connect to the login queue in League of Legends, try to:
🛡 Temporarily disable antivirus: You can check if your antivirus is blocking the game client from connecting to the queue. If so, re-enable the antivirus and whitelist LoL, so it doesn't happen again.
❌ Disable your VPN: Using a Virtual Private Network can be a great way to preserve privacy and access geo-restricted content. LoL servers might not like them, so you better disable them when you play.
📞 Contact your ISP: The internet service provider support contact is on your monthly bill. Explain the situation and ask them to check for issues with your network remotely.
Related articles:
Conclusion
After applying all of the solutions and fixes, League of Legends unable to connect to the login queue should be part of the history. Comment to tell us how did it go and if the issue persists.