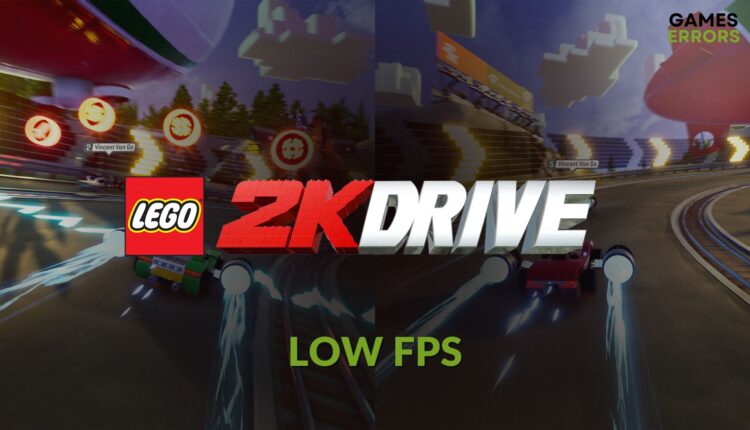 LEGO 2K Drive Low FPS: Best Performance Boosting Tips
Update or re-install GPU driver and follow these tricks to boost FPS on LEGO 2K Drive 🚀
X
INSTALL BY CLICKING THE DOWNLOAD FILE
Fixing low FPS problems on LEGO 2K Drive is not a big deal. This article will feature the methods that will help to boost the performance of this game.
Unlike many other recently released titles, the new LEGO 2K Drive is not very resource hungry. An older system with an older GPU should be able to handle it properly. However, you may still get low FPS, laggy, or stuttering issues on this title. Luckily there are solutions.
Learn LEGO 2K Drive infinite loading screen problem if needed.
Why is my FPS so low on LEGO 2K Drive?
If LEGO 2K Drive is stuttering or lagging, or performing poorly, it means any of the following issues exist on your PC:
GPU driver: Any low frame rate and gaming performance-related problem occurs mostly because of a faulty or outdated GPU driver.
Background services: If there are too many background services active on your PC, LEGO 2K Drive will not perform expectedly.
Outdated components: Some game components are necessary to run this title smoothly. If these are outdated or have problems, this racing game will lag.
Hardware limitation: Even if your PC meets the system requirements, it doesn't mean you will get the smoothest possible experience due to the limited power of the hardware.
Else, incorrect settings on Windows and the game itself can be another reason behind this problem.
How do I fix LEGO 2K Drive low FPS issues?
We have prepared the best methods to improve performance in this game. However, before trying these solutions, you must ensure the following things:
If everything is OK, try the following methods to boost the frame rate on LEGO 2K Drive:
1. Update the display driver
Press Win + X on the keyboard and then go to Device Manager.
Expand the Display adapters by clicking on the arrow button next to it.
Right-click on the graphics driver you are using, and click on Update driver.
Click on Search automatically for drivers.
Go ahead and finish the process.
You should Outbyte Driver Updater to update your graphics card driver. It is because this tool can find and install the most appropriate latest driver for your GPU, which helps to gain performance on games like LEGO 2K Drive.
2. Reduce the background tasks
To release some raw computing power, you should reduce the background activities. It helps to fix the low frame rate problem on LEGO 2K Drive. Here are the steps to follow:
Right-click on the Taskbar and then go to Task Manager.
Make sure you are on the Processes tab.
Click on the process you want to disable and then click on End Task.
Disable all other problematic and unnecessary processes.
Don't disable any processes you are not familiar with. Ending essential services may create different problems.
3. Repair LEGO 2K Driver's game files
Launch Steam or the game client you are using.
Go to the game library, as shown in the screenshot.
Navigate to the Local Files tab.
Next, click on Verify integrity of game files.
Wait for a while until it finishes the process.
For the Epic Games Launcher, go to its Library. Click on the three horizontal dots under this LEGO game and go to Manage. Then, click on Verify. It will repair the game files.
This methods also help to fix LEGO 2K Drive won't launch or similar issues.
4. Roll back the GPU driver
Open Device Manager, like method 1.
Double-click on the graphics driver to open its properties.
Navigate to the Driver tab.
Follow any on-screen instructions to finish the process.
Restart your PC.
5. Re-install the GPU driver
Time needed: 5 minutes
To solve low FPS problem on LEGO 2K Drive, re-installing the GPU driver is an excellent method.
Restart Windows.
Visit AMD, Intel, or NVIDIA driver download page based on the graphics card you are using.
Download the driver by clicking on the correct button.
Install it on your PC.
Restart Windows.
6. Play with lower settings
If the previous methods don't work, you should play LEGO 2K Drive with lower settings to get rid of low FPS problem. You can disable Vsync, lower the Preset Quality, turn off graphics enhancement features from the in-game settings..
Learn how to fix LEGO 2K Drive crashing if necessary.
This article has shown the ways to fix LEGO 2K Drive low FPS problem. If you have any better suggestions, feel free to let us know in the comment box.