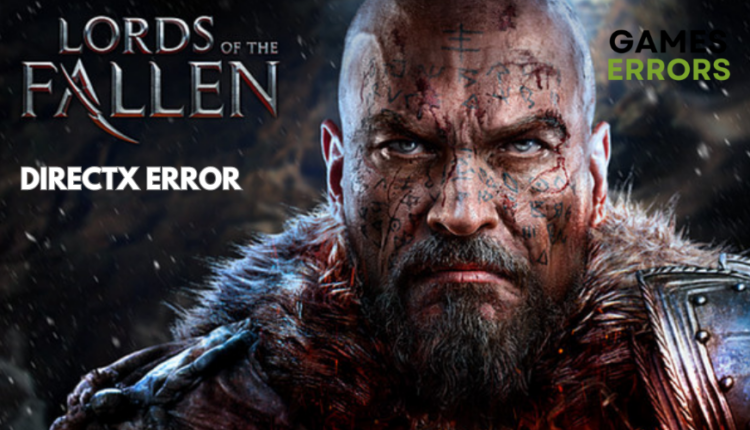 Lords of the Fallen DirectX Error: Simple Steps To Fix It
If Lords of The Fallen keeps crashing on your PC, you may be suffering from a Lords of The Fallen DirectX Error. Read our guide to fix it🚀
Are you frustrated by a DirectX crash error while playing Lords of the Fallen? Whether it hits you as soon as you start or sneaks up on you while you're in the game, this issue has been around, even long after the game's launch.
Today, we're here to tackle this problem head-on and figure out what you can do about it. We all know how important DirectX is for playing games on your PC—it's been doing its job well for years. But why is it acting up specifically with Lords of the Fallen?
Let's get into the details and figure out why you are experiencing Lords of The Fallen directX error and how to fix it.
What Causes Lords of The Fallen DirectX Error?
There could be multiple reasons why you may be experiencing the DirectX error, however, the common culprits seem to be:
Outdated Graphics Drivers: Having outdated or incompatible graphics drivers can conflict with the game's requirements, triggering the DirectX error.
Software Interference: Background applications, especially those using PC resources, might clash with Lords of the Fallen, resulting in DirectX crashes.
System Overheating: Intense gameplay can lead to overheating issues, potentially triggering DirectX errors.
Corrupted Game Files: If the game files are corrupted or incomplete, it can disrupt the proper functioning of DirectX components, leading to errors.
DirectX Version Mismatch: If your DirectX version is not up to date or there's a mismatch between the game's requirements and your installed DirectX version, it can result in crashes.
How To Fix Lords of The Fallen DirectX Error?
Before we proceed, let's look at a couple of pre-checks we need to complete before jumping into the solutions.
If you are still experiencing Lords of The Fallen DirectX error, then let's get into some targeted solutions👇:
Table of contents:
1. Update the Graphics Driver
Time needed: 5 minutes
Outdated graphics drivers cause a plethora of issues. That is why you should ensure that you have the latest graphics driver to avoid the Lords of The Fallen DirectX Error issue caused by outdated drivers. Here's how you do it
Open the Run box by pressing Win + R, then type devmgmt.msc and press Enter to access Device Manager.

Expand Display adapters, double-click your graphics card driver, and select Update driver.

Choose "Search automatically for updated driver software" in the pop-up window, and follow the instructions to complete the process.
📌Why should you waste time searching for drivers? With Outbyte Driver Updater, your PC gets the best driver updates automatically. Enjoy a smoother experience, as this third-party tool takes the guesswork out of keeping your drivers up-to-date.
⇒ Get Outbyte Driver Updater
2. Check DirectX Version
Verify your DirectX version. If needed, download the latest version from Microsoft. Here's how you do it:
Type dxdiag in the Search box and click Open.
Under the System tab, check your DirectX version.
3. Run System File Checker
Use the System File Checker to fix corrupted system files. To do this:
Press Win key, type cmd, right-click Command Prompt, and select Run as administrator.
In the Command Prompt window, type sfc /scannow and press Enter.
Wait for verification to reach 100%, and review the scan results.
Restart your PC if not done automatically.
4. Use DirectX 11
Switch to DirectX 11 if DirectX 12 is causing issues. To do this:
Open Steam and go to the Library tab.
Select Lords of The Fallen, right-click, and choose Properties.
In the General tab, under Launch options, input: -force -dx11 (or -force -dx11).
5. Clear DirectX Shader Cache
Clear the DirectX shader cache to resolve potential shader-related issues. Here's how to do it:
Search for Disk Cleanup in the Windows search box and open it.
Check the checkbox next to DirectX Shader Cache and click OK.
Confirm by clicking Delete files.
Related Articles:
Conclusion
In conclusion, dealing with Lords of The Fallen DirectX error can be really frustrating. Luckily, there are ways to fix it and get back to gaming smoothly.
As mentioned above, make sure your graphics drivers are updated. Old drivers can cause problems with the game. Check your DirectX version and update it if needed. This can solve compatibility issues. Run a System File Checker to fix any corrupted files causing the error. Switching to DirectX 11 instead of 12 might help. You can do this through Steam's properties. Lastly, clearing the DirectX shader cache can help with shader-related problems. Use Disk Cleanup for this.
By following these steps, you can fix the DirectX error and enjoy playing Lords of the Fallen without interruptions.