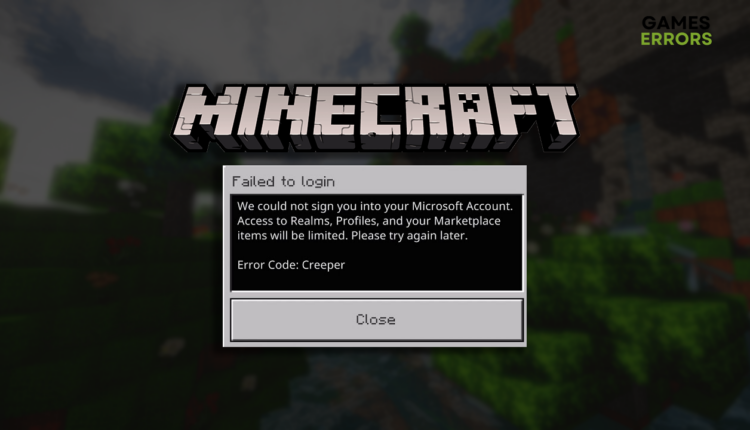 Minecraft Error Code Creeper: Fix It Effortlessly
Since when do creepers appear in the menu? Take some action, before the situation blows up! 💥
Many players get disappointed when they see Minecraft error code Creeper instead of the usual screen. This network-related issue has multiple causes, and it is not easy to pinpoint a single one, so we made a list of possibilities and paired it with an ultimate list of solutions for troubleshooting the issue.
Failed to login
We could not sign you into your Microsoft Account. Access to Realms, Profiles, and your Marketplace items will be limited. Please try again later.
Error Code: Creepeer
Learn what to do when you get the Failed to create profile error message in Minecraft.
What is error code Creeper in Minecraft login?
Error code Creeper in Minecraft is a network-related error caused by a faulty internet connection, temporary problems on your network, an outage of Mojang services, unreliable DNS, an outdated network driver, or problematic network settings on your PC.
How do I fix Minecraft error code Creeper?
Eliminate this annoying error code quickly by applying these checks and fixes:
Check the internet connection: Head to the Google Speed Test page and check if your internet connection is working, what are the speeds and latency.
Restart your network devices: Hit the restart button on the back panel of your router or modem and wait a couple of minutes for the device to restart.
Check Mojang status: If any recent Tweets suggest a server outage, there is a high chance that the problem is not on your side.
Proceed with the step-by-step solution to prevent the error code Creeper from appearing.
1. Use Google DNS
Your connection to Mojang services is routed across various DNS servers. By default, Windows will automatically assign a suitable server address based on your location. We recommend you use Google DNS, which is the most reliable for any purpose, including gaming.
Using the Windows Key + R shortcut, open the Run dialog, type control, and hit OK.

Click on View network status and tasks.

Click on the Change adapter settings.

Right-click the internet network you use and select Properties.

Double-click Internet Protocol Version 4 (TCP/IPv4).

Enable Use the following DNS server addresses and add:
➡ 8.8.8.8 for the Preferred DNS server
➡ 8.8.4.4 for the Alternate DNS server

Click OK and restart your PC.
2. Update the network driver
Time needed: 5 minutes
Since the Creeper error code is a network-related issue, finding problems in the driver responsible for managing your PC's network is an ideal place to troubleshoot.
Click the Windows icon, type Device Manager, and open it.

Double-click on Network Adapters.

Right-click on your internet adapter and select Update driver.

Select Search automatically for drivers.
Install the driver update.
Restart your PC.
There is an easier way to manage your drivers! Use Outbyte Driver Updater to automatize the complete process, as this tool scans, monitors, and updates drivers whenever necessary so that you can enjoy Minecraft and other games without interruptions.
⇒ Get Outbyte Driver Updater
3. Restart network settings
To ensure your PC is configured correctly to communicate to Mojang services through your home network and internet, you must restart network settings, which might be the cause of the Minecraft error code Creeper.
Click on the Windows icon, type Command Prompt, and select it from the search results.
Type the following commands in separate lines, one by one, and hit Enter after each one:
ipconfig /flushdns
ipconfig /registerdns
ipconfig /release
ipconfig /renew
netsh winsock reset

After completing the last command, restart your PC.
Extra steps
If you have applied all solutions we listed so far, but you still get the error code Creeper when you want to play Minecraft, try to do the following:
⏳ Give it some time: Even though Mojang didn't announce problems with services, there is a high chance of an issue on their end.
🌐 Use an alternative network: Connect your device to another available network, preferably with an ethernet cable. Alternatively, use your mobile hotspot.
🔁 Reinstall Minecraft: If nothing so far worked out, and Mojang didn't announce any service issues, reinstall Minecraft, restart your PC, and try logging in.
Related articles:
Conclusion
In conclusion, Minecraft error code Creeper can be fixed by updating the network driver, using Google DNS, and restarting network settings on your PC. Before doing so, don't forget to check your internet connection, Mojang services and restart your network device.
Additionally, try connecting to an alternative network, and if nothing works out, reinstall Minecraft. Good luck with resolving the error, mining, and crafting!