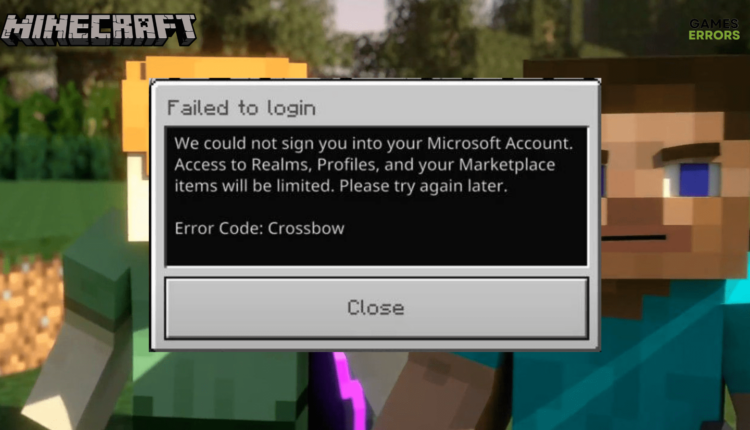 Minecraft Error Code Crossbow: 6 Quick Ways to Fix It
Minecraft crossbow error code is pretty irritating, but you can pass this obstacle by following the right steps listed in this article!🎮
The Minecraft Error Code Crossbow can disrupt your gameplay experience, preventing you from fully immersing yourself in the pixelated wonders of the game. As you embark on your virtual adventures, encountering unexpected errors can be frustrating, but fear not!
This guide is designed to provide all the necessary solutions to return to savoring your adventures in the world of blocks.
What is the Crossbow code in Minecraft?
The occurrence of the Crossbow error code in Minecraft can often be attributed to a couple of underlying factors, such as overcrowded servers, poor internet connections, network-related problems, ISP issues or a technical glitch within Microsoft's sign-in system.
When a server becomes overcrowded, it struggles to manage the influx of requests from users attempting to access online services. Thus, sometimes it is necessary to change the server.
Similarly, the Crossbow Error in Minecraft might be triggered by technical glitches in Microsoft's sign-in system, and it might disrupt the seamless authentication process required for accessing games like Minecraft.
How do you fix a Crossbow Error in Minecraft?
To fix Minecraft Error Code: Crossbow, before trying the more advanced methods, try the pre-checkups below:
You can attempt signing in multiple times.
Check the game's server status and verify if everything is going well.
If none of the above methods helped you fix the Crossbow code in Minecraft , go to the next ones:
1. Update Minecraft
Time needed: 4 minutes
It seems like updating the game to the latest version is one of the most efficient methods to get fix the Minecraft Crossbow error code.
Right-click Minecraft Launcher, then choose to Run as administrator.
In the Minecraft Launcher, click on the Installations tab.

To create a new installation for the updated version while keeping your current version intact, click the New button. Give it a name and select the version you want to update to.
To update your existing installation, find the installation that you want to update in the list and hover over it. Click the three dots icon that appears on the right side of the installation's box, then select More Options.
In the More Options menu, click on Upgrade.
Confirm the upgrade by clicking Yes or Continue.
The launcher will download and install the latest version of Minecraft. This process might take a few minutes, depending on your internet speed and system performance.
2. Update your network driver
This method can help you regain control over your network, and it might also make your connections more stable, which could fix your Minecraft Error Crossbow.
Simultaneously press on the Windows and X keys, then select Device Manager.
Now, look for the Network adapters section, then double-click it.
Once the section is expanded, right-click the main network adapter, then choose to Update driver.
Click on the Search automatically for drivers option.
Your system will scan for any available updates, then start applying the needed ones.
Wait until the process is completed, then restart your PC and check if you managed to get rid of Minecraft Error Code Crossbow.
Of course, you can also go for an automatic solution to avoid all the above manual steps. Our recommendation is Outbyte Driver Updater, as it will always ensure keeping your drivers up to date with one single click.
⇒ Get Outbyte Driver Updater
3. Change DNS settings
This method is commonly used by players who are encountering network and connectivity issues. It can fix your Crossbow Error Code in Minecraft and help you see the content of various websites faster.
Use the following keyboard shortcut to open the Run dialog box: Windows + R.
In the opened window, type ncpa.cpl and hit Enter.
Now, right-click on your active network adaptor, then choose Properties.
Look for the Internet Protocol Version 4 (TCP/IPv4), click on it, then select its Properties.
Select the option labeled Use the following DNS server addresses within the General tab.
In the Preferred DNS server option, set this: 8.8.8.8. Then, in the Alternate DNS server set the following: 8.8.4.4.
Click on OK and check if the issue is gone.
4. Clear account sign-in data
If you are trying to play Minecraft from another device and you are getting the Crossbow error code, try clearing your account sign-in data. This method has allowed many players to fix the problem and also solve device switching-related issues.
Launch Minecraft and navigate to Settings.
Access the Profile section and opt to Clear Account Sign-In Data.
Click on Delete Old Content Logs.
Proceed by selecting Delete Now in the subsequent pop-up window.
Close the game, restart your PC, then make another attempt to sign in and check if the Minecraft error code: crossbow is gone.
5. Try a VPN
Another useful workaround is trying a VPN to fix error Crossbow, and this is everything you need to know related to this:
If our today's issue is related to connectivity problems, a VPN could potentially help by providing an alternate route for your Internet connection.
In some cases, certain Minecraft servers or game features might be region-locked or restricted to specific geographical locations. With a VPN you can connect to servers or access blocked content.
Minecraft servers occasionally experience downtime, lag, or technical issues. Connecting to a different server through a VPN might help you avoid the issue temporarily.
ExpressVPN is widely recognized as a trustworthy and reliable solution for various online needs. With a proven track record in the VPN industry, it has gained the trust of millions of users worldwide.
6. Reinstall the game
Unfortunately, sometimes Minecraft has some file issues that could generate a variety of problems, such as the Crossbow Error Code. Therefore, the only method that could fix the game is to reinstall it. Before you proceed with this step, make sure that you save all of your world data in a different folder if you don't want to lose it.
Press the Windows key, type Control Panel, and navigate to the first shown result.
Under the Programs section, click on Uninstall a program.
Search for Minecraft, then choose to Uninstall it (Following the League of Legends example shown in the picture below).
Follow the on-screen instructions to completely uninstall the game.
After this, navigate to any trustworthy website on Google and download the game again.
Follow the instructions to reinstall Minecraft, then check if the crossbow error code is gone.
Related articles: 🎯
Conclusion:
To sum it up, if you're experiencing the Crossbow Error Code while trying to play Minecraft, you should update the game version, update your network driver, change the DNS, clear the account sign-in data, install a VPN, or, in the worst-case scenario, reinstall the game. We hope that our solutions helped you fix this Minecraft error code and that you are already back in the game. If you discover any other solutions, feel free to share them with us in the comments.