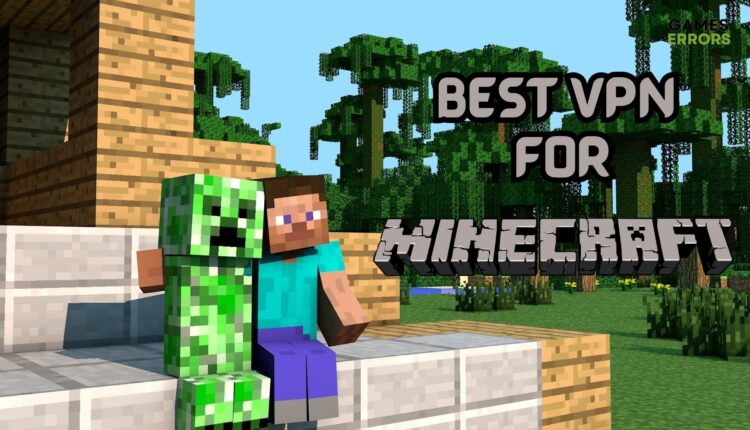 Best VPN for Minecraft: 7 Most Popular Picks for Gaming
Check all of the best VPNs for Minecraft, as we navigate through their features to ensure you can enjoy your virtual adventures with unrestricted exploration! ⛏🧱
When it comes to selecting the best VPN for Minecraft, you must consider several aspects according to your needs.
This guide will not only showcase the most popular options but will also elucidate the critical aspects that gamers should evaluate before making a choice.
What is the best VPN for Minecraft?
The best VPN for Minecraft should be able to lower your ping, improve your overall connection to the MC multiplayer servers, and boost your speed. Also, it should allow you to play on region-locked servers and bypass IP bans. As a fellow Minecraft player, I had my fair share of 'Connection Lost' errors, and a VPN can alleviate or fix the problem. Also, by using a VPN, you can stay protected from DDoS attacks and Doxxing, which is the equivalent of someone stealing your personal data by using various third-party software.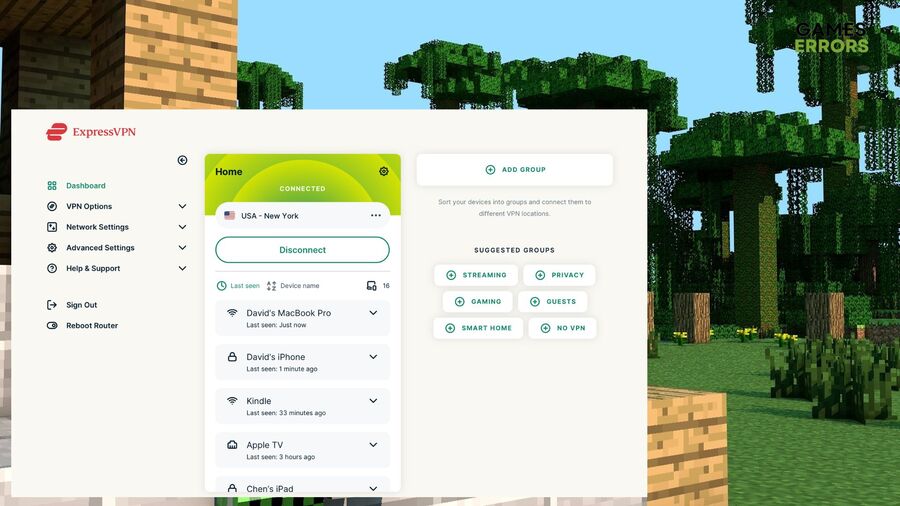 ExpressVPN shines brightly as one of the premier options for those in search of the best VPN for Minecraft. Renowned for its lightning-fast servers, ExpressVPN optimizes your gaming experience, reducing lag and ensuring smooth gameplay.
ExpressVPN's strong security features, including military-grade encryption, provide a shield against cyber threats that might occur on overcrowded MC servers, while its user-friendly interface makes it an accessible option for players.
💡These are ExpressVPN's key features:
256-bit AES encryption
Compatible with Windows, Mac, Android, iOS, Android, Linus, routers, consoles, smart TVs
Speed Test feature
Unlimited bandwidth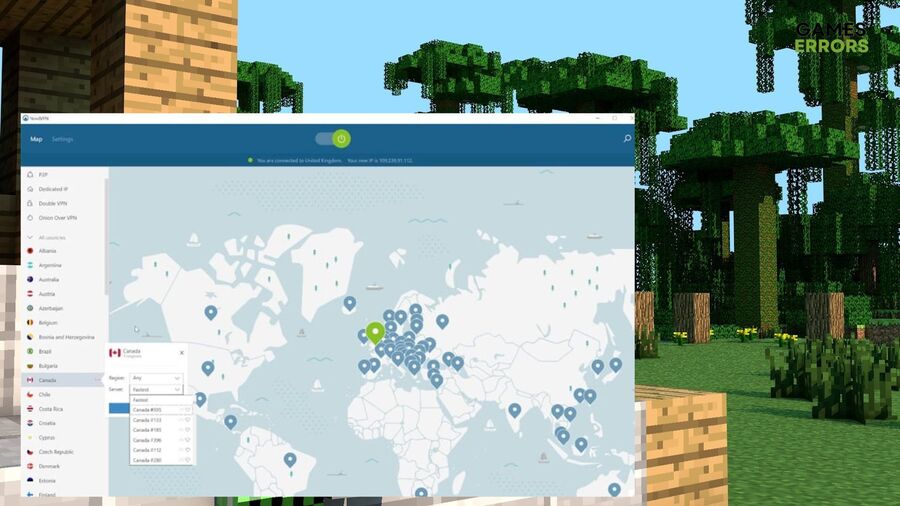 NordVPN is widely considered to be one of the best VPNs for Minecraft as it comes with strong security features and lots of servers around the world.
This tool is also a good choice for Minecraft because it offers a feature called Meshnet which allows you to connect directly to other NordVPN users, bypassing your ISP altogether. This can improve your connection speed and reduce lag
💡Check these NordVPN key features:
Over 5700 fast servers across 60 countries
30-day money-back guarantee
Threat Protection and Kill Switch
Easy to use
Below 50 ms ping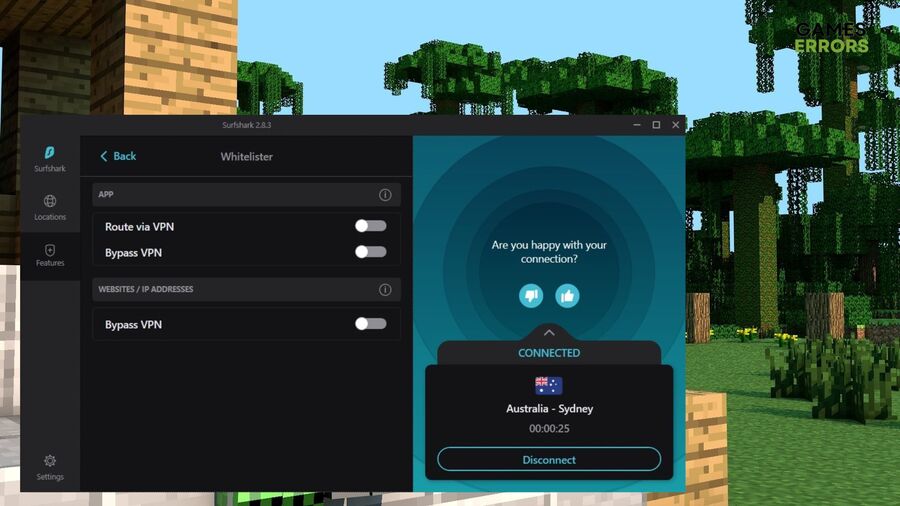 As one of the best VPNs for Minecraft, Surfshark combines affordability with a feature-rich package. Its NoBorders mode makes it an excellent choice for bypassing geo-restrictions, allowing Minecraft players to connect with friends and communities worldwide.
Moreover, Surfshark employs advanced encryption protocols, ensuring that your online activities remain private and secure while playing on geo-restricted servers.
💡Take a look at these key attributes of SurfShark:
Unlimited simultaneous connections
Servers in 100 countries
7-day trial
No logs policy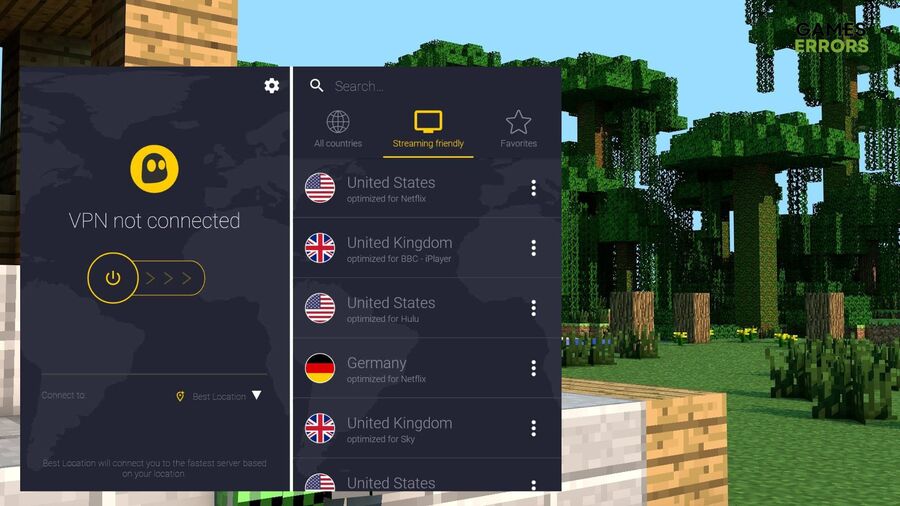 CyberGhost provides an array of dedicated gaming servers optimized for reduced latency and stable connections, which is a nice trait to have if you are trying to play on popular servers such as Hypixel. Plus, it has an extremely user-friendly interface.
By cloaking your IP address and encrypting your data, CyberGhost allows you to traverse Minecraft's landscapes with anonymity, safeguarding your digital footprint from potential prying eyes.
💡Discover the main benefits of CyberGhost:
Unlimited bandwidth
DDoS protection for optimal gameplay
No logs policy
Over 9500 servers across 90 countries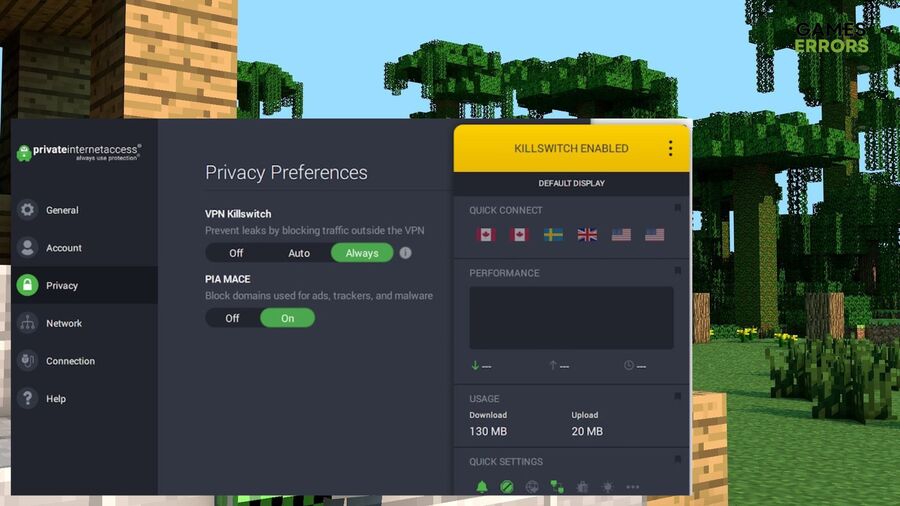 With a focus on privacy, PIA offers top-notch security features such as advanced encryption and a strict no-logs policy, ensuring that your gaming activities remain confidential.
Moreover, PIA's intuitive interface makes it a suitable choice for beginners, and its fast servers maintain a seamless connection for exploring Minecraft's captivating world with ease.
💡These are the primary features of Private Internet Access:
Unlimited bandwidth
No logs policy
Works with PS, Xbox, Nintendo Switch
128-bit or 256-bit encryption
0 Gbps NextGen servers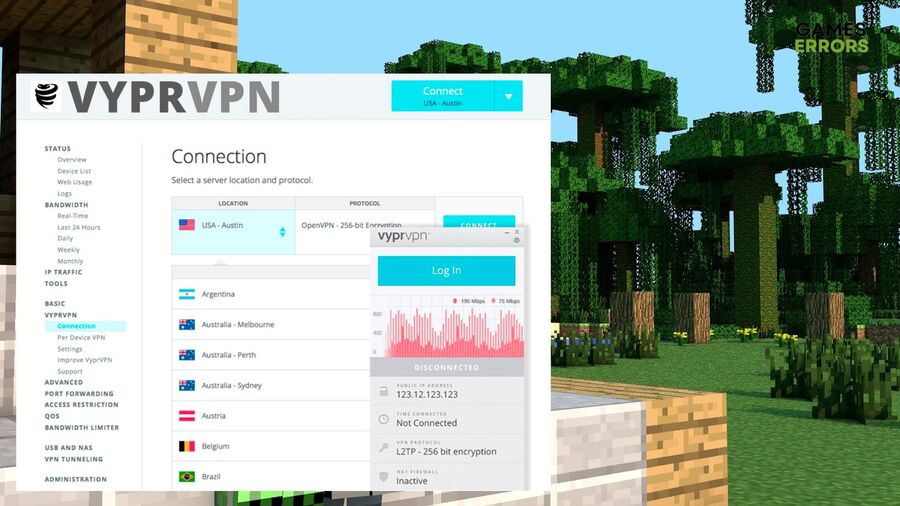 Boasting an impressive roster of servers strategically positioned around the world, VyprVPN allows players to break through geographical restrictions, fostering connections with friends and players regardless of their location.
The Chameleon protocol, a proprietary technology, ensures that your VPN usage remains hidden, making it an excellent choice for privacy-conscious gamers.
VyprVPN's emphasis on speed and security paves the way for exhilarating Minecraft adventures, guaranteeing that you can traverse the pixelated terrains with reduced latency and fortified protection.
💡Check these VyprVPN key features:
Over 700 servers across 70 countries
30-Day Money-Back Guarantee
Kill Switch and no logs policy
Chameleon protocol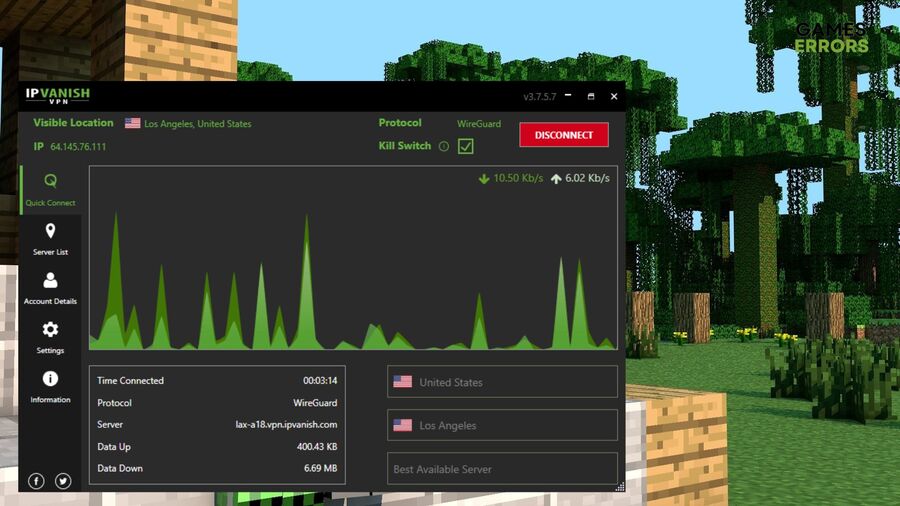 IPVanish stands tall as a contender among the best VPNs for Minecraft, offering an array of features geared toward enhancing your gaming escapades. With a substantial network of servers worldwide, IPVanish ensures low latency connections, minimizing disruptions during gameplay.
Its strict no-logs policy assures your online activities remain confidential, making it a trusted companion for privacy-conscious gamers.
💡Discover the main characteristics of IPVanish:
No logs policy
SOCKS5 proxy connection
Unlimited bandwidth
Over 2000 servers in more than 75 countries
How do I setup a VPN for Minecraft?
To set up a VPN for Minecraft you will need to decide on which VPN you are going to install, and you can do that by thinking about what you need it for, then follow the steps below.
Install the VPN that fits your needs.
Based on your needs look for the location of the server you want.
Enable the safety options of the VPN available in settings.
Find the VPN server that is closest to the main server's location.
Connect your VPN, and then try to log into the MC server.
Frequently Asked Questions:
Can you play Minecraft on a VPN?
Yes, you can play Minecraft on a VPN, and you can even host servers. However, to host, you will need your VPN to have a port forwarding feature which lets your PC to connect to public and private servers.
Can VPN bypass Minecraft ban?
In most cases, a VPN can bypass Minecraft IP bans. However, even if you bypass the IP, your name or email might still be on a ban list and prevent you from connecting to the server.
Can Minecraft servers detect VPN?
Some servers might detect the VPN automatically. Also, if you are detected, you could get your IP banned, which wouldn't be a problem, but your username could also be added to the ban list, which would make you unable to play on that server. Thus, if you want to avoid this situation, try to stay away from free and unprofessional VPNs.
🕹️Related articles:
Final Thoughts:
Now that you know everything you need to decide on a VPN, it is important to figure out what you will use it for. As said before, some are better for server connectivity and speed, while others emphasize safety, and some have various tools incorporated that are useful in some situations, such as NordVPN's Meshnet.
If you are not sure which VPN to choose, I recommend starting with ExpressVPN. It is the best VPN for speed, or you can use NordVPN if you just need a bit of extra protection.