Mon Bazou Low FPS: How to Boost Performance
If you happen to encounter low FPS while playing Mon Bazou, we have a handy guide to assist you. 🏎️
Let's say you like unusual games that are quite specific and made with love. An example is Mon Bazou by developer Santa Goat. Mon Bazou (free translation from French – my crappy car) is a game about earning money by doing odd jobs to turn your junk car into a real racing car. Although the game is still in the early access phase, it has a pretty good rating on Steam. The problem that may bother you in Mon Bazou is the low FPS, which will further result in lags, stutters, and skipping in the game. This can be a very unpleasant experience, but we created this guide to help you solve the problem quickly and efficiently.
Why am I getting low FPS in Mon Bazou?
Low FPS can occur for several main reasons:
Low-end PC
Outdated GPU driver
Unnecessary apps running in the background
Wrong power plan
Overlay apps issues
Demanding in-game graphic settings
Corrupt game files
How do I fix Mon Bazou low FPS?
Before proceeding with our tips, we suggest beginning with these basic steps:
Restart the game launcher or your PC.
Check if your PC meets the recommended system requirements.
Close any unnecessary heavy tasks running in the background.
If you are still encountering a low FPS in Mon Bazou, try the following tips:
1. Update your GPU driver
If Mon Bazou is experiencing crashes, low FPS, stuttering, or lag, it may be due to an outdated GPU driver. To fix this issue, update your driver to the latest version.
1. Press the Win+R keys to bring up the Run dialog box.
2. Type; "devmgmt.msc" in the text box and hit Enter to open Device Manager.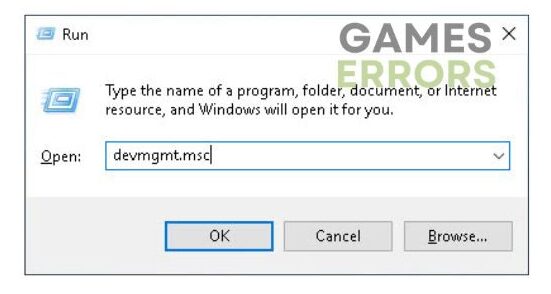 3. Double-click on the Display adapters, then right-click on the GPU and select Update driver.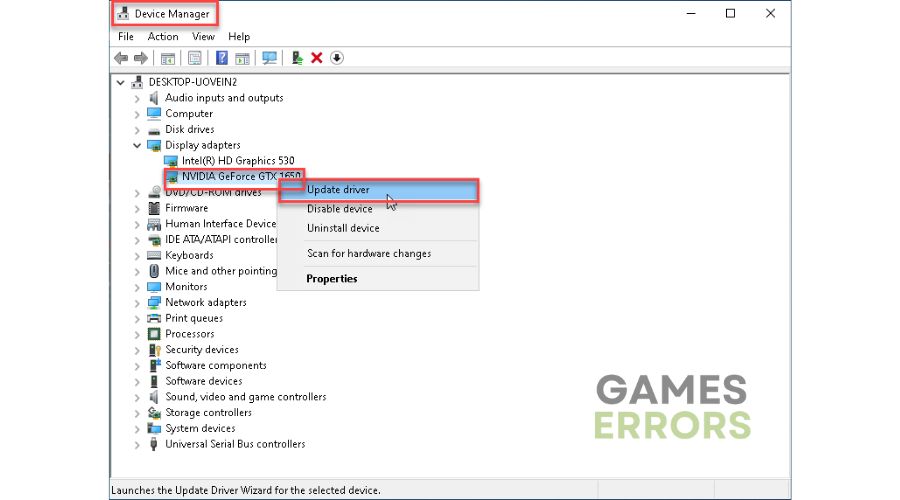 4. Choose Search automatically for drivers and wait for Windows to complete the update.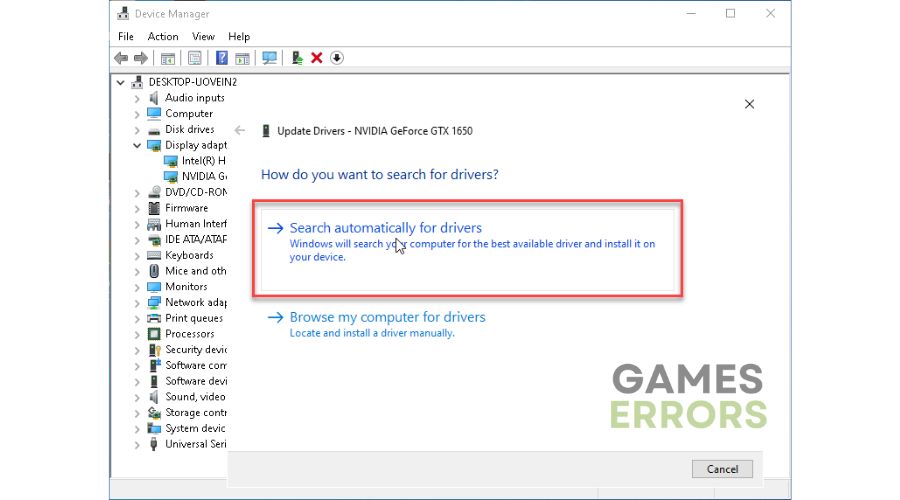 ℹ️ A stress-free way to update Windows system drivers is by using Outbyte Driver Updater. This tool automatically updates drivers when new versions are released, saving you from the hassle of searching for genuine drivers manually.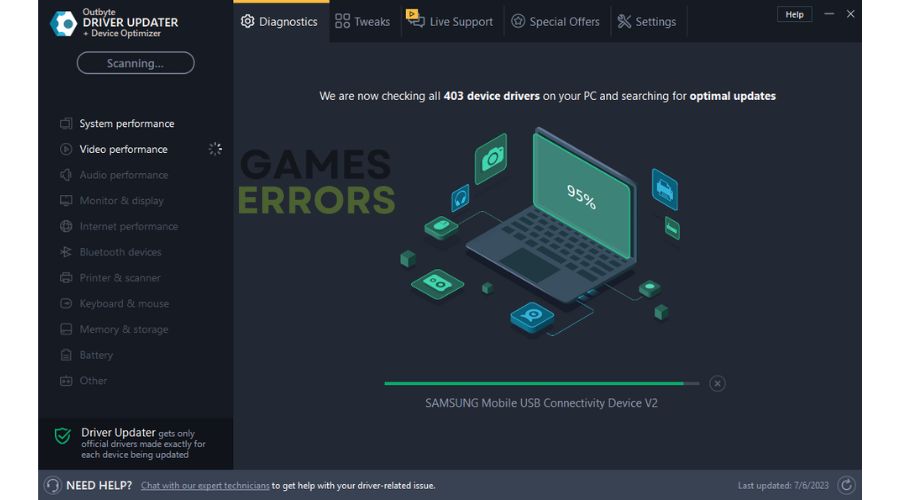 2. Change Power Plan
To improve your Mon Bazou performance during high-intensity gameplay, consider switching from Balanced mode to High-Performance mode in Power Options.
1. Press the Win+R keys to show the Run dialog box.
2. Type; "powercfg.cpl" and press Enter to open Power Options.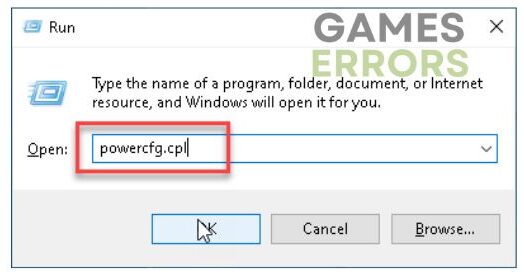 3. Tick the radio button High Performance or Ultimate Performance.
3. Enable Game Mode
Time needed: 3 minutes
For a better gaming experience in Mon Bazou with higher FPS, consider activating the Game Mode. Disabling the Xbox Game Bar (overlay feature) is also recommended, as it may cause performance issues.
Open Windows Gaming Settings

Right-click on Start and choose Settings. Click on the Gaming.

Enable Game Mode

Select Game Mode from the left pane and toggle ON Game Mode.


Disable the Xbox Game Bar

Select Xbox Game Bar from the left pane and toggle OFF this option.


Disable Background recording

Select Captures from the left pane and toggle OFF Background recording.

4. Optimize in-game graphics settings
If you are having a hard time playing Mon Bazou due to stuttering and low frame rate, try to optimize the game's resolution and graphics settings to enhance your gaming experience.
1. Launch Mon Bazou. From the Game Menu, select Video.
2. Set Graphics Quality: Medium or Low, Window Mode: Full Screen Window. Disable: Ambient Occlusion, Bloom, and Cloud Shadows.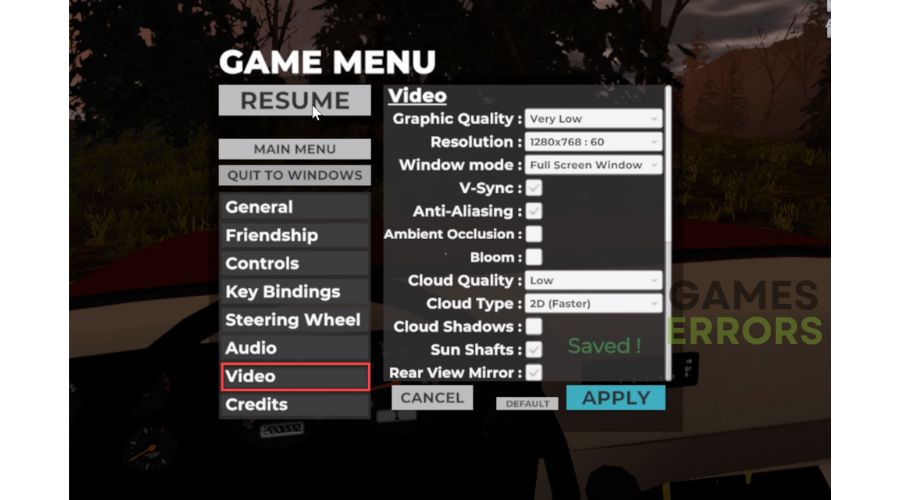 3. Set Cloud Quality: Low and Cloud Type: 2D.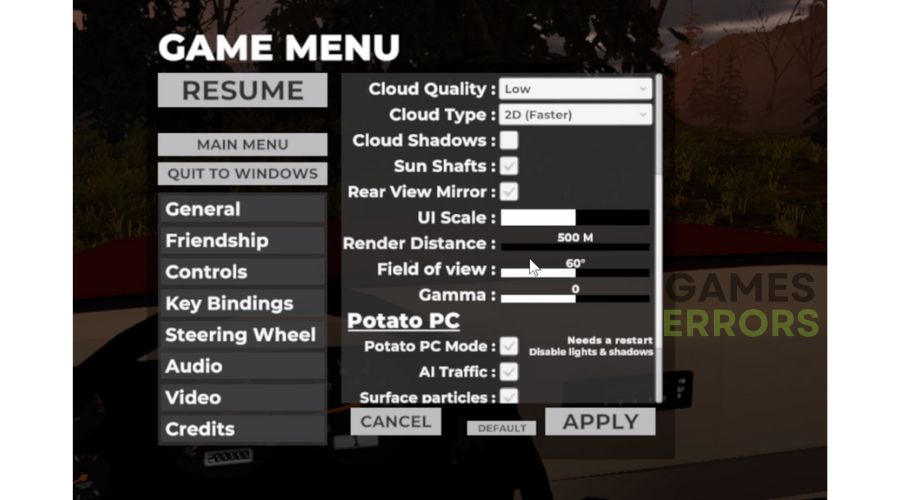 5. Set the game to high priority
Before running Mon Bazou, check for other resource-intensive applications running in the background. If you're certain that your graphics card isn't heavily loaded, set Mon Bazou to High Priority to allocate more resources from your operating system.
1. Launch Mon Bazou and open Task Manager while in-game (press CTRL + SHIFT + ESC).
2. Go to the Details tab and find the main process of the game.
3. Right-click on Mon Bazou and Set Priority to High.
🚀Extra steps
Do you still have a low FPS in Mon Bazou? Here are some additional options to consider:
Update Windows to the latest version.
Update DirectX, .NET Framework, and VCRedist.
Update the game.
Disable the overlay feature in Steam.
Temporarily disable Windows firewall and antivirus software.
Be sure not to use an IGP instead of a discrete graphics card.
Reinstall the game.
Conclusion
For optimal performance in Mon Bazou, meeting the recommended system requirements and updating the game and operating system with the latest GPU drivers is essential. To ensure the best performance, set the Power Plan accordingly, disable overlay features, and optimize in-game graphics settings based on your hardware capabilities. Following these steps, you can avoid low FPS and enjoy a smooth gaming experience. If you have further questions or suggestions, comment below, and we will gladly assist you.
If you encounter any issues or errors while playing your favorite games and require support, feel free to contact us here. Our team is always ready to assist you and ensure your gaming experience is seamless and enjoyable.