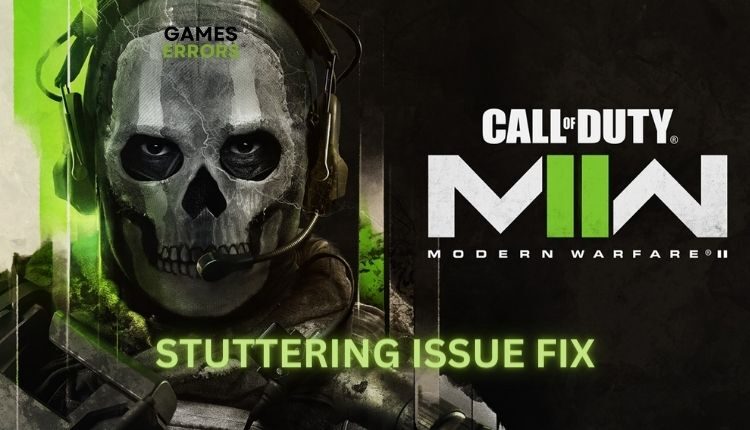 MW2 Stuttering on PC: How to Fix in Easily
Read our detailed guide on how to solve the frustrating stuttering in CoD: Modern Warfare 2. 🎯
X
INSTALL BY CLICKING THE DOWNLOAD FILE
Call of Duty: Modern Warfare 2 (MW2) is a refreshed and exciting game from the CoD series that gained a considerable player base shortly after its release. It is also a hardware-demanding game requiring a good internet connection for multiplayer. However, even with a powerful PC, the game may stutter even with low graphics details. Aware of this problem, we created a guide to help you solve MW2 stuttering on your PC.
Why does MW2 stutter on my PC?
The problem of MW2 stuttering on your PC can be due to several reasons: low-end PC, outdated graphics drivers, not updated system, full-screen optimization turned on, issues with overlay app, corrupted game files, in-game graphics settings, overclocking, insufficient RAM.
How do I fix stuttering in MW2?
First, you should check the recommended system requirements of MW2 to ensure the game has no compatibility issues with your PC. If you find that your PC does not meet the system requirements, you must go for the option to upgrade specific hardware (GPU, CPU, RAM, etc.). Let's assume your PC is compatible with regular MW2 operation, and you still have stuttering. To successfully eliminate the problem, do the following:
1. Update GPU drivers
Outdated graphics drivers are one of the most common causes of game problems, and updating is the first step we recommend. AMD and NVIDIA are trying to implement all corrections of observed game problems in new versions of their drivers. That's why we strongly recommend you update the graphics drivers. Here's how to do it:
1. Right-click on the Start Menu and choose Device Manager from the quick access menu.
2. Double-click on Display adapters to expand it.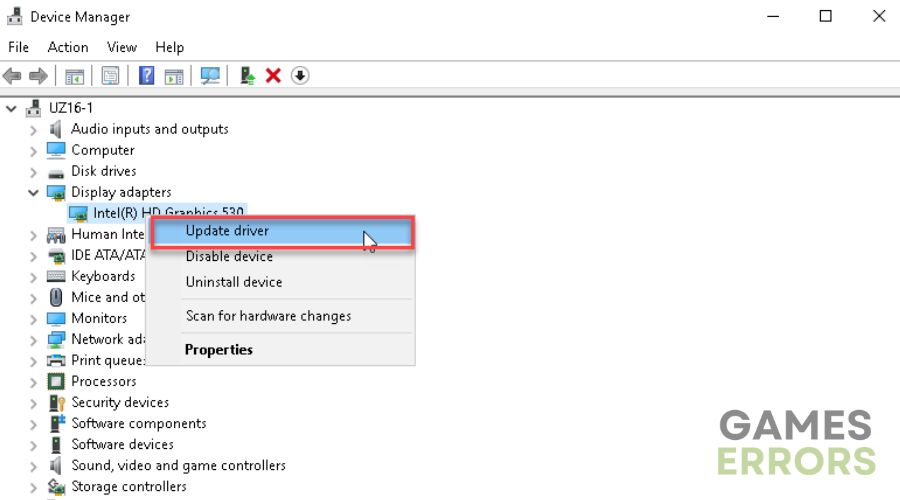 3. Right-click on your graphics card and click Update driver to choose Search automatically for drivers.
4. Windows will automatically check for an available update; if there is a new version, it will automatically download and install it.
5. When the system has finished installing the new drivers, restart your PC and run the game to see if the stuttering problem is gone.
If there are no new updates you have checked previously, please visit the official website of AMD or NVIDIA and download the latest version.
Here we will mention that there is also a more straightforward way to keep all your system drivers up-to-date using the Outbyte Driver Updater tool. It will save you time and confusion about whether all your drivers are up to date.
2. Update MW2
We recommend always having an updated version of MW2, as an outdated version can cause poor performance and a bad gaming experience. To make sure you always have the latest version of the game, do the following:
1. Open Steam and go to Library.
2. Click on Call of Duty: Modern Warfare 2 from the left pane.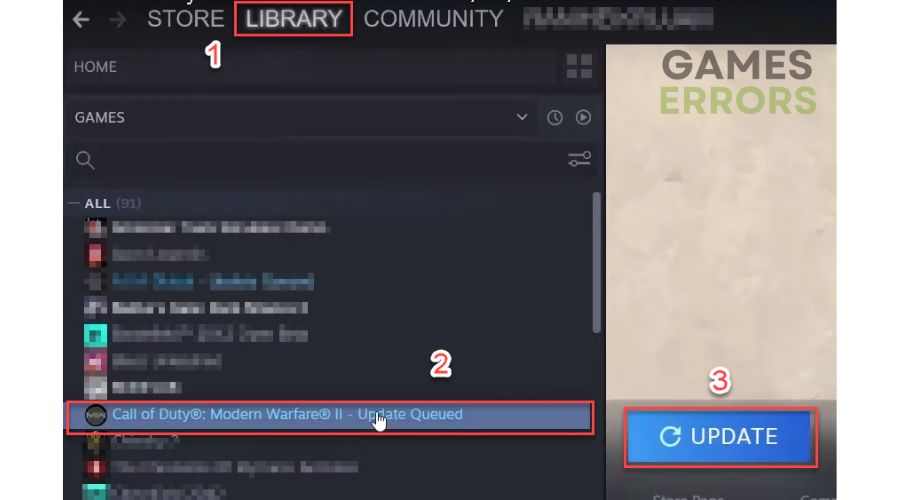 3. Click UPDATE, and Steam automatically searches for the available update.
4. Make sure to wait for some time until the update completes, and after that, restart the PC to apply changes.
5. To set the always get an automatic update, right-click on the game name and select Properties.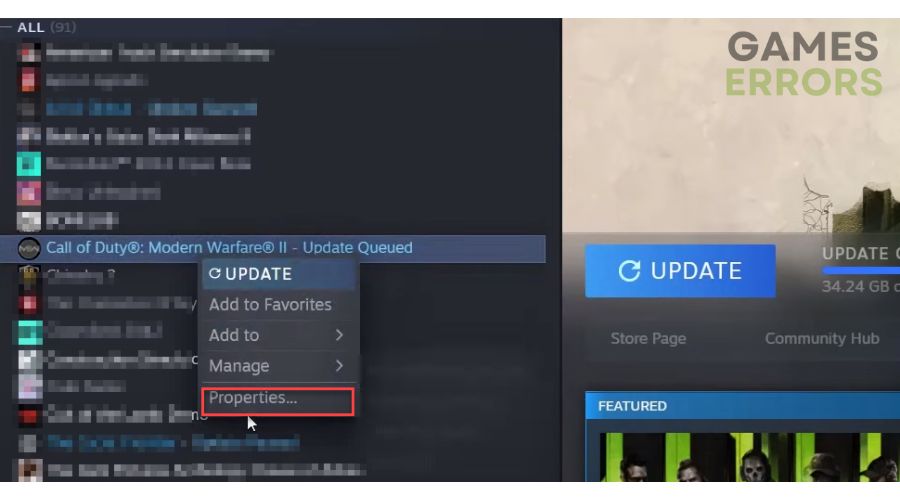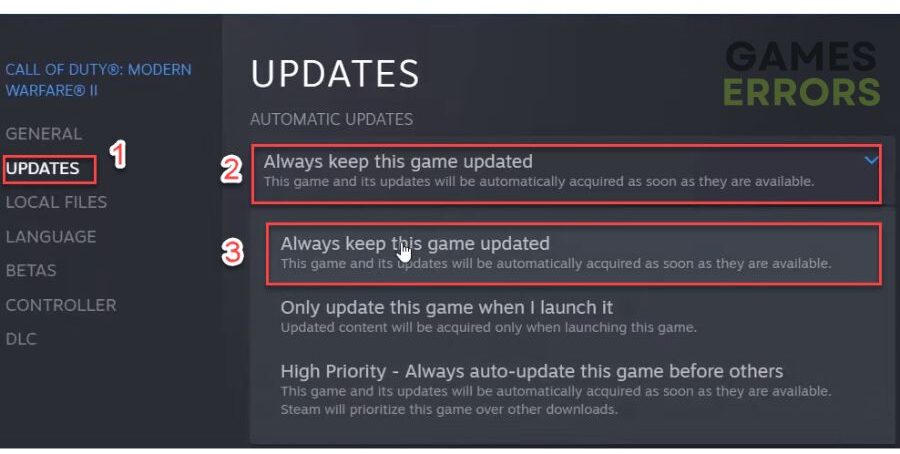 6. Click on the UPDATE options from the left pane and choose Always keep this game updated from the drop-down menu.
3. Update Windows OS
Always having an up-to-date version of Windows is essential for gamers and other computer users. This way, you are sure that all observed system problems and potential crashes are minimized. In addition, new features and improvements are added, and your system's overall stability and compatibility with all games and programs are improved. To check that your system is up-to-date, do the following:
1. Press the Win+I keys combination on the keyboard to open Windows Settings.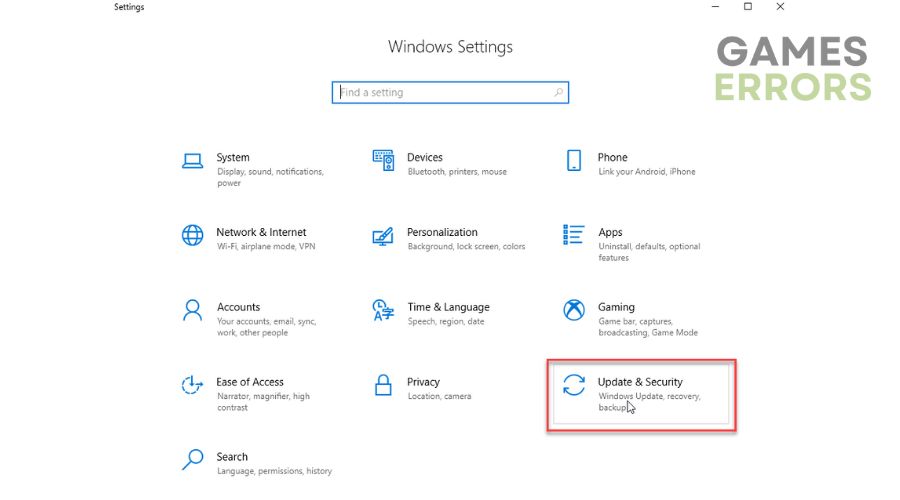 2. Click on Update & Security.
3. Under the Windows Update section, click on Check for updates.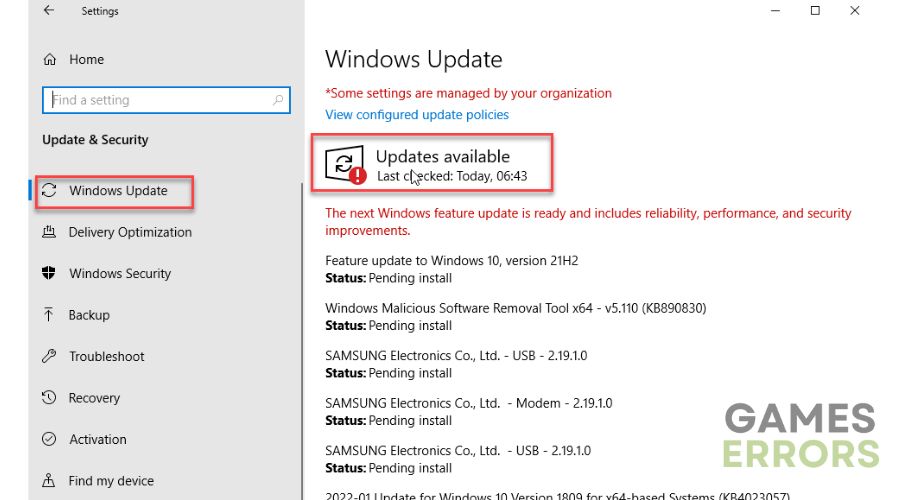 4. If the e is an update available, select Download and install.
5. Wait until Windows downloads, installs all updates, and resets the computer if necessary.
4. Run the game as an Administrator
We recommend that you run MW2 as an administrator. In this way, you allow the system to launch the game correctly, which minimizes the possibility of game crashes or unstable operation. Do the following:
1. Locate the game folder: ..\SteamLibrary\sitemapps\common\Call Of Duty.
2. Right-click on cod.exe and select Properties.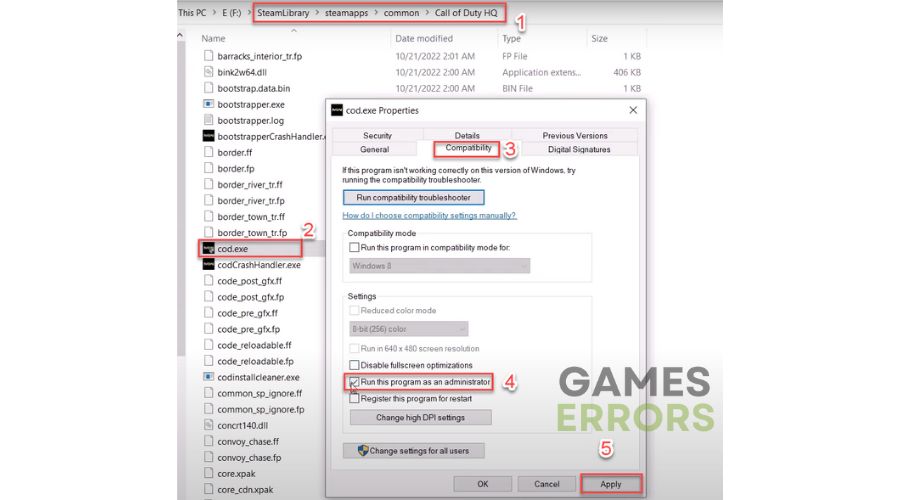 3. Go to the Compatibility tab.
4. Click on the Run this program as an administrator checkbox.
5. Click Apply, and select OK to save changes.
5. Lower in-game graphics settings
Time needed: 2 minutes
In many cases, incorrect graphics card settings in the game can cause various problems, so we advise you to set the default graphics settings first. If your computer is not powerful enough, in addition to the appearance of stuttering, other problems are possible regarding the graphic display and the game's overall stability.
Launch Call Of Duty Modern Warfare 2 and enter the game settings.

Choose GRAPHICS and select the QUALITY tab.

Lower your graphics settings and see if the stuttering still occurs.
6. Disable fullscreen optimizations
Sometimes Full-Screen Optimization and DPI settings can cause game performance issues. Try to solve the MW2 stuttering problem by disabling fullscreen optimization as follows:
1. Locate the game folder: ..\SteamLibrary\sitemapps\common\Call Of Duty.
2. Right-click on cod.exe and select Properties.
3. Go to the Compatibility tab and click the Disable fullscreen optimization checkbox.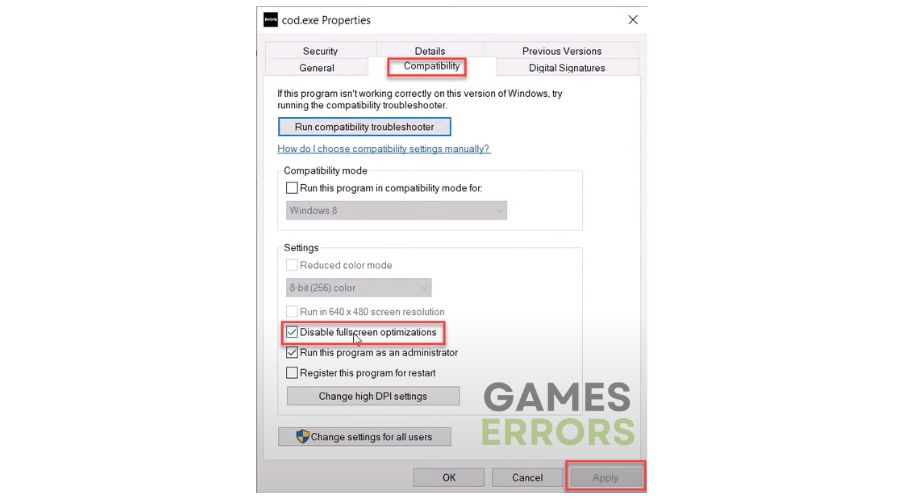 4. Click the Change high DPI settings and select the Override high DPI scaling behavior checkbox.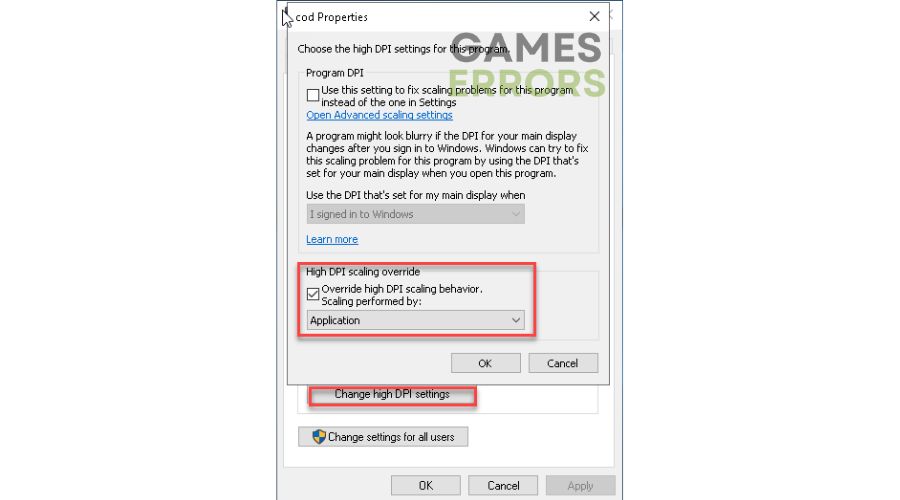 5. Choose the Application option from the drop-down menu.
6. Click on Apply and then OK to confirm and save changes.
7. Run MW2 to make sure the stuttering is gone.
7. Disable Steam overlay
Steam overlay option can help stream, record, and take screenshots from games. Sometimes overlay apps can cause problems, so we recommend you turn them off and start MW2. To turn off the Steam overlay option, do the following:
1. Open the Steam client and choose the Settings option.
2. Click the In-Game tab and uncheck the Enable Steam Overlay while in-game.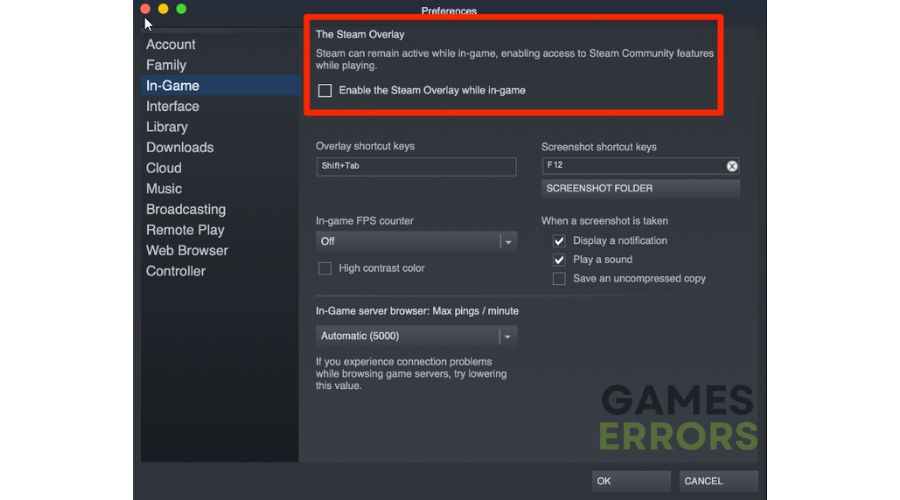 8. Repair game files
Game files may be damaged or deleted by accident or various viruses, affecting the stable operation or the problem of launching MW2. For this reason, we recommend that you check the integrity of the game files as follows:
1. Launch Steam and go to your games Library.
2. Right-click on the Call Of Duty: Modern Warfare 2 and select Properties.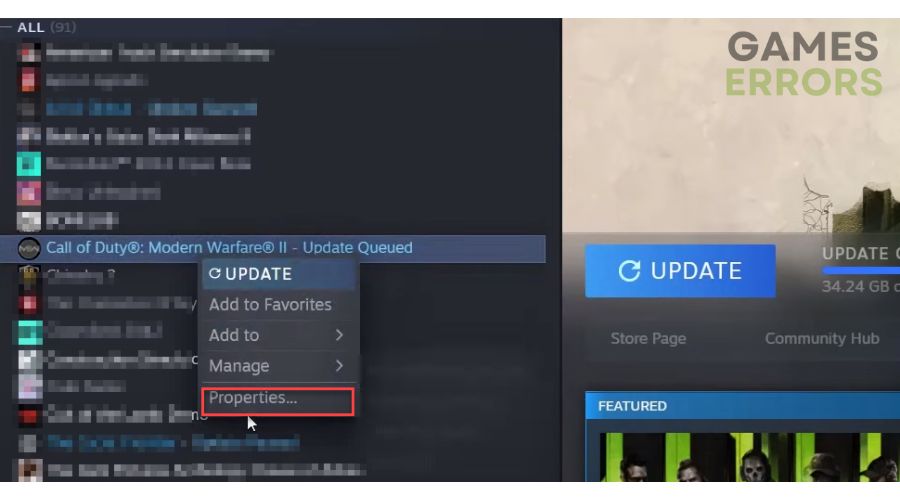 3. Go to the LOCAL FILES tab and click on Verify the Integrity of Game Files.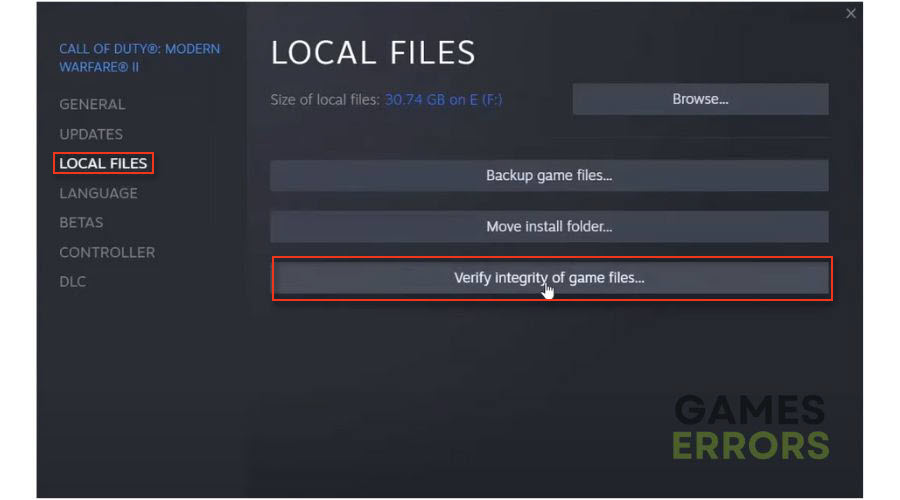 This process may take some time; after finishing, restart your computer for the changes to take effect.
9. Raise Spot Cache to High or Ultra
Another solution to the stuttering problem that we have seen in practice give a concrete result is to raise the "Spot Cache" setting to "High" or "Ultra" in the game's graphics settings. Unfortunately, we don't understand why this setting has such an impact on stuttering. Maybe it's a bug in the game, but try it because it helped us eliminate stuttering on some PC configurations.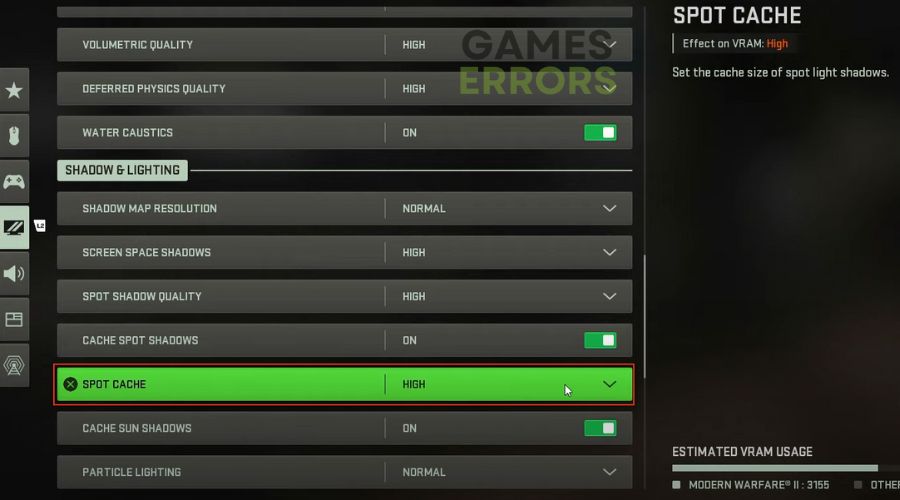 Related articles:
Conclusion
As you read from our guide, various factors affect stuttering in MW2. However, we hope that some of our recommendations will solve your problem and you can enjoy the game without any issues. However, if you still have problems, please share your experiences.