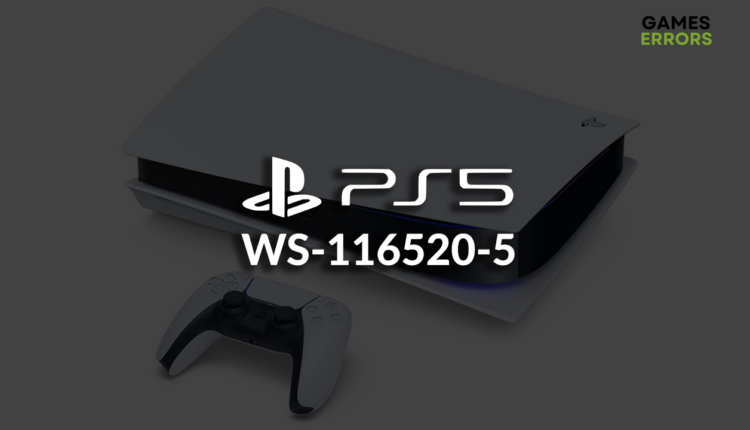 PS5 Error WS-116520-5: Fix It Quickly
Are you unable to play any games on your PS5? Stop with worries and take the action, we know how! 🚀
X
INSTALL BY CLICKING THE DOWNLOAD FILE
The PS5 error WS-116520-5 usually comes with the 'Something went wrong' that doesn't reveal much. We did our investigation and proudly presented you with the most common causes and solutions for this network-related issue.
Are you experiencing issues with starting games on your console? Read what to do when games don't launch on PS5.
Why do I get PS5 error WS-116520-5?
You get WS-116520-5 error on your PS5 due to problems with PlayStation servers, configuration on your console or network devices, issues with PS5 licenses, outdated PS5 software, or the location you are trying to connect from.
💡 Many people report that error WS-116520-5 often occurs during holidays, as many gamers are downloading and playing games which overloads PlayStation servers.
How to fix PS5 error WS-116520-5?
The fastest way to fix this PS5 error is to:
Check the PSN status: Go to the PlayStation Network Status page and check if services are running. If so, the problem is on your end or the network between your PS5 and PlayStation servers.
Restart your PS5: A quick console restart can quickly fix temporary issues. If you want to ensure everything will run smoothly, you can turn off the console, unplug it from the wall outlet, wait for a few minutes, plug everything back in, and turn it back on.
Reset the network devices: Find network devices, such as modem, router, and switch. Press the Reset button, usually located on the back side of the device, and wait for the reset to complete.
If the error WS-116520-5 still pops up on your PS5, proceed with the solutions below.
1. Restore licenses
Time needed: 5 minutes
Network-related issues on PlayStation 5 can occur due to mismatches between the information stored on your console and your PS5 account. If somebody else logged in on your console, this is probably causing the WS-116520-5 error.
Navigate to Settings.

Select Users and Accounts.

In the menu, select Other and then choose Restore Licenses.

Select the Restore button.

Wait until the process is completed and hit the OK button afterward.
2. Update PS5 software
By default, PS5 software updates are installed automatically. However, if the connection wasn't stable, there was a power outage, or the system didn't update for any reason, you can manually update PS5 software.
Navigate to Settings and select System.
Go to the System Software and select System Software Update and Settings.

Select the Update System Software option.
Select the Update Using Internet option.
3. Use a VPN
If the WS-116520-5 error appears due to problems with PlayStation servers in your region, you can try to connect to another server. Since this is impossible to configure manually, you must use a VPN.
Some VPN providers offer software you can install on your router, enabling VPN connection for all devices using your home network. You can even purchase the router with the software already installed.
One provider that gets our recommendation is ExpressVPN. If you choose to use their services, you can configure which device uses which location, up to 5 VPN locations simultaneously! Additionally, if you come from a region that doesn't support PlayStation Plus, you can use it if you have a VPN.
Extra steps
Sometimes the PS5 error WS-116520-5 will occur even if you did everything we mentioned. In this case, try to:
🎮 Factory reset your PS5: Since this is unpopular, leave it as a last resort if PS servers run correctly. Go to System Software, then to Reset Options, and select Reset your console.
📞 Contact PS5 support: Find the contact of the store from which you bought the console and contact them explaining your issue. If they can't help, communicate the details to the PS5 support team.
Related articles:
Conclusion
Many players will experience PS5 error WS-116520-5 at some point. It is important to remember that the issue can be temporary due to problems with PSN, and some patience might be needed. If the issue doesn't stop, comment with additional details, and we will happily assist you.