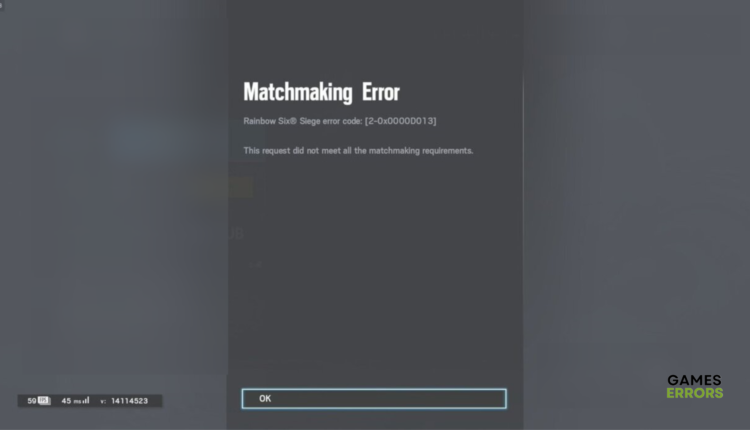 Rainbow Six Siege Error Code 2-0x0000d013: Fix It in No Time
The Rainbow Six Siege error code 2-0x0000d013 is giving you headaches? No need to worry because we've got your back!💪🏻
Rainbow Six Siege is a popular first-person shooter video game developed by Ubisoft. While the game has a dedicated following, it has also been known to experience various errors that can impact the gameplay experience.
Plenty of players are complaining about the Rainbow Six Siege error code 2-0x0000d013 and this is the message that pops up when it occurs:
This request did not meet all the matchmaking requirements Error code: [2-0x0000D013]
If you're also facing this error, make sure you check and try our today's solutions to fix it rapidly.
What causes the Rainbow Six Siege error code 2-0x0000d013?
The Rainbow Six Siege error code 2-0x0000d013 usually appears when there is a problem with your internet connection/network settings or when there are issues with the game servers.
You should keep in mind that matchmaking error codes are associated with troubles that occur when trying to match players in online multiplayer environments.
These can also indicate problems with player connectivity, server issues, or game bugs.
This kind of error can appear while playing some of the best masterpieces and Fortnite Matchmaking Error is just one of them.
How can I fix the Rainbow Six Siege error code 2-0x0000d013?
Table of contents:
1. Check the game server status
These kinds of errors are pretty prevalent when there is a server outage or server maintenance.
If you are experiencing the Rainbow Six Siege error code 2-0x0000d013, we strongly recommend visiting the Ubisoft official website and verifying the status of the R6 global servers.
Do not forget to carefully check the server status related to your particular device. To simply view the potential issues, just click on the Expand all blue button, as you can see in the picture below.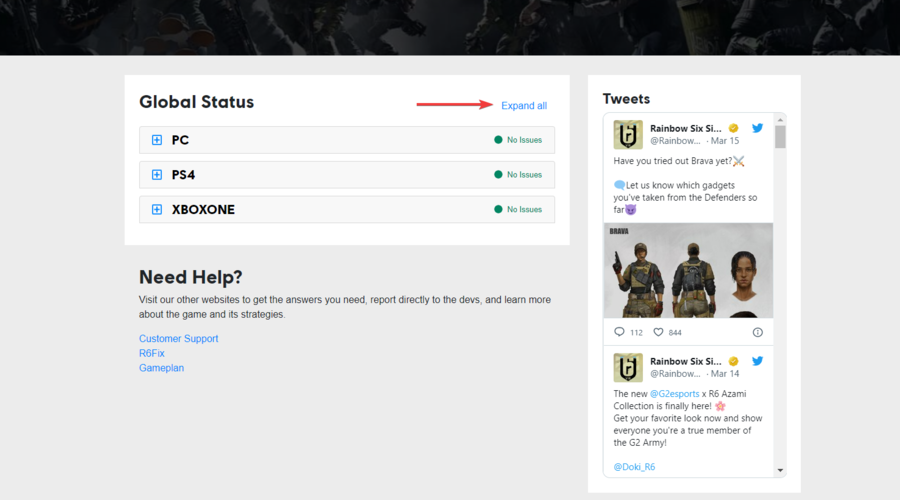 Then, you'll be able to identify if there are any issues with connectivity, authentication, storing, or matchmaking as you can see below.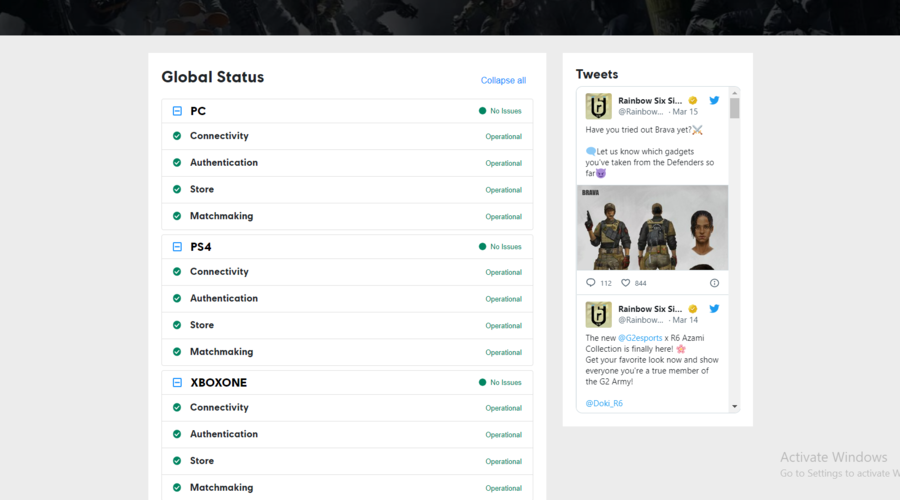 However, if there are no reported issues, make sure you also try the other listed solutions in today's article.
2. Reset network hardware
The first step is to shut down all PCs and consoles connected to your modem or router.
Power down and unplug the modem or router.
Give it a break for 60 seconds.
Plug in, then turn on the modem/router.
In case your device features front lights, you might observe them flashing, which is typical behavior. It may take some time for the connection to be fully restored, so be patient.
Start the computer or console again and allow it to completely boot up.
Check if the Rainbow Six Siege error code 2-0x0000d013 is gone.
3. Run Internet Troubleshooter
Use the following keyboard shortcut to open Windows Settings: Windows + I.
From the left window pane, select System, then look at the right side and click on Troubleshoot.
Go to Other troubleshooters.
Identify the Internet Connection section, then click on the Run button.
Wait until the process is completed.
In case there are any identified issues, you'll be notified.
If you're also a Diablo fan, keep in mind that this solution can also work for the Diablo 3 error code 3006.
4. Forward ports
Enabling port forwarding can enhance connectivity by redirecting any unexpected incoming traffic from your router, which can cause interference with your connection.
Below you can find the ports you need for Rainbow Six: Siege:
TCP:80, 443, 3478, 3479, 3480.
UDP: 3478, 3479, 3658, 6115, 10000-10099​.
5. Verify the Integrity of Game Files on Steam
Time needed: 2 minutes
By verifying the game files, you can ensure that any corrupted or missing files are detected and replaced, which can help you get rid of this annoying Rainbow Six Siege error code 2-0x0000d013.
Open the Steam client.

Look for the app's name in your OS search bar or simply navigate to the Steam official website.

Go to Library.

There, you'll be able to view all the available games on your Steam client.

Choose Rainbow Six Siege, then click on the three-lines button.

After this step, a detailed menu will pop up.

Select Properties.

Look at the left menu and select Local Files, then choose to Verify the integrity of game files…

Wait until the process is completed.
This solution may also work if Rainbow Six Siege is not launching, which is one of the most irritating issues according to players. However, you can also check our dedicated guide to quickly solve it.
6. Check Game Files on Ubisoft
Go to Ubisoft Connect.
Choose the Games tab.
Look for Rainbow Six Siege, then click on it.
From the left menu, select Properties.
Now, choose to Verify Files.
In case there are any detected problems, you'll need to tap on Repair.
Wait until the process is finished and check if the Rainbow Six Siege error code 2-0x0000d013 is still there.
7. Contact the game support team
If the Rainbow Six Siege error code 2-0x0000d013 persists, it's recommended that you reach out to the game's support team and report the issue.
They may be able to provide you with any recent updates on this error. Otherwise, they will work with you to identify the best possible solution to resolve the error.
Can I play Rainbow Six Siege on PS5?
Many players are wondering if they can enjoy the R6S experience on the newest and freshest PlayStation5.
If you're one of them, keep in mind that Rainbow Six Siege is a popular tactical shooter game that is available on a variety of platforms, including PlayStation 5 (PS5).
One of the major advantages of playing Rainbow Six Siege on PS5 is the console's hardware capabilities. With the powerful CPU and GPU, the game will run at higher frame rates, resulting in a smoother and more responsive gameplay experience.
Additionally, the PS5's solid-state drive (SSD) can significantly reduce loading times, allowing players to jump into matches faster.
PS5 players can also take advantage of the console's new features, such as the DualSense controller's haptic feedback and adaptive triggers, which can enhance immersion in the game.
Overall, playing Rainbow Six Siege on PS5 can provide an excellent gaming experience with improved graphics, faster load times, and smoother gameplay, making it an ideal choice for fans of the game.
However, the Rainbow Six Siege error code 2-0x0000d013 can also occur while playing it on PS5. Therefore, we strongly recommend making sure you save somewhere our today's solutions, just in case.
To ensure that you are well informed about any potential issues with R6S and have effective solutions readily available, be sure to verify our related articles for quick fixes.
Related articles:
Rainbow Six Siege is a real masterpiece and if you're going to use our today's solutions the error code 2-0x0000d013 won't stop you from tasting its wonderland.
Do not hesitate to leave a comment in the section below and let us know which solution worked best for you.