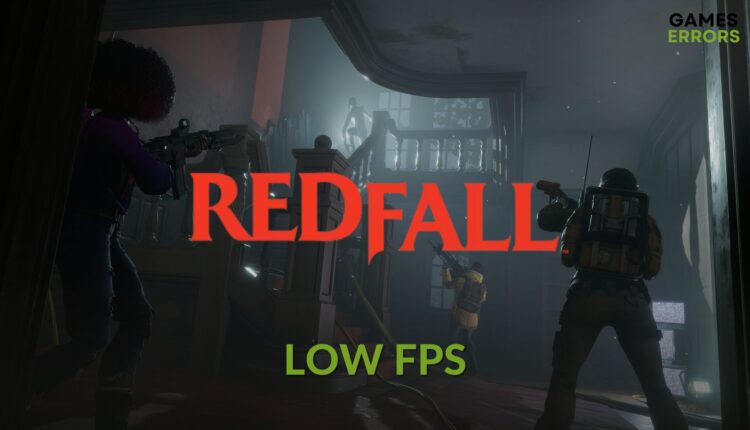 Redfall Low FPS: Best Ways to Improve Performance
Update the GPU driver and reduce background activities to improve FPS on Redfall 🚀
Laggy performance and low FPS issues on a high-end game like Redfall are not unusual. But you can easily fix it by tweaking the right things.
With stunning visuals and gameplay mechanisms, this new vampire action-adventure game can attract anyone. But luck may not favor. Some users may get very poor frame rates or frame-dropping issues even after having a decent graphics card.
Check out this guide on how to fix Redfall's infinite loading screen problem if necessary.
Why is my Redfall performing poorly on my PC?
If you notice Redfall is stuttering or giving a bad performance or the FPS is so low, it may be because of the following reasons:
Graphics driver: Problems with the GPU driver or the outdated version of it may cause poor performance issues on Redfall.
Background services: Too many active background tasks also can be why you are getting very low FPS on Redfall.
Incorrect settings: Improper settings also can be a reason behind this problem.
Outdated components: If some related game components are outdated or corrupted, the same problem may occur.
How can I fix Redfall low FPS problem?
To make the whole troubleshooting process easier, we suggest you do the following things:
First, verify that your PC meets the system requirements for Redfall completely.
Then, ensure that you are not overclocking or underclocking anything.
Install Visual C++ and DirectX runtime and restart your PC.
Enable high-performance mode.
Now, take the following steps to boost performance on Redfall:
1. Update GPU driver
Time needed: 2 minutes
If you want to solve Redfall's low FPS problem on Windows 11 or 10, update the graphics card driver before following any other methods.
Click on Search automatically for drivers.
Go ahead and complete the process.
To update the GPU driver, you will not find a better option than Outbyte Driver Updater. This tool can find outdated drivers on your Windows 11 or 10 PC and update them automatically without your manual interaction.
⇒ Get Outbyte Driver Updater
2. Reduce background activities
Press CTRL + Shift + Esc to open Task Manager.
Go to the Processes tab.
Click on the process you want to disable and then click on End Task.
Disable all other unnecessary processes you want.
Please keep in mind that you should not disable any essential services and the ones you are not familiar with. Otherwise, you may encounter more troubles.
3. Disable fullscreen optimization
Even though the purpose of fullscreen optimization is performance improvement, it also may cause issues. So, you can try to disable this feature and see whether it improves FPS on Redfall or not. To do it, follow these steps:
Open Steam.
Go to the game library.
Right-click on the application file of Redfall and go to Properties.
Navigate to the Compatibility tab.
Click on Apply and OK.
Relaunch the game.
4. Disable in-game overlay
Go to Steam settings.
Navigate to the In-Game tab.
Untick Enable the Steam Overlay while in-game.
Click on OK.
Relaunch Steam.
5. Roll back the GPU driver
Open the Device Manager like before.
Double-click on the graphics driver to open its Properties.
Go ahead and finish the process and restart Windows.
6. Verify the game files
Repairing the game files can fix Redfall's low FPS problems. Doing it very easy. You just need to follow these steps:
Go to the game library in Steam, as shown in the screenshots.
Right-click on Redfall and then click on Properties.
Go to the Local Files tab.
Then click on Verify integrity of game files.
Wait for a while until it finishes the process.
If you use the Xbox app, right-click on the game, go to Manage. Then find and click on the Repair option from the Files tab. In Epic Games Launcher, it's even easier to do.
After repairing, launch Redfall and see if it has worked or not. This method will also help if Redfall won't launch on your PC.
Extra steps:
You still may get bad performance from Redfall on your PC. If yes, consider doing these things as well:
Disable Vsync.
Play with lower settings and see if it improves FPS or not.
Re-install the graphics card driver.
Uninstall any problematic or suspicious apps.
Re-install the game.
If you are interested, learn how to fix Redfall's crashing problem.
The methods mentioned above are sufficient to improve performance and fix Redfall low FPS problem. If you have any questions or suggestions, you can write them down in the comment box.