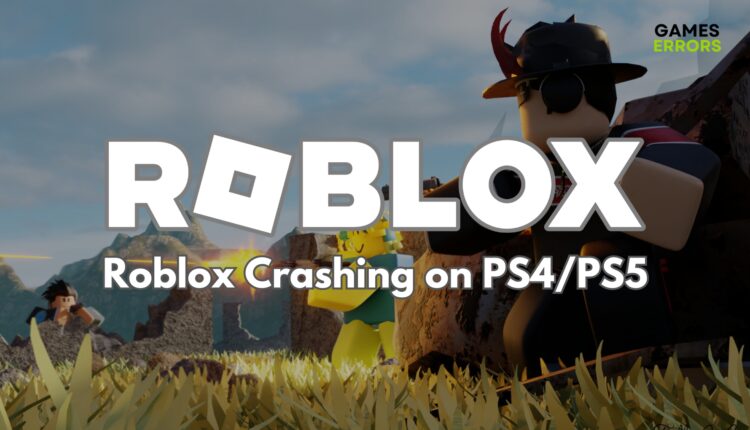 Roblox Crashing on PS4/PS5: How To Fix It Quickly
If you are tired of Roblox crashes, you are in the right place. Below, you will find the most efficient solutions that fixed the game for me and allowed me to return to smooth gameplay.
Are you a PS4 or PS5 user frustrated by Roblox crashes interrupting your gameplay? You're not alone. Crashing issues can be incredibly annoying, especially when you're in the middle of an exciting game. This guide is designed to provide you with step-by-step solutions to resolve Roblox crashing issues on your PS4 or PS5.
Why does my Roblox Keep Crashing on PlayStation?
Experiencing frequent crashes while playing Roblox on your PlayStation can be incredibly frustrating. The main reasons why your Roblox keeps crashing on PlayStation are software glitches, outdated system firmware, and network issues.
How to fix Roblox crashing issues on PS4/PS5?
To fix Roblox crashing issues on PS4 and PS5 make sure that your internet connection is good. You can test your ping quickly by using a web tool. Additionally if you know that your ISP is at fault, try contacting them to see what you can do. Afterwards, try the following solutions.
1. Check Internet Connection
This is mostly a troubleshooter, and after the test is complete you will receive some tips to improve it.
Go to Settings: From the home screen, navigate to Settings.
Select Network: Scroll down and select Network.
Test Internet Connection: Select Test Internet Connection and wait for the test to complete.
You could also consider checking Roblox's server status. The problem could be caused by a Roblox-related issue, and the only option you'd have is to wait.
2. Check for System Updates
Usually, system updates improve your services and processes. Thus, if there are any pending updates available, it is best to enable them to ensure that your console is working at full capacity.
Navigate to the Home Screen: Press the PS button on your controller to go to the home screen.
Go to Settings: Scroll up and right to find the Settings icon and select it.
System Software Update: Scroll down and select System Software Update.
Check for Updates: Choose Update Now if any updates are available. Follow the on-screen instructions to complete the update.
3. Clear Cache
There aren't many options to clear your cache, but the one below will surely work. After all, it is similar to resetting your router, but this time on your console.
Turn Off PS4/PS5: Completely power off your console.
Unplug the Power Cable: Wait for 30 seconds after turning off, then unplug the power cable.
Wait and Reconnect: Wait for a few minutes and then plug the power cable back in.
Turn On PS4/PS5: Power on your console and launch Roblox to see if the issue is resolved.
4. Reinstall Roblox
This the last solution available to fix Roblox Crashing on PS4/PS5. It is usually my last resort if nothing else works, because it takes a little while.
Go to Home Screen: Press the PS button.
Find Roblox: Navigate to your game library and find Roblox.
Delete the Game: Press the Options button on your controller and select Delete.
Confirm Deletion: Confirm that you want to delete Roblox.
Reinstall: Go to the PlayStation Store, search for Roblox, and reinstall it.
Or you can do the following:
Open PS5 Settings and go to Storage
Then select the Games and Apps which is similar to Control Panel
Now look for Roblox and press Delete
Related Articles:
Conclusion
Roblox crashing on your PS4 or PS5 can significantly hinder your gaming experience. Following these step-by-step solutions will likely resolve the issue and get back to uninterrupted gaming. If the problem persists, contacting Roblox Support is the best action. Additionally, if you find any other solutions, don't hesitate to leave them in the comments. They will be tested and added to the list.